National Security Expert Calls Out GOP After Russian Television's 'Left in a Hurry' Segment From Abandoned US Base in Syria
In response to video released by Russian news network RT showing footage of a reporter inside an abandoned U.S. military base in Syria, national security expert and Pod Save the World podcast host Ben Rhodes took to Twitter to slam the U.S. withdrawal. "Russian television in a base that Trump Surrendered. What say you, congressional Republicans? You are not the party of National Security. Those days are gone forever now," he wrote.
Rhodes previously served as a national security adviser to former President Barack Obama. As a White House aide, Rhodes was an integral part of establishing the Iran-deal and opening U.S. relations with Cuba. A 2016 New York Times profile of Rhodes called him "the single most influential voice shaping American foreign policy aside from Potus himself."
As Newsweek previously reported, the U.S. military exited the city of Manbij in northern Syria after a quick handover to Russian forces. A senior Pentagon official told Newsweek on Monday, "Everything is about making out with as much as possible of our things while destroying any sensitive equipment that cannot be moved."
RT reported that U.S. troops left the base late on Monday night, and it seems that military personnel removed all weapons and ammunition before departing, but left most other equipment behind. The outlet described the base as "untouched."
The Russian outlet also claimed that lodgings and electrical transformers were abandoned with "everything essentially that the base was equipped and supplied with." Russian journalist Oleg Blokhin shared videos on social media of operational vehicle gates designed to prevent suicide-vehicle borne improvised explosive devices.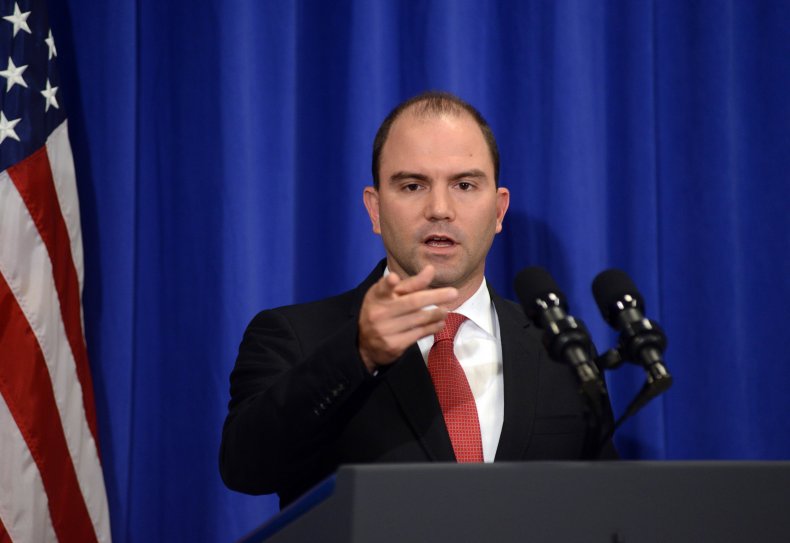 In response to Rhodes' tweet, former U.S. Ambassador to Spain James Costos criticized President Donald Trump's decision to pull out of Manbij for "making the U.S. look weak."
Rhodes has been critical of Trump's military action in the past. In September, he accused Trump of corruption with Saudi Arabian government due to the development of Trump Properties.
Telling Pod Save the World listeners on October 16: "The man seems completely incapable of seeing the human beings on the other end of his decisions." After stating that Russia, Iran, and ISIS benefit the most from the decision to withdraw from the Syrian city, he took aim at Republicans. "They rant and rave about Iran, about ISIS. They used to about Russia, and, literally, their president just handed this off to them."