National Women's Group Calls on Cuomo to 'Resign Today' Amid Sexual Harassment Allegations
A national women's advocacy group has called for Governor Andrew Cuomo to step down immediately as three women have accused the New York Democrat of sexual harassment.
"Governor Cuomo should resign today," Shaunna Thomas, the executive director for UltraViolet, said in a statement on Tuesday. "Sexual harassment should not be tolerated in any workplace, let alone by the Administration of the Governor of New York.
Thomas added, "Women like Lindsey Boylan, Charlotte Bennett, and Anna Ruch put everything on the line when they come forward with their experiences in the hopes that the abuser will be held accountable. We believe them. We are grateful to Lindsey, Charlotte and Anna for courageously sharing their stories, and we stand behind them."
Boylan, a former aide to the governor, was the first to make public allegations against Cuomo. In a Medium blog post published last Wednesday, she described a "pervasive" culture of misconduct within his administration and recounted an instance where Cuomo allegedly kissed her as she attempted to leave his office after a meeting.
Bennett and Ruch both detailed their experiences to the New York Times. Bennett, also a former aide, said that the governor made her uncomfortable with questions about her sex life and asked whether she would consider dating an older man. Ruch said that she met Cuomo at a wedding in September 2019, where he put his hand on her exposed lower back and then on her cheeks. A photo of the alleged incident was included in the newspaper's story.
Cuomo responded to the sexual harassment allegations on Sunday, stating his "playful" banter was an "attempt to add some levity" to his workplace.
"I now understand that my interactions may have been insensitive or too personal and that some of my comments, given my position, made others feel in ways I never intended," he said. "I acknowledge some of the things I have said have been misinterpreted as an unwanted flirtation. To the extent anyone felt that way, I am truly sorry about that."
The allegations have prompted an independent investigation by New York Attorney General Letitia James. James said the probe's "findings will be disclosed in a public report."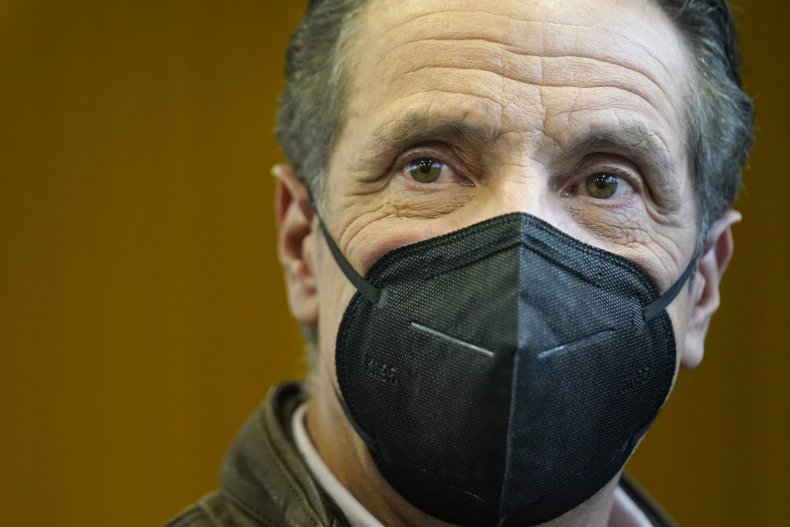 Other women's advocacy groups have voiced support for the investigation. A spokesperson for Planned Parenthood Empire State Acts told a local ABC-affiliated television station that "an independent investigation of the allegations against Governor Cuomo must be completed in a way that is both responsive and transparent. These are necessary steps on a path to restore trust and ensure accountability."
Women's March executive director Rachel O'Leary Carmona tweeted on Monday that the conduct Cuomo has been accused of is "despicable from anyone, in any job—but coming from the highest office in New York, it's disqualifying."
She added, "We applaud Attorney General Tish James for vowing to appoint a truly independent counsel to look into claims against the Governor. If they prove true, we call on him to resign immediately."
The Sexual Harassment Working Group, an anti-sexual-harassment group made up of former New York state legislative staffers, also called on Cuomo to resign Saturday after Bennett made her allegations.
"ENOUGH. New York State has now lost the talents and ambition of yet another woman, whose safety and integrity were eliminated to serve a powerful man's desires. Andrew Cuomo must resign now," the group said in a statement.
Newsweek has reached out to the governor's office for comment but did not receive a response prior to publication.