"Native TikTok" Offers Fresh Look Inside Indigenous Culture
As TikTok continues to rise in popularity around the world, Indigenous content creators are using the platform to share their culture, time-honored traditions and cuisine in a more modern way. Today is Native American Heritage Day, which comes at the end of Native American Heritage Month — a month first officially recognized almost two decades ago as a time to honor Indigenous culture and tradition throughout the United States. This year TikTok is pushing the hashtag #NativeFamily as a place for Indigenous content creators to both educate and share their experiences.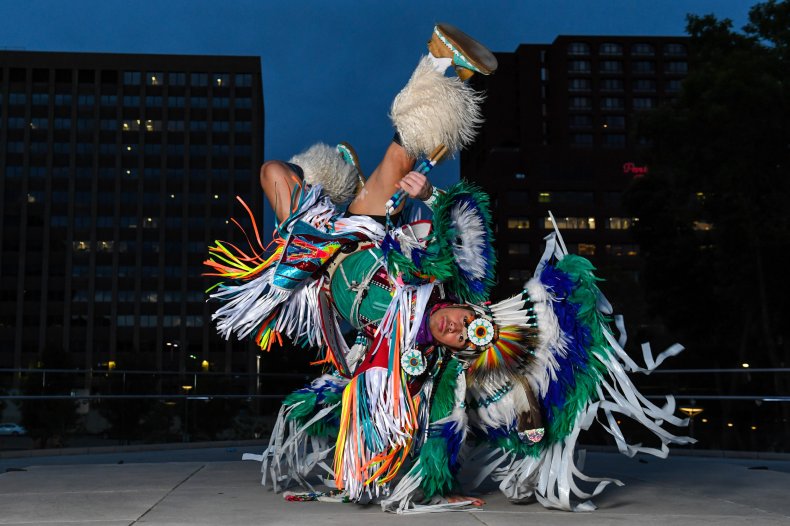 TikTok has gone from an app seemingly reserved for Generation Zs to a cultural staple in a matter of months. In October, it surpassed Instagram as the second-most popular social app for teens, just behind Snapchat, CNBC reported. Aside from feel-good content, the app has also become a place where people can share their more personal experiences with viewers in hopes of spreading awareness.
Earlier this year, a trend emerged on the app where creators seamlessly transitioned out of their everyday clothes into outfits that showcased their heritage. The trend was dubbed #fashionedit and gave rise to videos showcasing Indian saris to a Mexican charro suit, Dazed reported.
It was a trend like this that caught the eye of Indigenous artist and content creator, James Jones, or @notoriouscree, as his followers know him. Before the pandemic, Jones had a packed schedule of performing hoop dances, powwows and speaking engagements. As those engagements began to get canceled, he found himself with some time on his hands.
After posting a few videos, Jones decided to try out the "Blinding Lights challenge" — a trend set to the music of "Blinding Lights" by The Weeknd. He first filmed himself in "regular clothes" and after watching it back, felt like it was missing something. He decided to re-film it in his traditional group-dance regalia and added hoops to his arms.
"I think I posted it at midnight, then went to bed, woke up the next day and I had like 100 or 200,000 views," Jones tells Newsweek. "It started to go viral." That video now has been seen over 2 million times.
Jones, who identifies as Indigenous, is Cree, and lives in Edmonton, Alberta, Canada. He currently has over 2 million followers. Since his account began taking off, he uses the platform to post videos discussing everything from Hoop dancing, to hairstyling to recreating TikTok trends with a twist of his own — as he did with "Blinding Lights." He sometimes collaborates with other Indigenous content creators on the app. He is also quick to stand up for himself and his culture. In one video, he shows his reaction to someone who took one of his videos and made it into a "stereotypical rain dance joke."
Along with #NativeFamily, other hashtags like #NativeTikTok and #NativePride serve as a landing page for those looking to learn more about the various Indigenous communities that live around the world.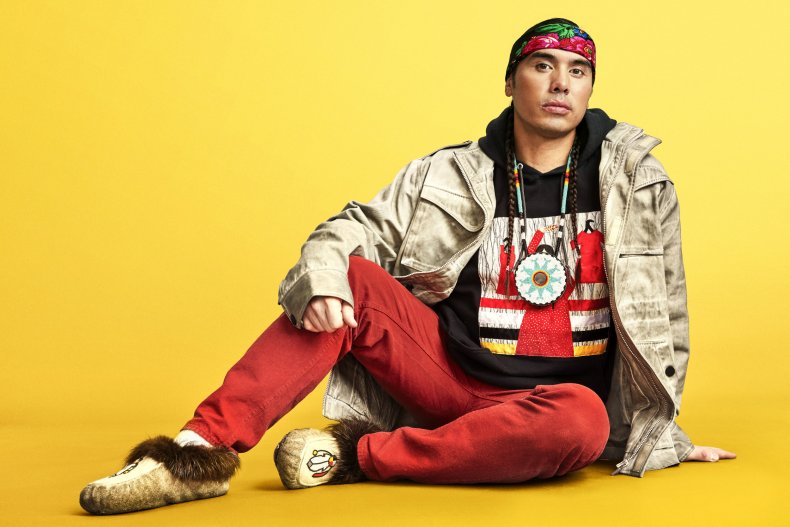 Tia Wood, who is also an Indigenous content creator and has collaborated with Jones in the past, posts similar videos highlighting her experience and upbringing. In one video Wood, or @tiamiscihk, shows pictures of her mother and father who met at a powwow — "a true native love story," she says in the video's caption. In another video, she gives her followers a "hair teaching" where she explains how sacred hair is to Indigenous people. She says that in her tribe, and family, they can only cut their hair on a full moon, when a loved one passes away or during a ceremony.
Wood says in the video that the reason they keep their hair long is that it is said to carry their spirit, thus maintaining a connection to ancestors. The three strands of each braid symbolize "body, mind and spirit." The video has been watched over 1 million times.
Some creators are also giving viewers and look inside their kitchens and recipe books. A "Navajo taco" is a dish made with a base of a piece of traditional fry bread and topped with various toppings you might find in your favorite tacos.
This year Native American communities played a role in flipping historically Republican states, most notably Arizona where 5.3 percent of the population identifies as American Indian and Alaska Native, according to the United States Census Bureau.
Around the country, there has been a push for a wider understanding of Indigenous culture. One of the ways many communities are doing this is by renaming Columbus Day to Indigenous People's Day. While many around the United States celebrated Thanksgiving on Thursday, Native American communities gathered in Plymouth, MA, for National Day of Mourning, to commemorate their ancestors who were killed at the hands of Pilgrims 400 years ago.
Jones says TikTok offers the chance for his videos to reach more people organically than other apps do. Through the platform, he has connected with Indigenous people around the world.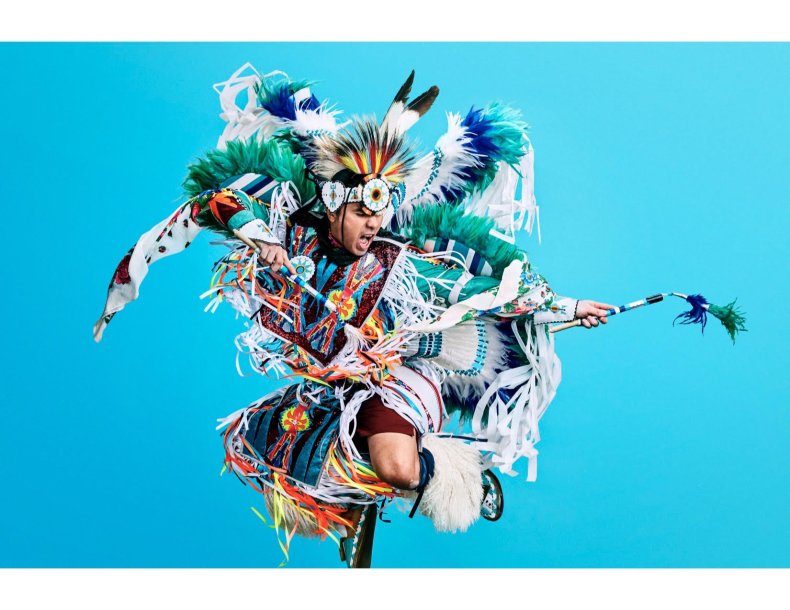 "There's no other app where you can go online, post a video about anything — it could be raising awareness about something happening in your community, it could be a dance video, it could be you just talking about life in general, and that video can get 10 million views, you can gain like hundreds of thousands of followers from it," Jones tells Newsweek. "There's no other app that really gives you that platform [and] allows you to tell your story the way you want to tell it."