Several of Germany's NATO allies are urging the incoming coalition government to re-evaluate the controversial Russian Nord Stream 2 pipeline.
Nord Stream 2 will deliver Russian natural gas directly to Germany, which supporters claim will be vital to easing energy shortages currently wracking Europe.
But according to critics, the approximately $10.75 billion project will also seriously undermine European Union and NATO security, handing Moscow a potent new weapon in its ongoing struggle with the West and further isolating Ukraine.
Several Baltic nations whose representatives spoke with Newsweek said they were already in touch with members of the incoming government, and suggested they would continue their strong opposition to Nord Stream 2 in discussions with the new coalition which will take power pending a parliamentary vote in the coming weeks.
"Europe should work together on strategic issues such as energy," a spokesperson from Lithuania's Foreign Ministry told Newsweek. "We hope that Germany will take a critical look at the Nord Stream 2 project and its potential negative impact on Europe's energy security."
Latvia's Foreign Ministry told Newsweek that a change in German posture could be on the cards. "It is clear that changes might be expected in comparison to the previous course of Angela Merkel," the ministry said.
"Regarding Nord Stream 2, Latvia has considered this a political project since the beginning and will definitely continue to seek closer dialogue also with the new German government on issues related to Russia, Nord Stream 2, and Ukraine."
Merkel, the outgoing German chancellor, has long supported the two Nord Stream pipelines, the second of which was completed in September and is currently under review by German regulators and expected to begin operations some time in 2022.
The project suffered a setback in November when regulators delayed approval until the pipeline was fully compliant with German law. The decision is likely to delay the start of operations for several months. The European Commission will also have to sign off on the pipeline before it begins transporting gas.
Critics say the pipeline is a key pillar in Russia's weaponization of its natural gas supply. Nord Stream opponents warn that Russia's President Vladimir Putin will be able to hold the continent hostage if the new pipeline is allowed to go ahead.
Nord Stream 2 will also undermine Moscow's dependence on Ukraine, which currently hosts a key pipeline delivering Russian natural gas to Europe. This ageing pipeline earns Kyiv billions of dollars each year in transit fees, and makes the country strategically vital for the European Union.
Nord Stream 2—critics say—will allow the Kremlin to cut Ukraine out of its natural gas supply routes, making Russian military action against its neighbor far less costly. Ukrainian leaders have framed the completion of Nord Stream 2 as an existential threat to their national security.
Russia has repeatedly dismissed concerns it will weaponize the pipeline to win concessions from Europe, or that it will use Nord Stream 2 to isolate Ukraine. In June, Putin said Nord Stream 2 is a "purely economic, commercial project."
Earlier this year, Germany and the U.S. reached an agreement declaring they would act if Russia was perceived to be weaponizing the pipeline. The U.S.-German plan also commits to billions of dollars in funding for alternative energy and development projects in Ukraine and neighboring Poland, which also stands to lose out on gas transit fees.
Skeptics warned the deal will mean little to Moscow, and criticized President Joe Biden for dropping the longstanding, bipartisan U.S. opposition to the project.
The Biden administration said it came to power too late to stop the pipeline, but has continued its public criticism of the project and applied new sanctions on involved entities.
Last month, Russian Foreign Minister Sergei Lavrov dismissed the latest measures as "politically motivated, unilateral restrictions, which are introduced for everything: with or without a reason."
Germany's new three-party coalition government—if approved by parliament—will be led by the Social Democratic Party's Olaf Scholz as chancellor. Scholz has previously warned that Nord Stream 2 could be cut off "just like that" if Putin abuses the pipeline.
Greens co-leader and nominated Foreign Minister Annalena Baerbock, meanwhile, has led her party's fierce opposition to the project. In October, Baerbock said Germany "can't allow ourselves to be blackmailed" by Moscow, accusing Putin of playing a "poker game" and intentionally exacerbating Europe's gas supply crisis.
Fellow Greens co-leader Robert Habeck—nominated to lead a new climate and economy super ministry—has previously said he would "doubt" that Nord Stream 2 will adhere to all European rules, and thus would likely not be approved by regulators.
The pro-business Free Democrats are the third portion of the coalition. Party leader Christian Lindner called for a moratorium on Nord Stream 2 in January over Russian human rights abuses against political dissidents.
Germany's new leading figures are clearly skeptical of Russia's motives. The coalition agreement published last month made no explicit reference to the newest pipeline.
Newsweek has contacted the SDP, Greens and FDP to request clarity on the coalition's Nord Stream 2 strategy.
British-Ukrainian journalist Bohdan Nahaylo wrote for the Atlantic Council in November that the incoming government "is biding its time and is remaining tactfully reticent on the subject."
Green Party MEP Reinhard Butikofer told a press briefing this week there is "clearly a new approach" to Russia from the incoming government. "This government is not willing to condone a policy that would go over the heads of our Eastern European partners, as Germany has in the past, and in particular with regards to Nord Stream 2," Butikofer said.
"The outgoing government and its predecessors had always politically supported Nord Stream 2," Butikofer told journalists. "This government does not support Nord Stream 2. It says that Nord Stream 2 should be judged under the auspices of European energy legislation."
"And I still think—this will have to be argued by lawyers and decided by judges—but I still think Nord Stream 2 is not up to the standards of European energy legislation."
NATO allies are applying pressure as they wait for a more concrete Russia strategy from Berlin. Polish Prime Minister Mateusz Morawieckisaid last week he wants the new German government to "do everything possible not to allow Nord Stream 2 to be an instrument in the arsenal of President Putin."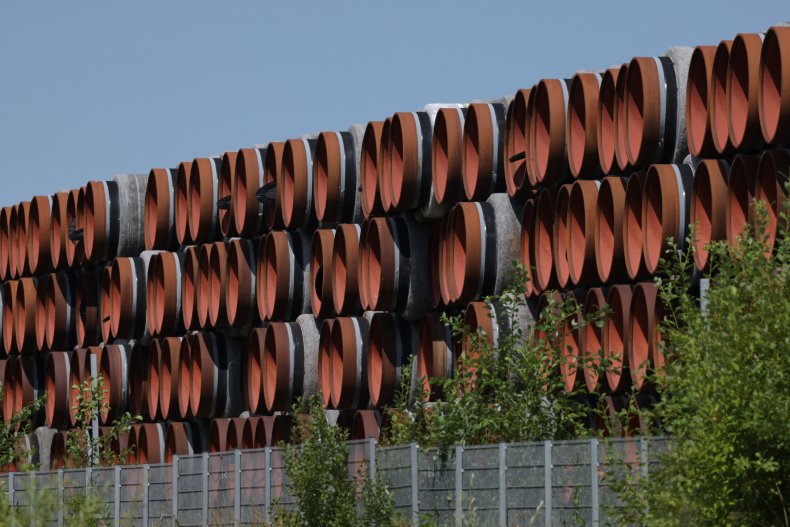 The pipeline, he told German news agency DPA, "is becoming a tool to blackmail Ukraine and Moldova. It is also a tool for the manipulation of energy prices."
British Foreign Minister Liz Truss, meanwhile, wrote in The Sunday Telegraph: "Nord Stream 2 risks undermining European security by allowing Russia to tighten its grip on those nations who rely on it for gas."
NATO's Baltic states have been particularly opposed to Nord Stream 2, which all have described as a political project designed to grant Putin more leverage over his European adversaries.
The issue is particularly pointed while Russian forces mass on the eastern Ukrainian border. The EU's Eastern European nations have been at the forefront of the bloc's support for Ukraine, and those who spoke to Newsweek urged a renewed German focus on the issue.
The German coalition agreement published last month demanded "an immediate end to the attempts at destabilization against Ukraine, the violence in eastern Ukraine, and the illegal annexation of Crimea."
Estonia's Foreign Ministry told Newsweek that Foreign Minister Eva-Maria Liimets met with "several" politicians from the current and future government during a recent trip to Berlin. "In both Tallinn and Berlin, we follow the developments in Germany closely and we are aware that the Free Democrats and Greens are critical of Nord Stream 2," the ministry said.
"Germany continues to be a very close partner of Estonia. Russia, Ukraine and Nord Stream 2 are and will be in the agenda both in our bilateral relations and at the EU," the Estonian spokesperson said.
The ministry said it would push Germany to continue towards the EU's green agenda, which "means diversifying our energy sources and suppliers, decreasing Europe's and its neighbors dependence on fossil fuels and speeding up the move towards renewables; thus increasing both Europe's and our partners' energy security."
The Lithuanian Foreign Ministry described Nord Stream 2 as a "geopolitical project" that "seeks to create divisions among EU member states.
"Nord Stream 2 is not about diversification of gas supply sources, but rather about deepening energy dependence of the European Union on Russia," the ministry said.
"This project might have a negative impact on the functioning of critical infrastructure, currently existing gas pipelines intended for transit of gas from the eastern direction—thus raising security concerns, especially in Central and Eastern European countries. It is important to us that energy infrastructure will not be used as a means of pressure and complies with all EU energy rules."
"We welcome the aim of the future government of Germany to deepen energy partnership with Ukraine," the ministry said. "It is important that actions are taken to ensure that energy is not used as a weapon."
Latvia—which hosted this week's NATO foreign ministers meeting in the capital Riga—said Prime Minister Krisjanis Karins met several future members of the German government during a visit to Berlin in November. This included a meeting with Baerbock and Habeck, the Foreign Ministry told Newsweek.
"Regarding Nord Stream 2, Latvia has considered this a political project since the beginning and will definitely continue to seek closer dialogue also with the new German government on issues related to Russia, Nord Stream 2, and Ukraine," a ministry spokesperson said.
The ministry noted that "the goals of the new coalition in the field of foreign and security policy even after the release of the coalition agreement remain rather unclear." These are expected to be more fleshed out in the coalition's national security concept, which leaders have said will be published within a year of taking office.