NATO Chief Reveals 'Biggest Risk' Amid Russia, Ukraine War
NATO Secretary General Jens Stoltenberg said on Saturday that there are no risk-free options when it comes to the ongoing Russia-Ukraine war, warning that the biggest risk would be if Russian President Vladimir Putin wins.
"Some worry that our support to Ukraine risks triggering escalation. Let me be clear. There are no risk-free options. But, the biggest risk of all is if Putin wins," Stoltenberg said at the Munich Security Conference session "Beyond the Alliance: Partnering up for European Security."
Stoltenberg explained that a Putin victory would enable other "authoritarian" leaders to use force to achieve their goals, and therefore making the world "more dangerous" and NATO nations "more vulnerable."
"So supporting Ukraine is not only the morally right thing to do. It is also in our own security interest," he added.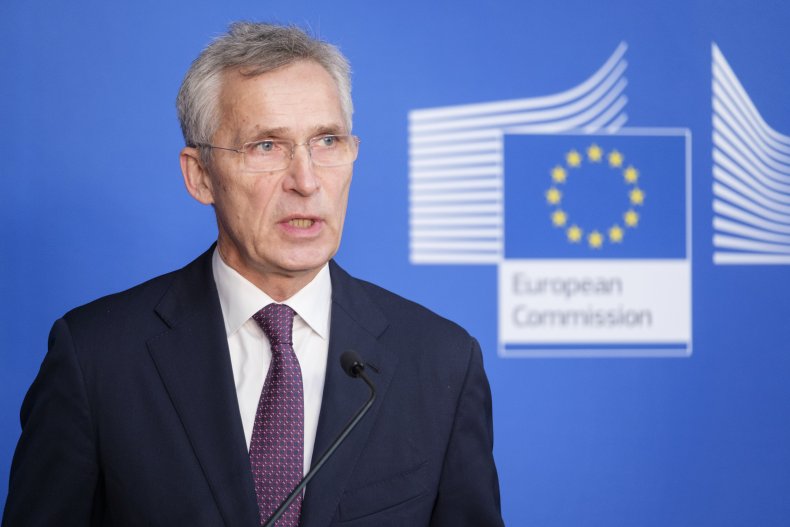 The NATO chief also urged strengthening deterrence and defense because "wars are unpredictable," and said that it remains unknown whether the war in Ukraine has an end in sight.
"But I do know this. Even if the war ends tomorrow, our security environment has changed for the long-term. There is no going back. Kremlin wants a different Europe. One where Russia controls neighbors," Stoltenberg said.
Igor Lukes, a Boston University professor focusing on Eastern European politics and contemporary Russia, explained that the threat to the West lies in Putin's expansionism.
"When Putin conquered Crimea and launched an insurrection in Donbas, the West did nothing in the hope that the aggressor would be satisfied with his recent acquisition. Yet, Putin decided that Crimea was not enough, and so he launched his war on the rest of Ukraine. This experience teaches that retreating before an aggressor does not lead to peace. On the contrary, it encourages him and weakens his domestic rivals," he told Newsweek.
He continued: "Applying this tested principle to Russia's war of aggression in Ukraine, we see that Putin's victory, defined as internationally sanctioned conquest of Ukrainian territory, would lead not to peace but to an increase in international tensions. If we allow Russia to crush the Ukrainians, then its troops would be eyeball to eyeball with four NATO members."
Additionally, Putin's victory in Ukraine, which Lukes said should be prevented at all costs, would mean a "Russian victorious drive" to the borders with Poland, which would make a "larger conflagration more likely."
The war in Ukraine is nearing its one-year mark and even though Russian forces continue to experience some setbacks, Putin has shown no signs of surrender as his army is currently gearing up to launch a new offensive in the spring.
Earlier this week, Stoltenberg said in Brussels that Russia's new offensive in eastern Ukraine began with troops getting closer to taking control of the strategic town of Bakhmut in the Donbas region.
"We see no sign whatsoever that President Putin is preparing for peace...What we see is President Putin and Russia still wanting to control Ukraine," the NATO chief said. "We see how they are sending more troops, more weapons, more capabilities. The reality is that we are seeing the start [of a new offensive] already."
Putin is sending "thousands and thousands more troops" and accepting "a very high rate of casualties," but adding pressure on Ukrainians, Stoltenberg added. "What Russia lacks in quality, they try to compensate in quantity."
NATO has been criticized for not doing enough for Ukraine despite the alliance and European nations sending continuous military supplies and aid to help Ukrainian troops. Military analyst Hans Petter Midttun wrote in an op-ed in the Kyiv Post earlier this month that the West has been supporting Ukraine in a reactive way that might not lead the country to victory.
"This professionalism has helped Ukraine receive more sophisticated new weapons as well as test Russian resolve," Midttun wrote, adding that the West needs a new strategy to help Ukraine end the war on its terms.
Midttun continued: "The U.S., EU and NATO need a strategy that is proactive and ensures that the West and Ukraine gain the initiative. It is time to acknowledge that Russia is waging a hybrid war against both NATO and EU members and act accordingly."
Newsweek reached out to the Ukrainian foreign affairs ministry for comment.
Update 2/19/2023, 3:53 p.m. ET: This article has been updated to include comments from Igor Lukes.