Trident Juncture: NATO Will Hold Largest Drill in 2 Decades, but General Says Russia Should Not 'Get Scared'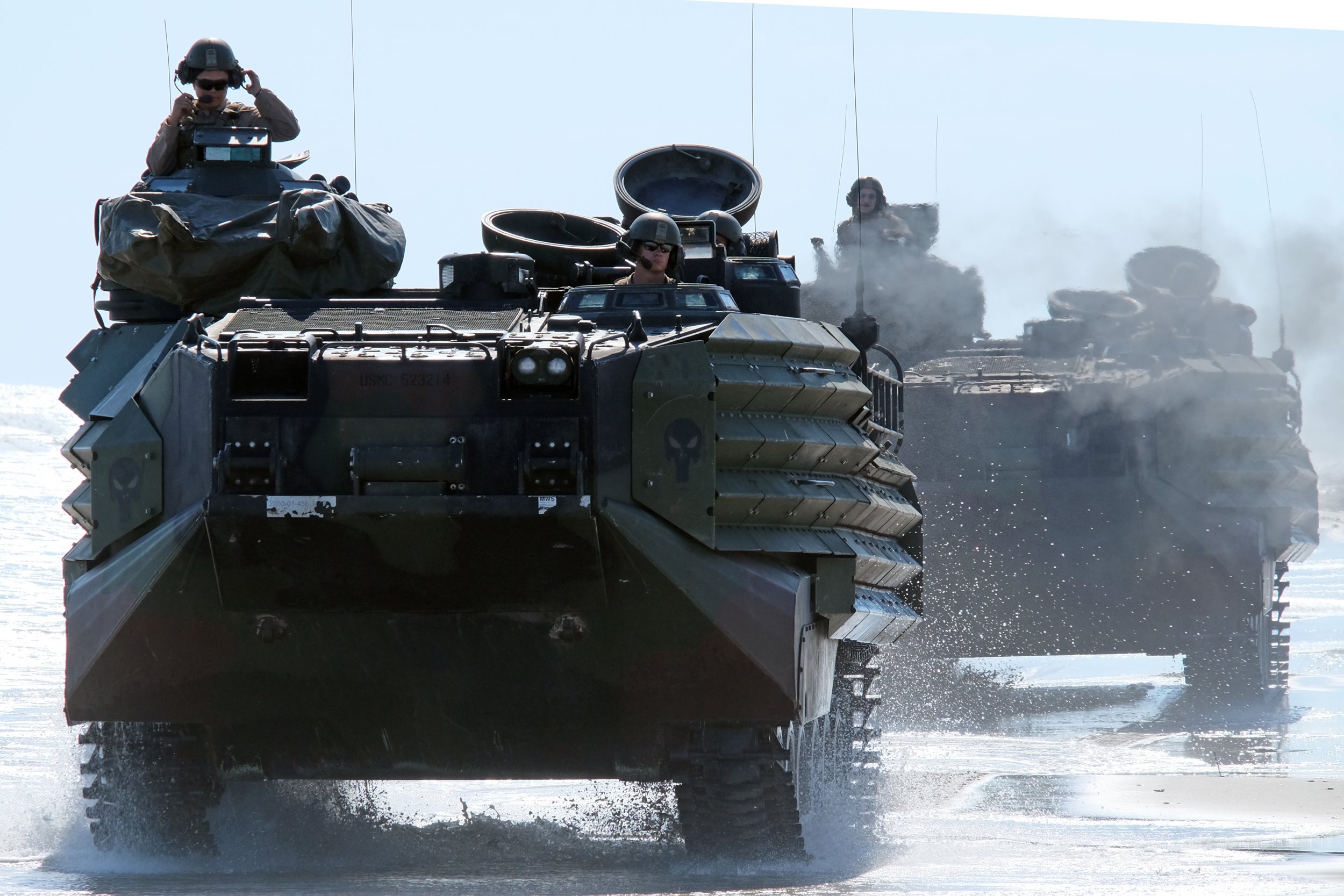 NATO has attempted to assuage Russian fears about the U.S.-led military alliance's largest drills in two decades, set to launch later this month as both factions witness a historic escalation in defense maneuvers.
The combat scenario for Trident Juncture 2018 reportedly includes allied forces repelling an attack from the north, one of many fronts in which NATO is flanked by Cold War-era rival Russia. When asked at a press conference Tuesday whether this meant the maneuvers were practice for war with Russia, U.S. Navy Admiral James Foggo said one of the exercise's messages was to "show NATO is capable of defending, it is capable of deterring any adversary, not anyone in particular."
Foggo, who serves as commander of the Allied Joint Force in Naples, asserted that the training was "a message to anyone who might conduct any kind of aggressive act leading to an Article 5 scenario inside the NATO Alliance," referring to the coalition's vow to come together to defend against any attack on any one member. His Norwegian colleague, Lieutenant General Rune Jakobsen, said Moscow's fears were misplaced.
"The core exercise area is more than 1,000 kilometers [621 miles] from the Russian border, and air operations could take place up to 500 kilometers [310 miles] away from the border, so there should not be any reason for the Russians to get scared, or see this as something else than a defensive exercise," Jakobsen, commander of the Norwegian Joint Headquarters, told reporters.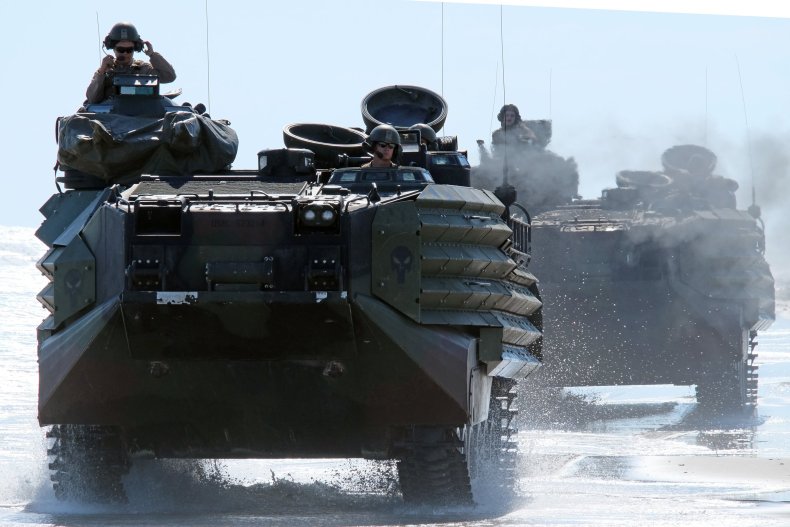 Officially, Trident Juncture 2018's purpose is "to ensure that NATO forces are trained, able to operate together, and ready to respond to any threat from any direction." The exercises include up to 50,000 participants from 31 NATO members and partner states, along with around 150 aircraft, 65 vessels and up to 10,000 vehicles.
The exercises were scheduled to take place in central and eastern Norway and the nearby northern Atlantic Ocean and Baltic Sea, including Iceland and in the airspace of Finland and Sweden between October 25 and November 7. Norway is a founding member of NATO, while neighboring Finland and Sweden are partners that have grown closer to the multinational group due to fears of perceived Russian aggression.
Since Russia's 2014 annexation of Crimea from restive eastern Ukraine, NATO has adopted a more hard-line stance against Moscow's activities in Eastern Europe. Russia has accused NATO of militarizing the resurgent power's western borders by deploying thousands of troops, including from the U.S., and has responded by mobilizing its own forces in the region.
Russia Foreign Minister Maria Zakharova told the state-run Tass Russian News Agency last week that the expansion of the U.S. Marine Corps presence and the overall increased Western military posture in Norway was a "violation of all time-tested traditions of good neighborliness and against the policy of the Norwegian government established way back in the Cold War period on self-restraint."
"We have to state that such irresponsible actions will inevitably destabilize the military and political situation in the north, increase tensions and undermine the fabric of Russian-Norwegian relations," she added. "All these NATO preparations cannot be ignored, and the Russian Federation will take the necessary tit-for-tat measures to ensure its own security."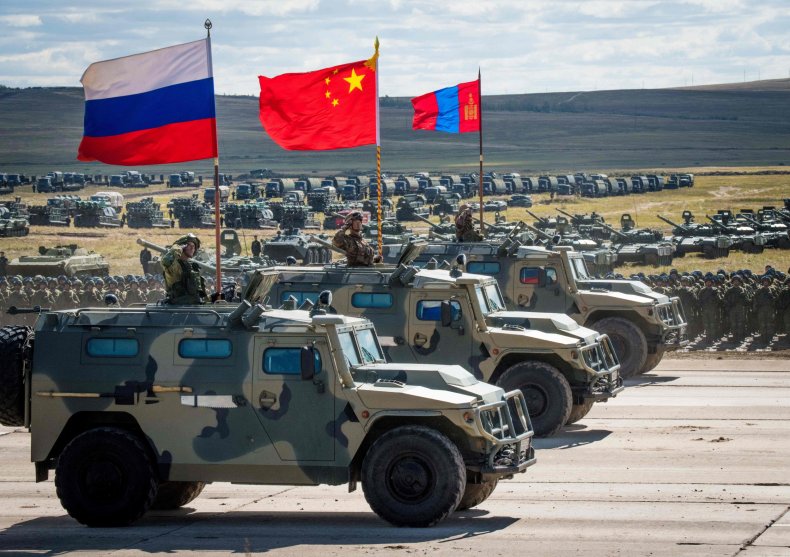 Seeing Western efforts to isolate it, Russia has sought its own international allies as it attempts to once again emerge as a major military superpower. Last month, Russia launched its largest war games since at least 1981 alongside China and Mongolia as part of the Vostok (East)-18 drills. Russian Defense Minister Sergei Shoigu said Russia brought about "300,000 troops, more than 1,000 planes, helicopters and drones, up to 80 combat and logistic ships and up to 36,000 tanks, armored personnel carriers and other vehicles," while China contributed around 3,600 troops, along with military equipment.
Last year, Russia also teamed up with Belarus to host the Zapad (West)-17 exercises near its borders with NATO. At the time, many Western analysts feared the moves could be cover for an actual military incursion into a neighboring state, but these concerns proved unfounded. Both sides, however, have continued to fortify their positions and conduct dueling exercises to demonstrate their preparedness for an all-out conflict.