Russia Shares Syria War Experience With China in Largest Military Drills Across Asia
The Russian military has put skills developed while fighting in Syria on display in ongoing, historic exercises across Asia—thus helping fellow U.S. rival China obtain crucial combat experience.
Russia launched its Vostok war games Tuesday alongside China and Mongolia. The maneuvers were set to be held across 18 ranges, including airfields and the Sea of Japan, and the Bering and Okhotsk seas in the Pacific. The drills—billed as the largest in Russia's modern history—​came amid heightened tensions with Washington, which is also involved in Syria and whose goals there were frustrated by Moscow's largely successful campaign against rebels and jihadis attempting to overthrow the government.
Russia's involvement in Syria gave the armed forces crucial battle experience at a time when the country was looking to modernize and expand its military capabilities, something China has strived for but struggled to accomplish without exposure to any recent warfighting scenarios—until now.
"The generalized Syrian experience was used in the drills—from limited objective attacks by landing forces down to firing and reconnaissance rules," Russian Colonel General Alexander Zhuravlyov said Thursday, according to the state-run Tass Russian News Agency.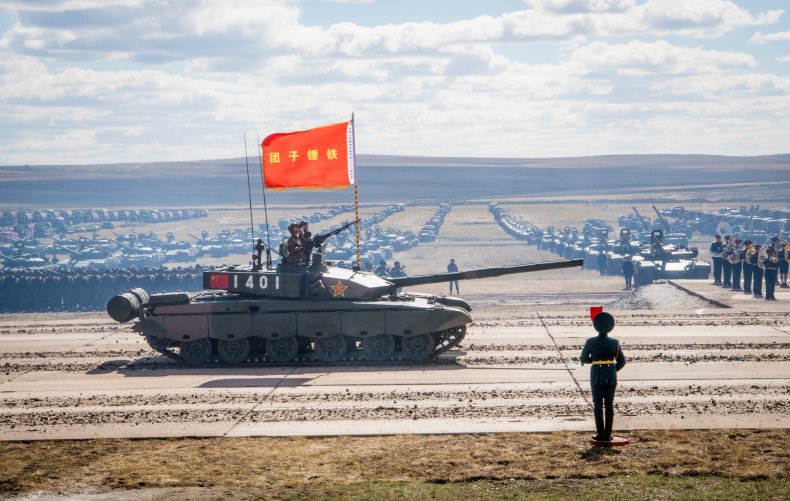 Unlike Russia, which has battled Islamist insurgents in Syria and Chechnya and tussled with Georgia since the collapse of the Soviet military behemoth, China has not fought a conflict in decades. Beijing has stood by Syrian President Bashar al-Assad throughout the Syrian conflict; China, however, offered only political and financial support, which it has sought to increase as the war appeared to reach its final stages. The world's largest standing military has enacted widescale reforms to its forces, though it has hardly fired a shot in combat as it enhances its standing on the world stage primarily through economic and diplomatic means.
Nevertheless, Beijing's disputed territorial claims across the South China Sea have faced growing challenges from Washington, and the U.S. Navy has sent patrols near islands that the Pentagon has accused its Chinese counterpart of militarizing. As Robert Farley, writing in The National Interest, pointed out in 2014, the swift U.S. victory against Iraqi forces in 1991 led Chinese defense officials to do "some soul searching," as the active expansion of the Pentagon's global military role since then has continued to raise concerns.
Russia and China have both increasingly pushed back against what they see as U.S. hegemony on their doorstep and have teamed up in recent years. Russian President Vladimir Putin and Chinese President Xi Jinping have time and time again affirmed their strategic friendship, while Defense Secretary James Mattis said Tuesday he saw "little in the long-term that aligns Russia and China," the two top U.S. competitors that have vowed to support one another.
The official China Military Online published an article Thursday written by an editor for China's ruling Communist Party outlet, The Global Times, titled "The West Should Reflect on Why China Joins Russian Military Exercise." The author identified the main two reasons for Chinese participation in Vostok: "One is to consolidate friendship between the two countries and mil-to-mil relations and deepen the China-Russia comprehensive strategic partnership of coordination; The other is to learn from the Russian army in terms of military technology. After all, the Russian troops took part in Syria's civil war."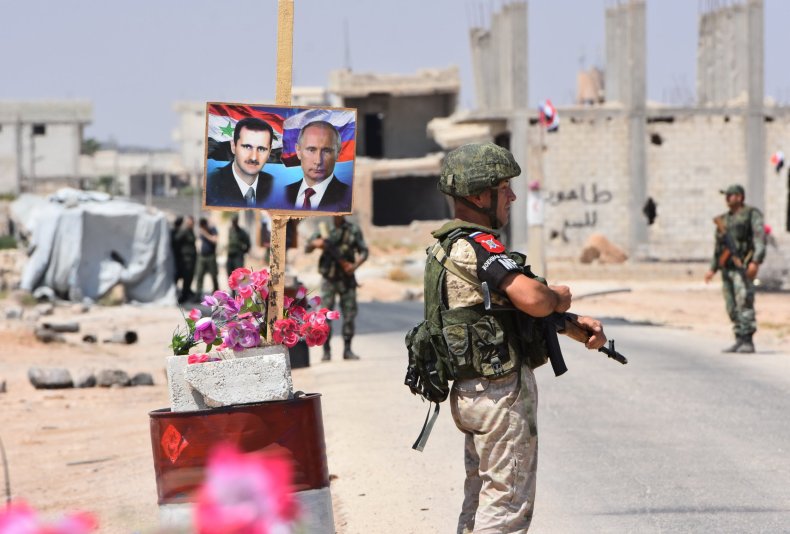 Ahead of the Vostok games, Russia's own Communist Party newspaper, Pravda, ran an article late last month titled "Russia to share its Syrian experience with China during Vostok 2018 war games" and quoted Alexei Maslov, head of the School of Oriental Studies of the Higher School of Economics, as saying that "China wants to show its stability and military power" in the face of U.S. aggression, and that "for Russia, it is important to show that China is an economic component of the new world, whereas Russia is the military one."
The outlet referred to an article published days earlier by the Hong Kong-based South China Morning Post that cited a Chinese military source as saying that Russia was compiling its Syrian war experience for textbooks to be issued in military academies and shared with China.
Last week, Russian Defense Minister Sergei Shoigu said that Vostok would include about "300,000 troops, more than 1,000 planes, helicopters and drones, up to 80 combat and logistic ships and up to 36,000 tanks, armored personnel carriers and other vehicles," making them the country's largest since the Soviet Union's 1981 Zapad drills. Vostok was set to last through Monday, and China has sent around 3,600 troops, along with military equipment, to the maneuvers.