China May Be the Biggest Winner of All If Assad Takes Over Syria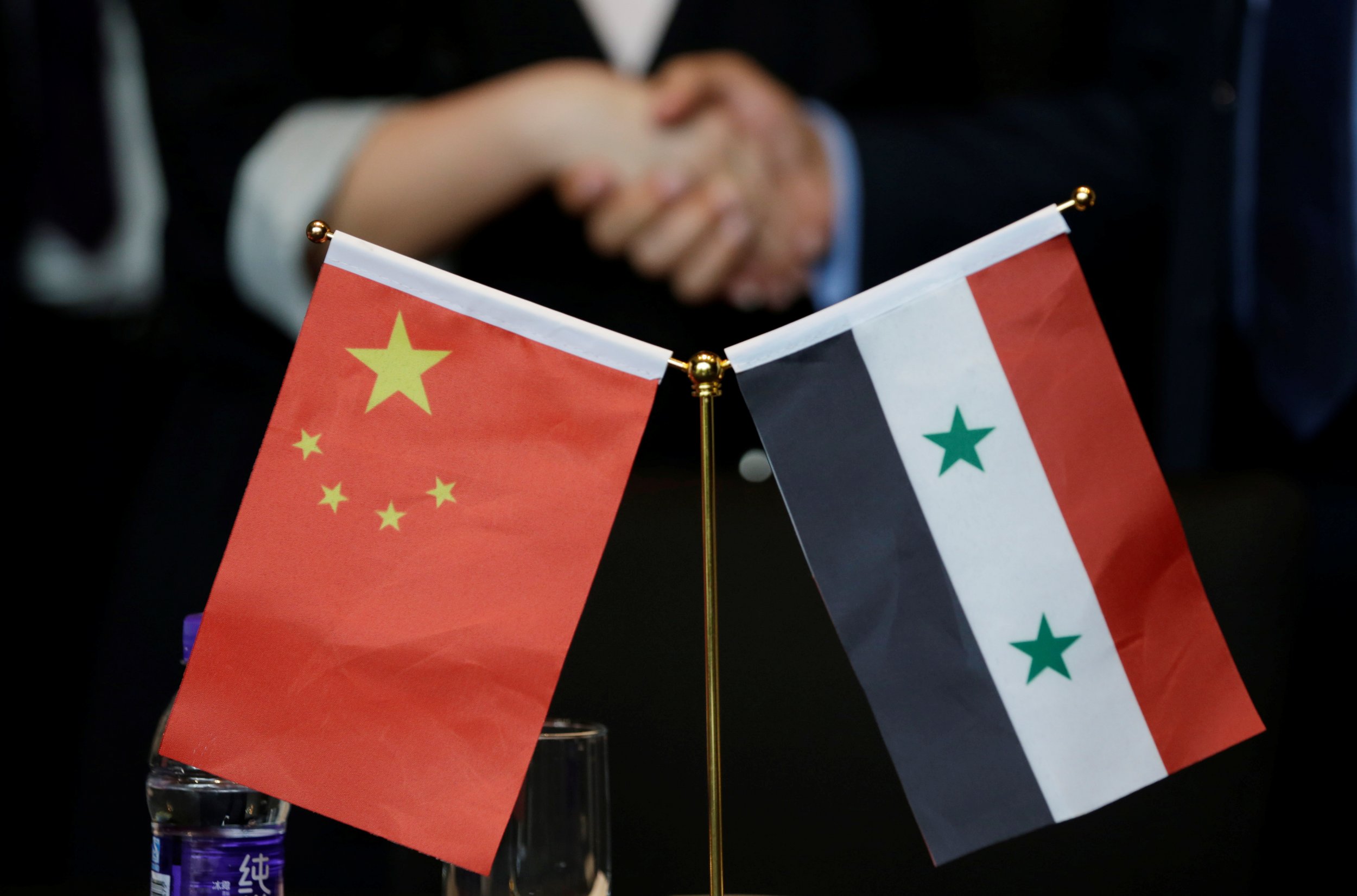 Russia's bombardment of Syrian rebel positions and open backing of the Bashar al-Assad government in Syria meant that Moscow's role in the six-year civil war got most of the limelight in 2017. But the turnaround in Assad's fortunes in Syria was also made possible by a lesser-known sponsor: China.
China's rise on the global stage is nothing new, but October's Communist Party Congress shed light on just how powerful Chinese President Xi Jinping has become. Xi has committed extensive resources toward reforming China's military and developed its historic trade routes across Asia, the Middle East, Africa and Europe. And in both of those endeavors, Assad's comeback in Syria has had benefits for Beijing.
Related: How the U.S. Lost the War in Syria to Russia and Iran
"Syria can be a key logistics hub for China. Its history is the key to bringing stability in the Levant, meaning it has to be incorporated into China's plan in the region. From a security perspective, if Syria is not secure, neither will [be] China's investment in neighboring countries," Kamal Alam, a Syrian military analyst and a visiting fellow at the U.K.'s Royal United Services Institute for Defense and Security Studies, told Newsweek.
"Culturally speaking, the secular nature of the Syrian government means it fits with the Communist Party manifesto. Syria under Bashar before the war was a mix of socialism and market-based economy, with a particular focus on education, and loyalty to the state above religion. This is attractive to China, particularly in a region where countries are rife with the rise of religious fundamentalism," he explained.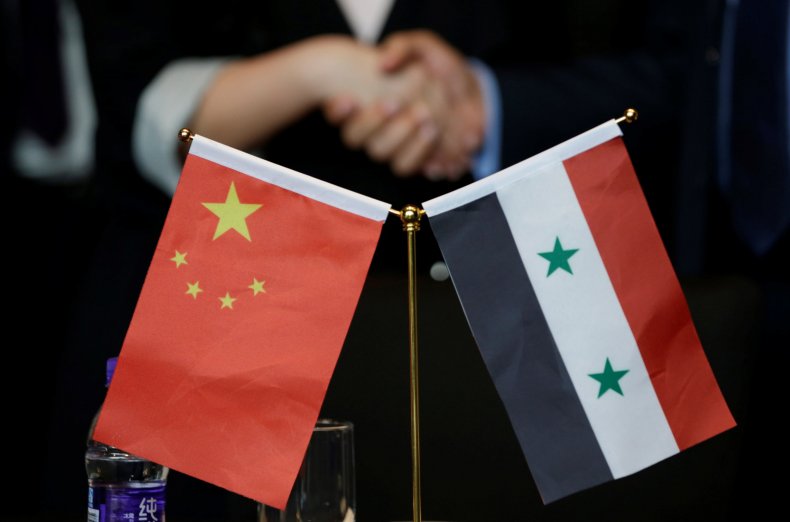 The authoritarian, anti-Western ethos of Syria's ruling Arab Socialist Ba'ath Party has always dovetailed with China's own socialist system, and Beijing has provided Syria with weapon components since at least the 1990s, but it wasn't until Bashar al-Assad took over after his father, Hafez's, death in 2000 that the relationship blossomed, Alam said. When Assad, a young, U.K.-trained ophthalmologist, ascended to Syria's presidency, he was initially received warmly by the East and the West, and he quickly sought to capitalize on international ties.
In 2002, China proposed a production center for Scud missiles in Syria. China became one of Syria's top five conventional weapons providers between 2006 and 2010, according to The Diplomat. The weapons didn't stop flowing a year later, when clashes between Syrian security forces and protesters erupted into an all-out civil war across the country.
The West, Turkey and Gulf Arab states quickly threw their weight behind the various armed insurgent groups calling for the overthrow of Assad's government in 2011, but China and Russia stepped in to block foreign intervention during a U.N. vote that October. Russia's decision was easy. Moscow and Damascus' good relations date back at least to 1971, the year Hafez al-Assad took power and sided firmly with the Soviet Union throughout the Cold War.
That same year, he allowed Russia's navy to operate from a base off the coastal Syrian city of Tartus, giving the Soviet Union firepower in the Mediterranean Sea, and giving Syria a friend for life.
While a second Cold War may be brewing between Washington and Moscow, China's support for Assad likely had less to do with sticking it to the U.S. and much more to do with promoting its own interests abroad. China has sold weapons and sent a limited a number of personnel to train Syrian troops, according to ruling Communist Party outlet The Global Times, but it has managed to stay out of both the U.S. and Russia's way by sticking mostly to reconstruction and economic endeavors.
"China does not face the same risks as the Russians and Iranians. It has not gotten involved in the fighting, thus no ill will has been created. The Chinese normally keep out of political interference, hence they will succeed," Alam told Newsweek.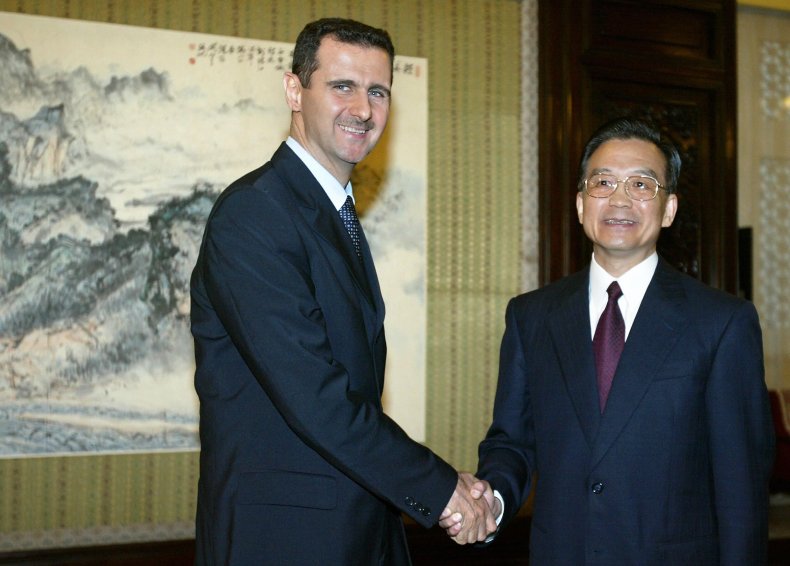 China does, however, have a security interest in stabilizing Syria. Imad Mustapha, the Syrian ambassador to China, told Reuters in May 2017 that "China, as well as every other country, should be extremely concerned" that up to 5,000 Chinese were believed to be fighting in Syria among the ranks of jihadi organizations such as Al-Qaeda and the Islamic State militant group (ISIS) that became increasingly influential over the opposition as the war dragged on.
Last month, the Associated Press interviewed several Uighur men who confessed to traveling to Syria to join the uprising against Assad. One of the militants admitted he did not care who Assad was or if he fell, only how he could utilize the training to launch attacks against China.
"Chinese are relying on the Syrian Arab Army for vital intelligence on Uighur militants," Alam said.
China's restive Uighur population has long accused the state of suppressing the majority-Muslim group's cultural, religious and ethnic identities. Beijing has taken a hard-line stance against alleged militant attacks from the Uighur community, and experts said it has shaped China's role in Syria. "China's concerns about Islamists in Syria are rooted in their concerns about Islamists at home," Geoffrey Aronson, Middle East affairs expert and chairman of The Mortons Group consulting firm, told Newsweek.
"There are very few reasons for the Chinese to support the opposition, even the so-called secular opposition that hardly exists anymore, if it ever did."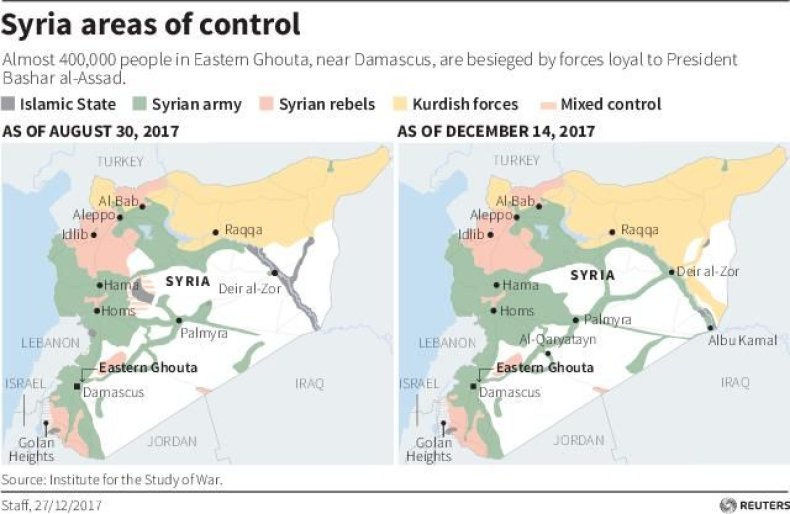 Russia's successful effort to help the Syrian armed forces and allies retake the former revolutionary center of Aleppo in December 2016 was widely seen as a turning point in the war. Rebels had suffered perhaps their greatest defeat yet, and in an attempt to help the opposition salvage a stake in the country's future, Turkey stepped in to oversee evacuations and joined Russia and Iran in a new effort to end the conflict. This ongoing peace process, based in the Kazakh capital of Astana, has been cautiously accepted by the West, which has preferred ongoing talks in Geneva.
China, however, has embraced the Moscow-led initiative and in September was named a potential observer state. Last month, Chinese Foreign Minister Wang Yi met with Assad's political and media adviser Bouthaina Shaaban to discuss "a greater role in the process" for China.
In another departure from the West, China has already begun to secure its economic stake in the reconstruction of the war-torn country.
The U.S. and other allies have demanded that the peace process produce a solid political transition, which Washington does not want to include Assad. Others, like China, disagree and are more interested in capitalizing on lucrative opportunities than pursuing regime change in a country that sits at the crossroads of the Middle East and the Mediterranean. The region is a key connection for China's Belt and Road, or "One Belt, One Road," Initiative, designed to rebuild and expand China's historic trading routes across Asia and toward Europe and Africa.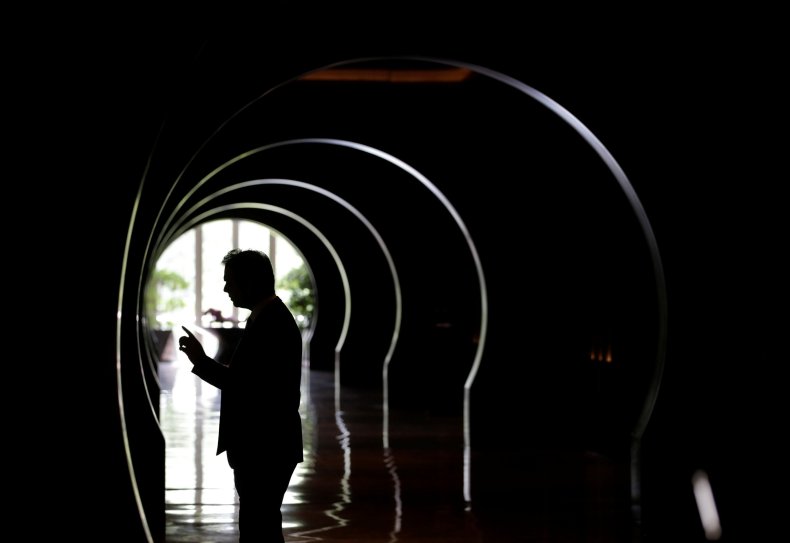 China-Arab Exchange Association Vice President Qin Yong told Bloomberg News last month that Chinese companies were calling him to talk about Syria every day, saying, "They see huge business potential there, because the entire country needs to be rebuilt." Whereas the U.S. refused to send money or, even worse, spent it solely on dropping bombs, Aronson said China saw a major chance to cash in.
"The Chinese are seeing us take money out of the bank and putting nothing in. The Chinese are in awe of this. They don't understand it. They see it as an opportunity," Aronson told Newsweek. "We're, in a sense, not in the business of rebuilding infrastructure and development not directly related to our military presence.
"We'll build an airstrip, a base. The Chinese will build a railroad, a port; they're investing in the future," Aronson continued. "We used to say that trade follows the flag. With the Chinese, the flag follows the trade."