Russia Reveals What Its Largest War Games in Modern History Will Look Like
Russia has revealed the plan for its largest war games in modern history, set to launch next week in a major show of international force as tensions with the U.S. simmer.
During a conference call Tuesday, Russian Defense Minister Sergei Shoigu said that the active phase of the Vostok ("East") 2018 joint exercises would take place on September 11-17 across nine testing grounds and three seas. He said that snap readiness checks have already begun for Russia's Central and Eastern military districts, its Northern Fleet, Airborne Troops and long-range and military transport aircraft, along with combat exercises for what would be the biggest drills since the Soviet Union tested the West's resolve with massive drills in 1981.
"Taking part in it will be about 300,000 troops, more than 1,000 planes, helicopters and drones, up to 80 combat and logistic ships and up to 36,000 tanks, armored personnel carriers and other vehicles," Shoigu said, according to the state-run Tass Russian News Agency.
Russian troops would be joined by Chinese and Mongolian forces, showing Moscow was not alone in its efforts. With the U.S. seeking to challenge Russia and China's rise on the world stage, Shoigu noted he was looking to arrange a meeting with foreign military attaches, including those from the U.S.-led NATO Western military alliance.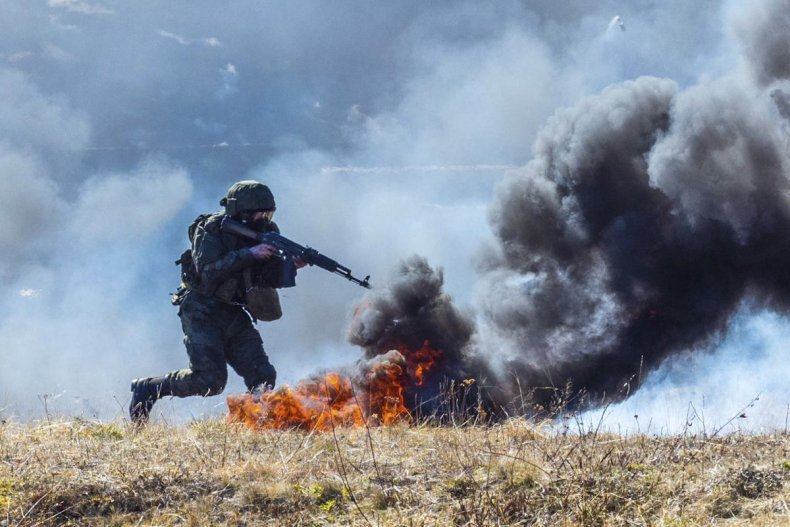 The Cold War tensions that surrounded the 1981 Zapad ("West") war games have resurfaced in the 21st century and have been exacerbated in recent years by a feud between Washington and Moscow, where the political landscape has been dominated by Russian President Vladimir Putin for nearly two decades. The relationship between Putin and former President Barack Obama grew hostile after Moscow's 2014 annexation of the Crimean Peninsula, following a political uprising in neighboring Ukraine and fell out amid allegations that the Kremlin interfered in the 2016 U.S. presidential election in favor of President Donald Trump.
These allegations have persisted throughout Trump's presidency, hampering bilateral efforts for a reset in U.S.-Russia ties. Competing interests in Europe and the Middle East have also split the world's top two military powers and Putin has sought to bolster his country's armed forces to close the post-Soviet gap that has plagued its warfighting capabilities. Last September, Russia and Belarus staged a massive Zapid exercise along the borders of Estonia, Latvia, Lithuania and Poland, all of which host multinational NATO battle groups amid fears of Russian military might across the border.
As its name implied, however, next week's Vostok drills will focus on the East, where Russia has forged growing relations with China in a mutual effort to challenge U.S. dominance in Asia. Shoigu said Tuesday that the exercises would be held "at five mixed-use training grounds, four Aerospace Force and Air Defense grounds and in the Sea of Japan and the Bering and Okhotsk seas," according to the Russian Defense Ministry.
Shoigu said that up to 3,500 Chinese soldiers would be involved in the main event, which will take place at the Tsugol firing range in the Eastern Military District. He said the training would "increase the level of land, sea and air training of personnel to carry out operations in the East and in operationally important areas at sea and in the ocean."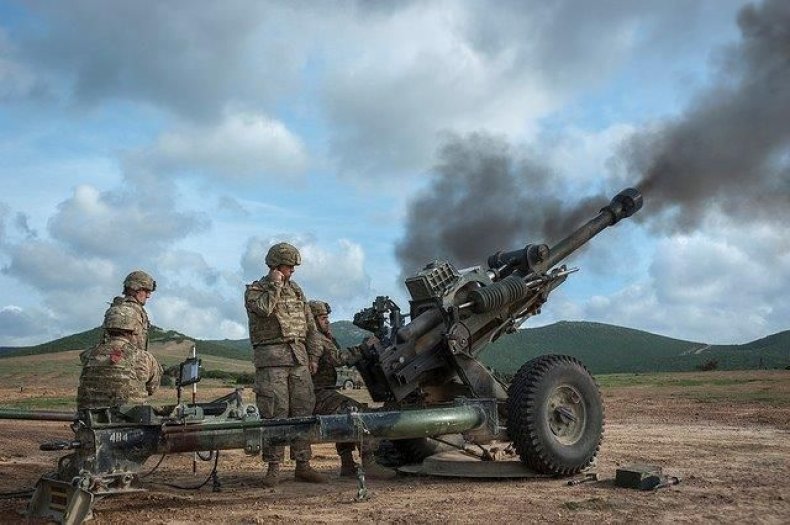 The U.S. has not directly responded to the upcoming war games, but a Pentagon official told the Washington Free Beacon last month that the military would be closely watching the games, which may include a simulated nuclear strike element. Russia and China have recently come out against an inflated U.S. military budget that they have argued would only further destabilize international affairs.
Western troops were planning their own historic war games, too. Through late October and early November, NATO was set to conduct Trident Juncture 2018, its largest maneuvers of their kind in Norway since the Cold War. The exercises would reportedly include 40,000 soldiers and equipment from more than 30 nations, as well as simulate an Article 5 scenario in which the entire force of the alliance responds to an attack.