NATO Jets Scramble as Russian Fighter Planes Spotted Over Poland, Sweden
Italian jets scrambled in response to four Russian fighter planes that entered European airspace on Wednesday, according to Italy's air force.
The Italian Air Force (Aeronautica Militare) Twitter page shared a picture of two Italian aircraft. "#Scramble, new immediate take-off for the Eurofighter Italians engaged in Air Policing activities in Poland to intercept 4 Russian fighters that had affected Polish and Swedish airspace before being forced to re-enter Kaliningrad airspace," the page tweeted.
The page tweeted a follow-up picture that showed another Italian aircraft taking off. It also clarified that the Russian aircraft first entered Polish airspace and then Sweden's airspace.
The incident comes at a time of high tensions between Russia and the West and Ukraine, particularly with the latter's successful counteroffensive campaigns that have brought significant military successes. In addition, Russian President Vladimir Putin recently threatened to use nuclear weapons if his country has to defend itself against attack.
Matthias Eichenlaub, a NATO press officer, told Newsweek that Italy has jets assigned to the alliance's air policing mission in the Baltic region. He also said that NATO aircraft in this region "regularly intercept Russian military aircraft that don't follow international air safety rules."
Last Friday, NATO Secretary-General Jens Stoltenberg expressed support for Ukraine in its efforts to take back territories held by Russian forces. "Ukraine has, of course, the right to retake Ukrainian territory that is now occupied by Russian forces. That's the reason why we support them," he said.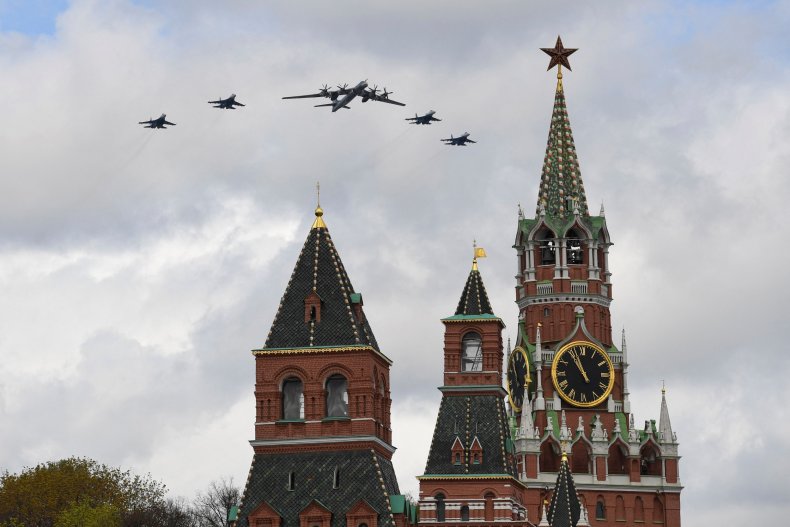 He continued: "So they can defend themselves but also so they can continue to liberate territory. And as I said, the illegal annexation or attempt of annexing Ukrainian territory doesn't change that. It doesn't change the nature of this conflict."
The secretary-general also emphasized that NATO would not be a victim of "nuclear blackmailing" and fears of Russian retaliation.
"Then we accept that by threatening of using nuclear weapons, authoritarian powers like Russia can achieve exactly what they want," he said.
Ukrainian President Volodymyr Zelensky recently addressed the military successes his forces have achieved against the Russians.
"The Ukrainian army is advancing in quite a rapid and powerful manner in the south of the country within the context of the current defense operation," he said in an address Tuesday.
"This week alone, since the Russian pseudo-referendum, dozens of population centers have been liberated. These are in Kherson, Kharkiv, Luhansk and Donetsk regions all together."
Earlier this week, Ukraine said Russia lost 44 tanks and 27 armored personnel carriers in a single day.
The General Staff of the Ukrainian Armed Forces gave its latest Russian loss estimates Tuesday morning on its Facebook page. The post estimated that since the beginning of the war, Russia has lost around 60,800 personnel, with an additional 370 losses on Monday.
It also said that 2,424 tanks have been lost since the war started February 24 and that 44 tanks were destroyed on Monday.
Also, Ukrainian forces have destroyed 5,018 armored personnel vehicles, and another 27 were destroyed Monday.
Throughout the war, Russia has rarely released updates on its losses, and the figures it has released have been much lower than the Ukrainian estimates.
Newsweek has contacted Russia's Ministry of Foreign Affairs for comment.