Russia Struck Kyiv While NATO Ministers Were Still in Capital
Russian forces launched their new war on Ukraine Thursday while two NATO foreign ministers were in Kyiv on a visit to show solidarity with the besieged government.
The Estonian and Latvian foreign ministers were both in the capital when Russian ordinance began raining down on Ukrainian cities—including Kyiv—early on Thursday, and as Russian troops and tanks crossed into Ukrainian territory with war goals as yet unknown.
Lithuania's foreign minister was also due to arrive in the city on Thursday morning, but the flight was canceled shortly before, the country's Foreign Ministry told Newsweek.
A source in one of the Baltic delegations told Newsweek from Kyiv they had not yet been able to leave the capital as of Thursday morning, but that at least one foreign minister would soon do so.
The source added that the foreign ministers had, as late as Wednesday evening, still been planning to meet with Ukrainian President Volodymyr Zelenskyy on Saturday.
The three Baltic foreign ministers—Estonia's Eva-Maria Liimets, Latvia's Edgars Rinkevics, and Lithuania's Gabrielius Landsbergis—released a joint statement condemning the Russian invasion, which appears to be multi-pronged and directed towards major Ukrainian cities.
Rinkevics also ordered the evacuation of all Latvian diplomats from the capital towards the Western city of Lviv and called on all Latvian citizens to leave the country.
The Estonian Foreign Ministry told Newsweek Thursday morning that Liimets was en route back to Estonia as of just before 4 a.m. ET.
"Dear Ukrainian friends, we are in your historic capital Kyiv, we support you and do anything possible so that the aggressor will pay the highest possible price," they wrote, adding the national refrain: "Slava Ukraini!", meaning "Glory to Ukraine."
"We would need to urgently provide Ukrainian people with weapons, ammunition, and any other kind of military support to defend itself as well as economic, financial and political assistance and support, humanitarian aid.
"In this difficult moment, we stand united with the people of Ukraine."
All three ministers posted the joint statement on Twitter. They called for immediate and comprehensive sanctions against Russia and extensive support for the Ukrainian government, now reportedly under attack from multiple directions.
"This act of aggression is not acceptable, it's a blatant violation of the international law, of all international norms and a crime against [the] Ukrainian people that we condemn," the ministers wrote.
"All of us in the whole international community need to condemn it in the strongest possible way, to impose the strongest possible sanctions on Russia, including disengaging Russia from SWIFT, isolating it politically and being firm in our support to the sovereignty, territorial integrity of independent Ukraine."
Liimets added in a separate Twitter post that the assault was "sheer awfulness and unnecessary." Hours before, the foreign minister had posted a photo of herself outside the famous Saint Sophia Cathedral in Kyiv.
Landsbergis wrote that the war thrust upon Ukraine will echo far beyond its borders. "We in Lithuania know it very well that Ukraine is fighting not just for Ukraine, but for us in the region, Europe and everyone in the democratic world," the minister said.
"It is our obligation not just to punish Russia for its actions but to help Ukraine with all and every means available. Now."
Rinkevics wrote: "February 24, 2022 a date that will live in infamy."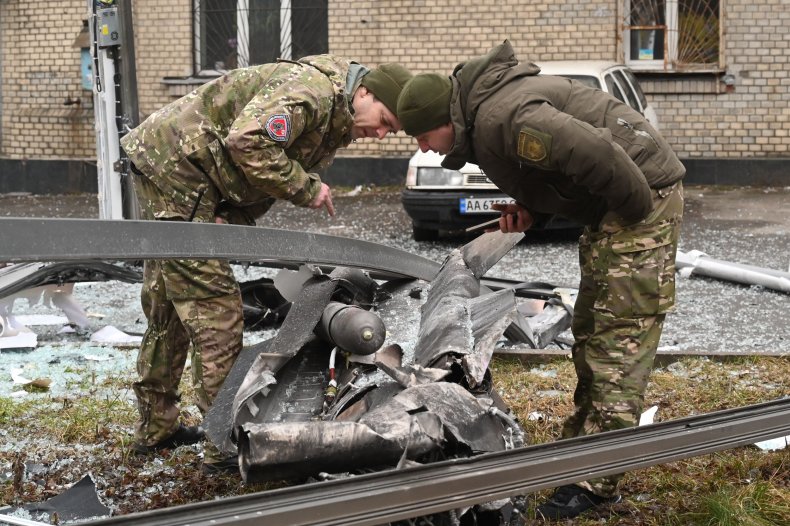 Correction 4:05 a.m. ET, 2/24/22: This article has been updated to note that Lithuanian Foreign Minister Gabrielius Landsbergis was not in Kyiv when the Russian attack began.