As NATO Reaches Out to Asia, China and North Korea Warn It's Going Too Far
NATO Secretary-General Jens Stoltenberg received a warm reception upon his arrival Sunday in South Korea, the first leg of a two-nation tour that also included fellow U.S. ally Japan.
But a far colder reaction came from China and North Korea, two nations whose officials emphasized on Monday that a growing military footprint of the U.S.-led alliance was not welcome in the Asia-Pacific region.
Speaking Monday at the Chey Institute for Advanced Studies in Seoul, Stoltenberg addressed the Western bloc's growing focus on China, saying that, although NATO does not "regard China as an adversary" and engagement was sought on issues such as arms control and climate change, the alliance believes "China poses a challenge to our values, to our interests and to our security." As such, he said that China has risen "much higher on the NATO agenda."
Reacting to these comments, Chinese Foreign Ministry spokesperson Mao Ning argued that "China is a cooperation partner of all countries, not a challenge" and it does "not pose a threat to any country's interests and security."
To the contrary, she said it was NATO that was raising concerns given its growing interests in regions far beyond its shores.
"While claiming to remain a regional defensive alliance, NATO has constantly gone beyond its traditional areas for defense, made advances into new domains, and strengthened military and security ties with Asia-Pacific countries," Mao said. "Such developments call for high vigilance among regional countries."
"We hope NATO can abandon the Cold War mentality and bloc confrontation mindset," she added, "and do things that will contribute to the security and stability of Europe and the wider world."
And as for other nations within the Asia-Pacific, she said that "we hope regional countries will stay committed to the right path of cooperation in the Asia-Pacific and play an active part in defending and promoting world peace, stability, development and prosperity."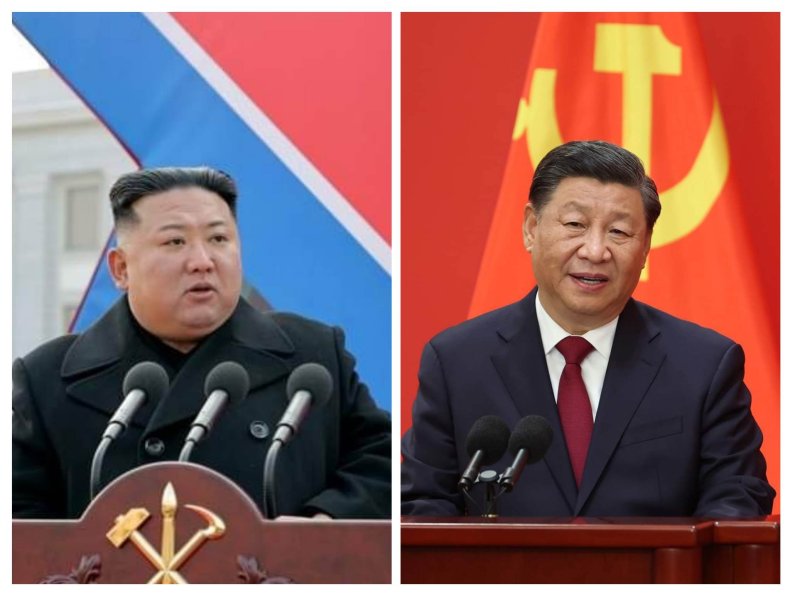 Stoltenberg also addressed worries about North Korea, and whether NATO would intervene if a conflict were to erupt on the Korean Peninsula.
"I think I will be very careful about speculating about hypothetical situations," the NATO chief said, "but the message to Kim Jong Un in North Korea is that they're threatening rhetoric, but also a reckless program they have when it comes to missile programs and nuclear programs, is dangerous."
He also noted how NATO allies have "been very strong on calling on North Korea to follow and abide by all the U.N. Security Council resolutions" that forbid Pyongyang from pursuing missile tests and nuclear weapons development.
But North Korean Supreme Leader Kim Jong Un has only intensified his military moves over the past year, testing various kinds of rocket and missile platforms as cross-border incidents between the two Koreas spiked, raising tensions across the peninsula. China and Russia have also shot down efforts to impose new restrictions against North Korea at the U.N. Security Council, arguing that diplomacy was the only path toward de-escalation.
Kim's government hit out at Stoltenberg over his trip on Monday, with the North Korean Foreign Ministry publishing an article attributed to Kim Tong Myong, researcher of the Society for International Politics Study, titled: "Is the trip of the secretary general of NATO aimed to instigate the creation of the Asian version of NATO?"
"It is well known that NATO has long made persistent attempts to expand its sphere of influence limited to European defense to the Asia-Pacific region, which rose to be the strategic center of the world," the researcher wrote.
The researcher also accused the alliance of staging "bilateral and multilateral joint military exercises under various titles by introducing armed forces of its member states including aircraft carriers and fighters under the pretext of opposing the so-called 'change of status quo by force.'"
And the author pointed to South Korea and Japan as key parts of this strategy, highlighting NATO Military Committee Chair Admiral Rob Bauer's visits to the two countries in April and June of last year, as well as Seoul and Tokyo's first-ever participation in the NATO summit held in June in Spain. The article also pointed out how South Korea became a full member of NATO's Cooperative Cyber Defense Centre of Excellence in May and received a delegation from the NATO Parliamentary Assembly in October.
On the defense level, the article made note of South Korea's exports of weapons to Poland and Japan's agreement to jointly develop advanced fighter jets with Italy and the United Kingdom.
The researcher argued that this trend "clearly proves to what extent the NATO's sinister intention to use south Korea and Japan for expanding its influence has reached."
"It is the general orientation sought by the U.S.-led NATO to cook up Asian version NATO serving the maintenance of its hegemonic position and order in collusion with its vassal forces," the commentary stated. "It is quite natural that over the recent worrying moves of NATO, countries in the region have warned that NATO seeks to apply the method of collective confrontation in Asia-Pacific, which had already been used in Europe, and South Korea and Japan should not introduce NATO forces into the Asia-Pacific region."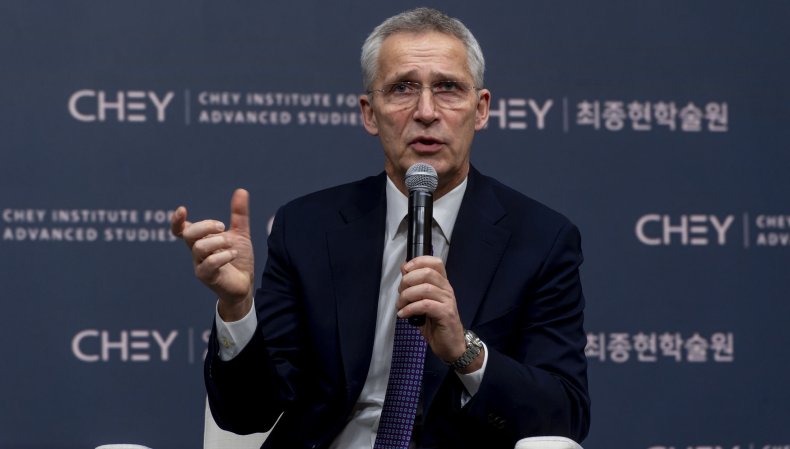 And, as North Korea denied U.S. accusations that it was sending weapons to Russia and its Wagner Group private military company for use in the war in Ukraine, the researcher wrote that it was only "a matter of time that the military hardware of South Korea and Japan flowing into NATO are seen in the Ukrainian battlefield."
Media reports dating to November suggested that South Korean ammunition supplied to the U.S. was already making its way to Ukraine, though they have been denied by Seoul. Stoltenberg, for his part, however, stated in Seoul that "there is an urgent need for more ammunition, more weapons to Ukraine."
The article carried a warning for both Seoul and Tokyo as well as NATO over the effort to strengthen East-West cooperation.
"South Korea and Japan trying to attend to their own business by inviting unbidden guests to the region should be well aware that they are getting closer to the extreme security crisis, far from defusing security uneasiness," the commentary said. "It will be nothing good if NATO, a synonym for war and confrontation, puts its military boots on the region."
Echoing the Chinese Foreign Ministry comments, the article warned that "the trip of the NATO secretary general to South Korea and Japan is a prelude to confrontation and war as it brings the dark clouds of a 'new Cold War' to the Asia-Pacific region."
It concluded that "regional countries and the international community should remain highly vigilant against the frequent footsteps of NATO toward Asia-Pacific."