Countries of the 30-state NATO military alliance may offer safe haven for Ukrainian troops as they flee advancing Russian forces that threaten to take the capital Kyiv, Newsweek has learned after speaking with a number of the bloc's officials.
A spokesperson for Estonia's Foreign Ministry told Newsweek that all Ukrainians—whether in civilian clothes or in uniform—will be allowed to enter the country under its existing visa waiver program. The spokesperson said Estonia has decided to extend the allowed period of stay for Ukrainian citizens beyond the 90 days enshrined in law.
The ministry declined to comment when asked whether Ukrainian troops in Estonia would be allowed to support resistance movements or operations on Ukrainian territory occupied or threatened by Russian forces.
One Latvian diplomatic official, who spoke on the condition of anonymity as they were not authorized to speak publicly, told Newsweek: "I would imagine the answer would be a big yes," though they said they were not aware of any discussions on the topic.
"We are currently focusing all our efforts on supporting Ukraine in its fight against Russia," the official added. "We are planning to welcome refugees, but there seems not to have been a separate discussion on the topics you mention. We also know the Ukrainians are currently not letting men out of the country."
The official could not say whether Ukrainian troops, if given sanctuary, would then be allowed to organize or support resistance operations against the Russian invaders.
Asked about the possibility of NATO support to Ukrainian insurgents should Kyiv fall, NATO Secretary-General Jens Stoltenberg told a news conference Friday that NATO states have expressed "they are ready to continue broad support to Ukraine, military support, financial support, humanitarian support and then I think we will have to judge how things evolve."
A NATO official with whom Newsweek spoke also said that "NATO allies are providing military support to Ukraine" and cited Estonia specifically as an example, as the Baltic country is "sending Javelin anti-tank missiles and anti-aircraft munitions to Ukraine."
As for alliance members reportedly allowing Ukrainian civilians or troops into their airspace and territory, the NATO official said they recommended checking in with "individual allies for details on their support."
Amid air traffic information indicating that at least four Ukrainian Il-76 transport aircraft had landed in Poland on Thursday, a spokesperson for the Polish Armed Forces operation commander told Newsweek that "for security reasons, in the current situation, we do not comment on such reports."
Ambiguity about how far NATO was willing to go to actively support Ukrainian forces threatens running afoul of Russian President Vladimir Putin, who has warned strongly against outside intervention in the conflict. In announcing the onset of Russian operations, he vowed unprecedented measures against those who sought to stand in Moscow's way.
"Whoever tries to interfere with us, and even more so to create threats for our country, for our people, should know that Russia's response will be immediate and will lead to such consequences that you have never experienced in your history," Putin warned. "We are ready for any development of events, all the necessary decisions in this regard have been made. I hope that I will be heard."
One former senior U.S. intelligence officer told Newsweek that "the next level of this conflict that isn't likely but still possible is establishing training bases and sanctuaries in NATO counties then support insurgent ops."
"NATO would also have to heavily fortify their borders to stop Russian pursuit," the former senior U.S. intelligence officer said. "If Russia installs a puppet and 'leaves,' such an insurgency is more likely."
One Baltic diplomatic official told Newsweek on the condition of anonymity that Baltic states have discussed offering sanctuary to members of the Ukrainian Rada—its parliament—who decide to leave the country. The Baltic states have not reached an agreement on this, the official said, but added that several NGOs have offered their assistance.
Lithuania's Foreign Ministry directed Newsweek's inquiry to the country's Defense Ministry. A response was not received in time for publication.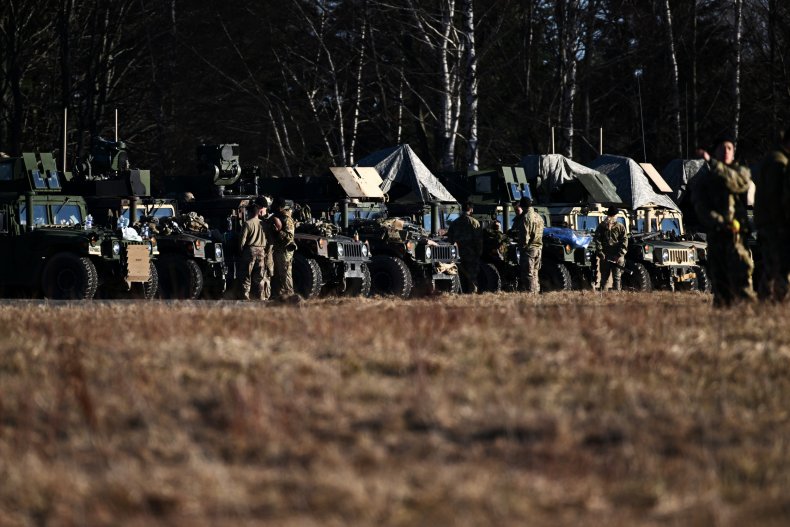 Some even outside the region have expressed their willingness to take in Ukrainians seeking refuge from Europe's most intensive conflict in decades.
Israeli Foreign Ministry spokesperson Lior Hayat told Newsweek that Israel was open to immigration from all of Ukraine's Jewish population, including President Volodymyr Zelenskyy.
But discussions of establishing potential Ukrainian insurgent bases as Russian troops enter Kyiv have focused on nations in the immediate vicinity of the war-torn country. Geographically, hosting resistance units in Latvia, Lithuania or Estonia—all longtime havens for dissidents and defectors from Russia and Belarus—would make less sense than in nations bordering Ukraine like Poland, Slovakia, Hungary or Romania.
Washington and Moscow have previously backed insurgents against one another, a phenomenon that harkens back to Cold War-era conflicts such as the Soviet intervention in Afghanistan and the U.S. war in Vietnam, two wars in which the attacking superpower lost. In more recent years, Washington has armed insurgents in Libya and Syria and has accused Moscow of doing the same in eastern Ukraine since 2014, when unrest first broke out after a political uprising brought to power a pro-West government seeking NATO membership.
A source close to Zelenskyy, who wished to remain anonymous, told Newsweek they expected continued NATO backing for Ukrainian fighters, even if Kyiv is captured and the government in some way neutralized.
"The Ukrainians have received assurances that they will be supported with further military aid in their continued defense of Ukraine," the source said. As to potential negotiations between Kyiv and Moscow, they added: "I just don't think it's likely to be fruitful—Putin is now calling for a military coup in Ukraine."
Both Zelenskyy and Putin signaled a willingness to engage in negotiations on Friday, but the latter then called for a military uprising as a precursor for talks.
"Take power into your own hands," Putin said. "It looks like it will be easier for us to negotiate with you than with this gang of drug addicts and neo-Nazis who settled in Kyiv and took the entire Ukrainian people hostage."
The Russian leader had previously called on all Ukrainian servicemen to lay down their arms as to be spared from the war.
Now, with Russian forces already fighting for Kyiv and pushing forward on other axes, questions have arisen as to how far Putin planned to go with his incursion.
An enemy occupation of all of Ukraine would put Russian troops all along NATO's borders, from the Black Sea in the south to the Baltic Sea in the north. But this would take a complex, and potentially costly, Russian effort.
The source close to Zelenskyy was skeptical that the Russians would move much further west than Kyiv in the north and the port city of Odesa in the south. "I find it hard to believe they would stretch themselves so thin and move significant forces westward and threaten NATO borders."
A member of the U.K.'s delegation to NATO told Newsweek on the condition of anonymity that the "worst-case" scenario remains a complete Russian invasion, installation of a puppet government in Kyiv, and "Russia being further along NATO's borders."
Much of NATO's efforts, especially on the part of the United States, have been focused on shoring up the alliance's eastern flank, including the countries that border Ukraine. In a joint statement that accompanied Stoltenberg's news conference Friday, NATO announced the activation of a 5,000-strong "Very High Readiness Joint Task Force" led by France and Germany.
And while Stoltenberg emphasized NATO's commitment to its Article 5 clause that would trigger a collective defense mechanism among member states, he also stressed that the alliance was looking to avoid a direct war with Russia.
"For NATO allies, we provide the absolute security guarantees under the Washington Treaty, Article 5: An attack on one will be regarded as an attack on all," Stoltenberg said. "And we are clear on this distinction because it is important to make sure we don't have an even bigger crisis in Europe, where Russia challenges or is threatening or attacking any NATO-allied country."
President Joe Biden also reiterated on Thursday that U.S. soldiers were not being sent to Ukraine as he gave televised remarks announcing new further-reaching sanctions against Russia that have since been followed by new economic restrictions from the European Union and the United Kingdom.
"Our forces are not and will not be engaged in the conflict with Russia in Ukraine," Biden said. "Our forces are not going to Europe to fight in Ukraine but to defend our NATO allies and reassure those allies in the east."