Putin Winning War Costlier Than Investing in Ukraine: NATO
NATO Secretary General Jens Stoltenberg on Wednesday discussed the alliance's backing of Ukraine in defending itself against Russia, saying that if Russian President Vladimir Putin were to win, "the price we'd have to pay would actually be higher than to now invest in the support for Ukraine."
Stoltenberg made the remarks during a joint news conference with U.S. Secretary of State Antony Blinken at the Department of State in Washington, D.C. The two officials took questions from reporters about a variety of issues, though most of the talk centered on the war in Ukraine, which will reach its 100th day on Friday.
Stoltenberg said there has been "an unprecedented level of unity among NATO allies and partners in the response to Russia's aggressive war against Ukraine."
The secretary general emphasized NATO would continue its support of Ukraine, even though economic sanctions had also impacted members of the alliance.
"European allies, of course—as the United State—have imposed sanctions. They have a price, also for us," Stoltenberg said. "But the alternative—not to support Ukraine—that would actually enable President Putin to win. That would be dangerous for all of us, and the price we'd have to pay would actually be higher than to now invest in the support for Ukraine."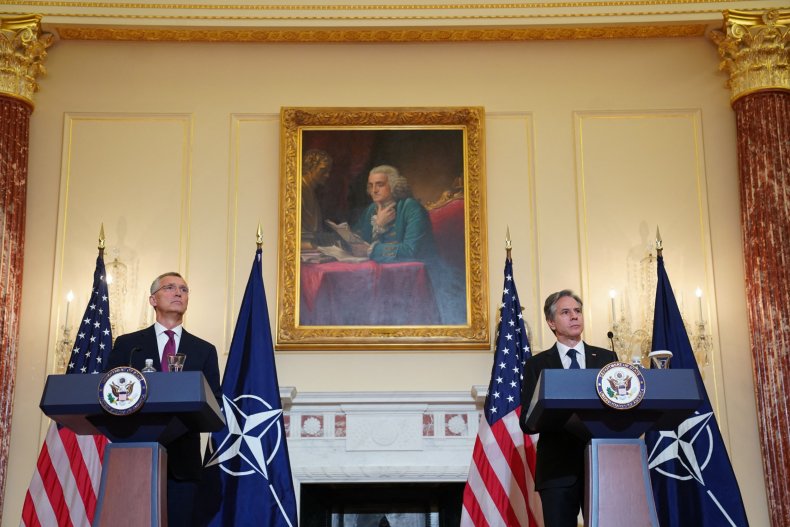 On Tuesday, President Joe Biden announced the U.S. will provide Ukraine with an undisclosed amount of M142 High Mobility Artillery Rocket Systems (HIMARS). Blinken was asked how the threat of escalation could be minimized after Ukraine received the new weapons, and he stated Ukraine had assured the U.S. that the long-range rocket systems would only be used in Ukraine and not fired against targets in Russian territory.
Blinken noted that Russia should not be surprised about the U.S. sending the new weapon systems over to Ukraine.
"There was no hiding the ball," Blinken said. "We've been extremely clear about this from day one with President Biden communicating that directly to President Putin. So we have done exactly what we said we would do."
When asked if providing Ukrainians with weapons could deter Russia, Blinken replied, "I would say that it's not so much a question of deterring Russia at this point, because they have committed the aggression, and they're pursuing it."
During the joint news conference, Stoltenberg also discussed Turkey's opposition to Sweden and Finland joining NATO. He said he would be meeting in Turkey in the coming days with senior officials from Sweden and Finland to discuss the matter.
"Finland and Sweden have made it clear that they are ready to sit down to address the concerns expressed by Turkey," he said.