Russia TV Says U.S. 'Crossing a Red Line' by Supplying Ukraine With MLRS
The anchor on a Kremlin propaganda TV channel warned of a "harsh response" from Russia if the U.S. steps up the supply to Ukraine of advanced, long-range rocket systems.
Olga Skabeyeva, the host of 60 Minutes, made the comments during a broadcast on the Russia-1 channel, which pushes the Kremlin narrative of its invasion of Ukraine and is the forum for regular threats and conspiracy theories against Western countries.
She referred to how the U.S. presidential administration was looking into whether to supply Ukraine with weapons such as Multiple Launch Rocket Systems (MLRS) as soon as next week.
"In essence, we are not even talking about tactical weapons any more, but about operational tactical weapons," she said on Friday. "The American multiple launch rocket systems can launch shells over 500 kilometers (310 miles)."
The Biden administration is considering sending the MLRS systems as a part of military assistance to Ukraine, CNN reported, although it's concerned that giving the heavy weaponry will be viewed by Russia as a provocation that could trigger retaliation against the U.S.
"If the Americans do that, they will clearly be crossing a red line and we would have witnessed an attempt to provoke a very harsh response from Russia," Skabeyeva said.
The anchor and guests on the daily Russia-1 program are given talking points by the Kremlin, whose war narrative it pushes. They portray the war as one being fought between Russia and the West, and have criticized the supply of U.S. M777 howitzers, which are already being used on Ukraine's eastern front.
MLRS are vehicle-mounted systems which are more mobile than howitzers. The M142 HIMARS variant has a range of between 186 to 300 miles, much more than the 25 miles of the M777 howitzer.
However, last week, Mikhail Khodaryonok, a former air defense commander responded to Moscow's claims its forces had successfully hit American howitzers. He told 60 Minutes that from now on, the weapons would be Russia's "most high priority targets."
Ukraine has upped its demand for MLRS in recent weeks amid a more pessimistic outlook from officials over the war being fought in the Donbas region. Kyiv has said Russian-backed forces have taken control of the city of Lyman in the eastern Donetsk region.
Skabeyeva's comments are the latest threat made on 60 Minutes. On Thursday, leader of the nationalist party Rodina (Motherland) Aleksey Zhuravlyov took aim at German Chancellor Olaf Scholz for suggesting that Vladimir Putin will not win the war in Ukraine.
"Is this moron really thinking we could lose. Us, a nuclear nation?" he told Skabeyeva, considered a key Kremlin propagandist. "You will be reduced to ashes."
In a statement to Newsweek, a U.S. State Department spokesperson said, "We have been clear that U.S. forces are not and will not engage in a conflict with Russia and we have worked to put in place mechanisms to avoid escalation.
"What we are doing is exactly what President Biden told President Putin back in December we would do if he attacked Ukraine: providing security assistance to Ukraine that is above and beyond what we were already providing to help the people of Ukraine defend their country."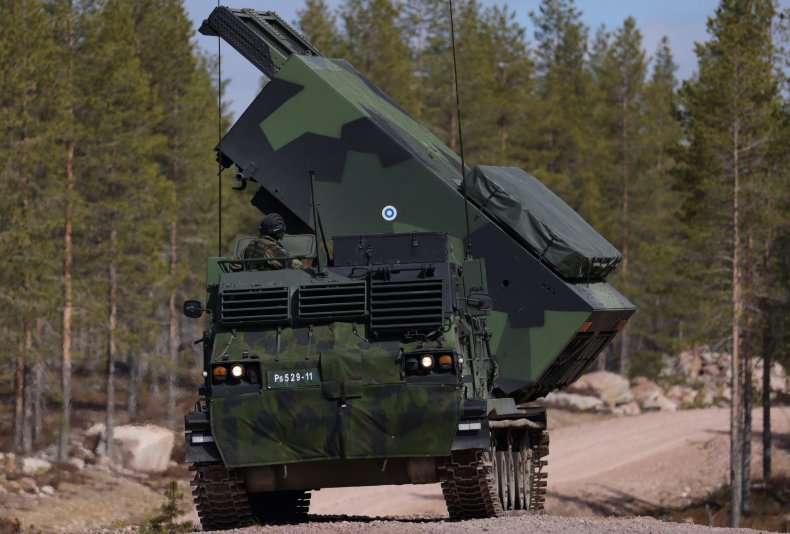 Update 05/28/22, 5:15 a.m. EDT: This article has been updated with U.S. State Department comment.