A guest on Russian state television has said that the war in Ukraine could simply be a stepping stone to bigger conflicts.
Alexei Fenenko, a research fellow at Moscow's Institute of International Security Studies, was weighing in on Russia-1 on how the invasion of Ukraine could provide a testing ground for Moscow to wage even bigger wars.
"For us the war in Ukraine is a rehearsal for a possible bigger conflict in the future," he said in the video clip shared on Thursday by Russia watcher and journalist Julia Davis.
"We'll test and compare NATO weapons with our own. We'll find out on the battlefield how much stronger our weapons are than theirs," he said.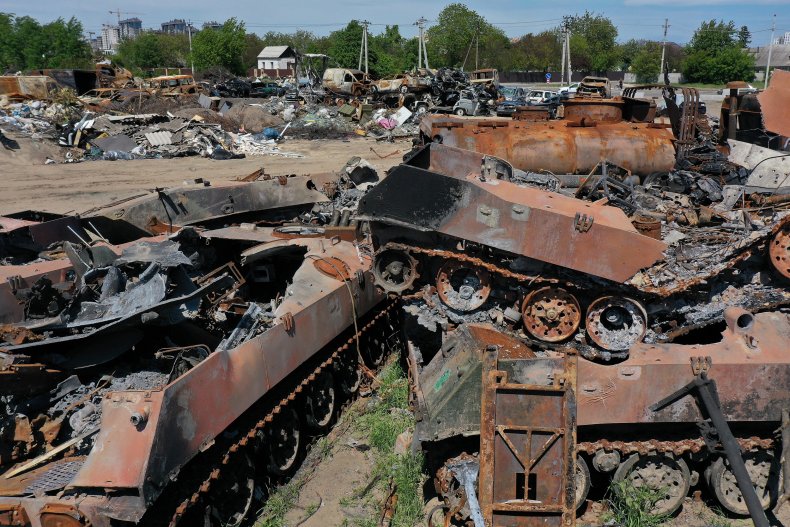 "This may be a learning experience for our future conflicts," he said before 60 Minutes anchor Olga Skabeyeva interrupted with the observation that it was a "scary experiment."
Fenenko's comments echo those previously made by guests on Russia-1, which has relentlessly pushed Kremlin propaganda about Russia's invasion of Ukraine.
It has also discussed how the war would spread beyond just Ukraine, raising the idea of an "inevitable" war against "Europe and the world."
The channel's pro-Kremlin and anti-NATO rhetoric has also included discussions about missile strikes on Western capitals for their support of Kyiv's forces.
Regular guest Aleksey Zhuravlyov, from the nationalist Rodina political party, said on the channel this month "one Sarmat missile and the British Isles will be no more," referring to Moscow's newest intercontinental ballistic missile.
Last week, Skabeyeva, who is dubbed the Kremlin's "propagandist-in-chief," took aim at Polish Prime Miniser Mateusz Morawiecki's criticism of Russian President Vladimir Putin. She said that Poland had "ceased to exist as an independent state" several times before.
This week, Skabeyeva joined in with guests in mocking White House Press Secretary Karine Jean-Pierre with comments about her sexuality, gender and skin color.
Jean-Pierre, the first Black woman and openly LGBTQ person to serve in the role was described by journalist Andrei Sidorchik as "a dark-skinned immigrant."
However, there was speculation about whether one guest on the show had gone off message with a negative take on Russia's campaign in Ukraine.
With Russia's war effort faltering, Mikhail Khodaryonok, a former air defense commander, warned on Monday that the situation for Russian troops "will frankly get worse."
But two days later he gave a more positive view of Russia's forces, saying they would successfully target U.S-supplied M-777 howitzers and that on the battlefield Ukraine faces "an unpleasant surprise."