Karine Jean-Pierre Named First Black Woman, Openly Gay W.H. Press Secretary
White House press secretary Jen Psaki is keeping her next move under wraps as she introduced her "partner in truth" Karine Jean-Pierre, who will fill the position for President Joe Biden when Psaki steps down May 13. Jean-Pierre will be the first Black woman and openly LGBTQ person to serve in the role.
Last month, sources told several media outlets that Psaki planned to exit the administration and was in talks to potentially join MSNBC. Reports said Psaki could host shows for MSNBC and Peacock, the streaming platform for NBCUniversal. Psaki hasn't confirmed or denied any rumors, but announced her plan to leave the White House, with Jean-Pierre as her replacement.
When asked about her plans, Psaki told The Guardian that she didn't have anything special to announce and would be taking some time to relax.
Last month amid speculation, Psaki quipped that if she were to leave the White House, her first course of action would be to "sleep" and spend time with her two children. Her confirmation on Thursday echoed her previous comment.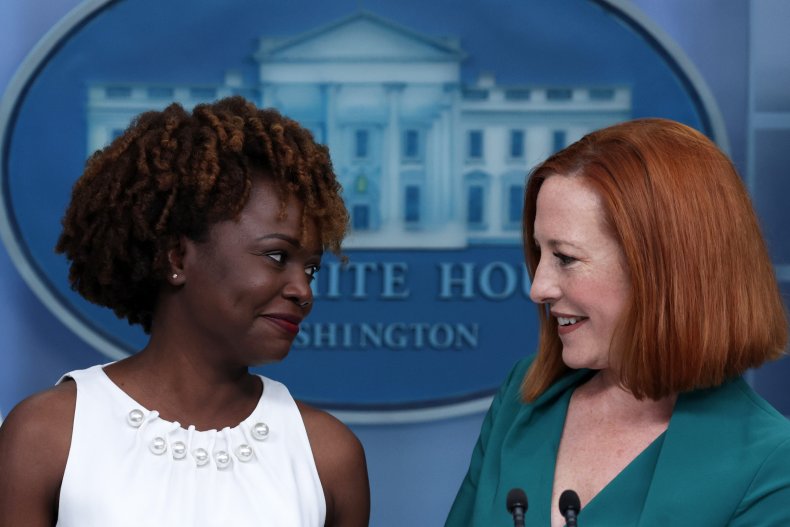 "I have nothing to announce on my plans other than to sleep, read books," Psaki said. "I'll take recommendations for Netflix, Hulu. I am today, obviously, just celebrating Karine."
However, if reports are true that Psaki is moving to MSNBC, she will follow a similar path as former Biden-Harris administration adviser Symone Sanders, who left last year to start her weekend MSNBC program Symone, which premieres Saturday.
On Thursday, Biden named Jean-Pierre to be the next White House press secretary: "Karine not only brings the experience, talent and integrity needed for this difficult job, but she will continue to lead the way in communicating about the work of the Biden-Harris Administration on behalf of the American people," Biden said in a statement. Jill and I have known and respected Karine a long time and she will be a strong voice speaking for me and this Administration."
At the start of her briefing on Thursday, Psaki fought back tears as she hugged Jean-Pierre at the podium.
"I just want to take the opportunity to celebrate and congratulate my friend, my colleague, my partner in truth Karine Jean-Pierre, the next White House press secretary," Psaki said.
Jean-Pierre is currently the principal deputy press secretary and deputy assistant to the president. According to the White House, she has been a longtime advisor to Biden and has served in senior communication roles for his campaign.
"It is a true honor. I look forward to serving this Administration and the American people," Jean-Pierre said on Twitter. "I have big shoes to fill. [Psaki] has been a great friend, mentor and excellent press secretary."
Newsweek reached out to the White House for comment.