Jen Psaki Responds to Reports She's Leaving White House for MSNBC
White House press secretary Jen Psaki addressed media reports that she will soon leave the administration for a television gig.
"You can't get rid of me yet," Psaki said. "I have nothing to confirm about my length of public service or planned service, or anything about consideration of next plans."
Psaki continued, "My focus every day continues to be speaking on behalf of the president, answering your questions, as tough as they may be at many times, as difficult as they may be to answer at many times. And I hope that I met my own bar of treating everybody with fairness and being equitable."
Sources told several news outlets, including Axios and The New York Times, that Psaki plans to exit the administration in the coming weeks and is in talks to join MSNBC. The reports said Psaki could host shows for MSNBC and Peacock, the streaming platform for NBCUniversal.
The White House responded to the reports with the following statement: "We don't have anything to confirm about Jen's length of planned service or any consideration about future plans. Jen is here and working hard every day on behalf of the president to get you the answers to the questions that you have, and that's where her focus is."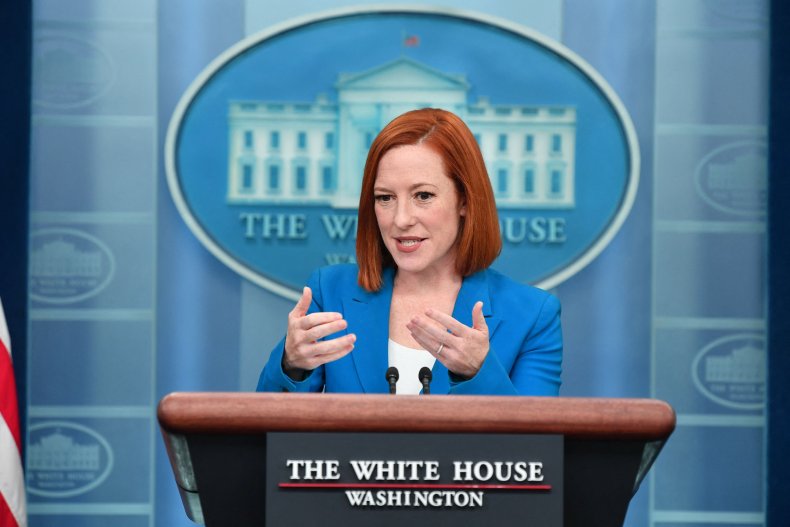 Psaki has been President Joe Biden's first and only press secretary in the 14 months he's been in office. The 43-year-old previously served in high-level communications roles in the Obama administration and was a political commentator for CNN before joining Biden's team.
Psaki's return to the podium on Friday came after she tested positive for the coronavirus. The test result came before she was scheduled to join Biden on a trip to Europe.
"I waited to return to the office until I got a negative test," Psaki told reporters Friday. "We recognize that COVID-19 remains a transmissible disease."
While Psaki said she wouldn't confirm the reports of her departure, reporters questioned her about the ethics of possibly negotiating with a media outlet while still working in the administration.
"Well, I have always gone over and above the stringent ethical and legal requirements of the Biden administration," she responded. "I take that very seriously. As is standard for every employee of the White House, I have received rigorous ethics counseling, including as it relates to any future employment."
Psaki also quipped that if she does decide to leave the White House, her first course of action will be to "sleep" and spend time with her two children.