Russian TV Hosts Discuss Nuclear Strikes on U.K, France, Germany
A news program in Russia discussed the prospect of nuclear strikes on Europe, with one guest suggesting Moscow's latest missile should target the U.K because of its support for Ukraine.
Russian television has often discussed the idea of war spreading beyond just Ukraine, promoting the idea of an "inevitable" war against "Europe and the world." Russian channels have been known for vitriolic rhetoric being broadcast to justify Russia's invasion of Ukraine.
On Thursday's Channel One program 60 Minutes, Aleksey Zhuravlyov, who is chairman of the nationalist Rodina political party, said "one Sarmat missile and the British Isles will be no more."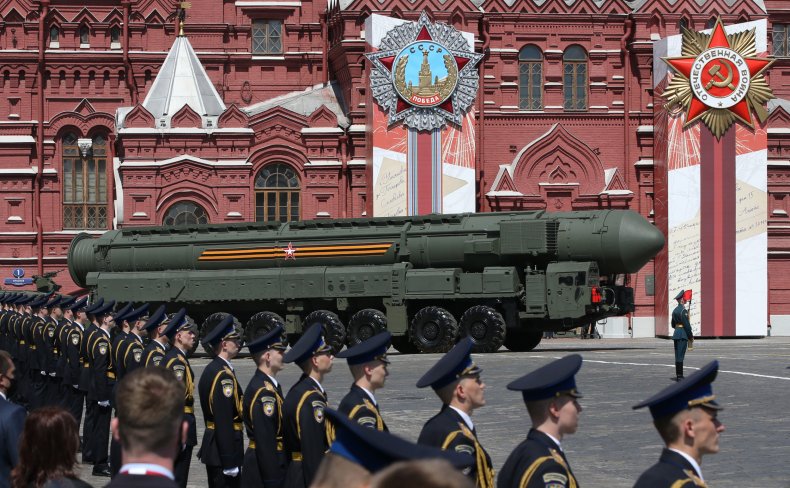 After co-host Olga Skabeyeva interrupted Zhuravlyov by saying, "but we are serious people," the politician countered by saying, "and I am saying this seriously."
Last week, Russia test-fired the nuclear-capable intercontinental ballistic Sarmat missile, also known as Satan II which Vladimir Putin said would make Moscow's foreign adversaries "think twice."
Zhuravlyov raised the topic of the missile following a segment that included a clip from British TV. In it, U.K. Armed Forces Minister James Heappey referred to London's military support for Kyiv to help it fight the Russian invasion.
Heappey also said this week that Ukrainian military strikes to disrupt supply lines in Russia were a "legitimate" part of war. Moscow has accused the U.K. of "provoking" Ukraine into attacking Russian territory.
"They're accusing us of state terrorism," Zhuravlyov said. The other host, Evgeny Popov pointed out that the U.K. also has nuclear weapons and that "no one will survive in this war."
Popov said: "When you propose a strike with a Sarmat, do you understand that no one will survive? No one on the planet."
Zhuravlyov seemed comfortable with that prospect, saying "we'll start with a blank slate."
Zhuravlyov continued: "Since we are talking about these weapons, the question is can they shoot it down? The missile can't be intercepted, their abilities are limited."
Skabeyeva then weighed in, listing the time it would take for the missile to travel from the Russian enclave of Kaliningrad to Berlin, Paris and the British capital, as a map graphic appeared on the screen.
"You're interested in London," she said, which the Sarmat would take "202 seconds" to reach.
Zhuravlyov continued: "They need to be shown this picture...count the seconds can you make it?
"Let them think about it. Get a stopwatch, count 200 seconds. That's how you talk to them, they don't understand anything else."
Newsweek has contacted the British, French and German foreign ministries for comment.
The clip was tweeted by journalist and Russian media watcher Julia Davis, who wrote that Russia "keeps threatening nuclear strikes against Western nations, desperately trying to deter them from continuing to help Ukraine.
"On a side note, this is the first state TV host who doesn't seem to be eager to die for the Motherland, arguing with a trigger-happy lawmaker," Davis added.
Skabeyeva has been one of the main faces on Russian state television whose comments have pointed to an escalation in hostilities. This week she said "either we lose in Ukraine, or the Third World War starts. I think World War III is more realistic."