Navy SEAL Eddie Gallagher Accuses Official of 'Meddling' in War Crime Case, Suggests It's 'All About Ego'
Navy SEAL Edward Gallagher mocked one of the "mean girl" witnesses to his accused 2017 war crimes for "crying," and went on to thank President Donald Trump and claimed that top military officials with "egos" are "meddling" in his case.
Gallagher appeared on Fox & Friends Sunday morning just minutes after Trump personally touted the interview on Twitter. Last week, Trump tweeted that the Navy "will NOT" be taking away Gallagher's revered trident over his failure to uphold good order and discipline after Gallagher was accused and later acquitted of several war crimes, including the killing of Iraqi civilians and the murder of an ISIS captive with a hunting knife. However, Gallagher was convicted in July of one charge after he posed in several pictures with a dead teenaged captive, The New York Times reported.
Gallagher mocked his accusers and detractors, including Navy Rear Admiral Collin Green, whom he called "insubordinate" and having too much "ego." Gallagher said he plans to expose next week how the Secretary of the Navy, Richard Spencer, was "meddling in my case and trying to get organizations not to support me."
"This is all about ego and retaliation, this has nothing to do with good order or discipline. They could have taken my trident at any time they wanted. Now they're trying to take it after the president restored my rank," Gallagher said, before threatening to expose top Navy officials of corruption.
"We just filed an IG [office of the Inspector General complaint] exposing all of the corruption that's been going on during my case, starting with 'crying' Craig Miller all the way up to Admiral Green," he added. The reference was made toward Special Warfare Operator Chief Craig Miller, who alleged Gallagher brutally murdered a captive near Mosul in 2017, according to Navy Times.
On Saturday, Secretary of the Navy Spencer denied threatening to quit or get fired alongside Green should Trump halt the proceedings against Gallagher, The New York Times reported. "Contrary to popular belief, I'm still here and I did not threaten to resign," Spencer said. "Let's just say we're here to talk about external threats and Eddie Gallagher is not one of them."
Speaking Sunday with Fox News host Pete Hegseth, Gallagher had a chance to thank Trump directly for repeatedly intervening on his behalf.
"I just want to let [Trump] know that the rest of the SEAL community is not about this right now, they respect the president, and what the admiral [Green] is doing is showing complete insubordination and is not the good example of 'good order and discipline," Gallagher said.
"It's the higher echelon, the upper Navy brass who are the ones who are trying to put their thumb on me," he added.
In July, Gallagher was acquitted of charges stemming from accusations he shot civilians, murdered a captive ISIS fighter with a hunting knife, and threatened to retaliate by killing any fellow SEALs who might report him, said The New York Times. Gallagher was court-martialed but ultimately acquitted on those charges.
However, Gallagher was demoted after being convicted on the lone charge of bringing discredit to the U.S. armed forces by posing for pictures next to the body of a dead teenaged prisoner.
Tyler Merritt, an Army veteran, appeared alongside Gallagher on Fox & Friends to say "the real war fighters are disgusted, [the Navy is] destroying recruitment ... Let's get back to business, business is war fighting."
Gallagher commended other SEALs for "going against the grain" and said many are also being targeted by Navy brass for "calling out these mean girls for lying," referring to other SEALs who testified against him.
"I just want to retire peacefully with all the honors that I've earned and get back to my family," he added.
Earlier this month, Trump angered military officials after he cleared three members of other branches who were convicted of war crimes. One of them also appeared on Fox & Friends to thank the president for intervening.
"Congratulations to Navy Seal Eddie Gallagher, his wonderful wife Andrea, and his entire family. You have been through much together. Glad I could help!" Trump tweeted on July 3, following Gallagher's acquittal on all but one war crime charge.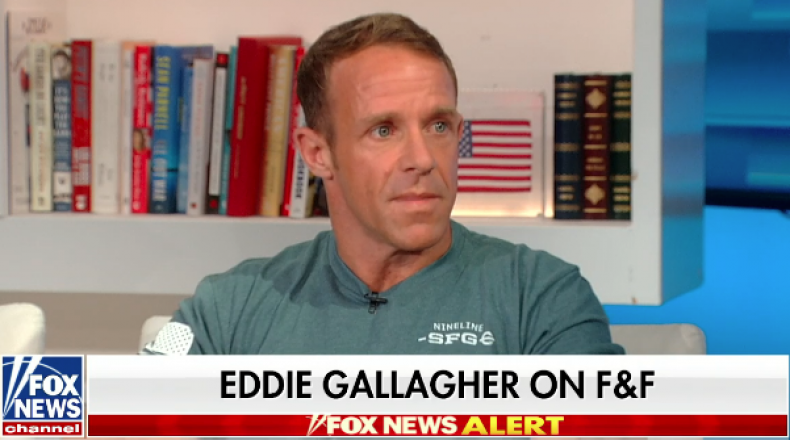 Hegseth, who also served in Iraq, repeatedly downplayed or dismissed the "so-called war crimes" charged against Gallagher. He characterized the allegations by saying he was "found guilty of one charge, taking a photograph."
But a juror who spoke to The New York Times earlier this year relayed the accusations against Gallagher in a much darker tone: "People keep saying all he [Gallagher] did is pose in a photo and there were lots of other guys in the photo," said the juror who requested anonymity. "But he was the senior enlisted guy there, the oldest, the most experienced. He should have set an example for good order and discipline. He should have ensured stuff like that wasn't happening. And he didn't. He doesn't deserve to wear chief's anchors."