Navy Veteran Michael White Released From Iran Prison Days After Iranian Scientist Repatriated, Reports Say
A U.S. Navy veteran was reportedly released from Iranian custody days after an Iranian scientist was deported from the United States back to his home country.
Michael White has been let out of Iranian detainment and is returning to the United States, according to a statement attributed to his mother, Joanne, and released Thursday by Free Michael White campaign spokesperson Jonathan Franks.
"For the past 683 days my son, Michael, has been held hostage in Iran by the IRGC and I have been living a nightmare," she said, using an acronym for the elite Islamic Revolutionary Guard Corps. "I am blessed to announce that the nightmare is over and my son is safely on his way home."
She thanked President Donald Trump's administration, especially the State Department and diplomats from Switzerland who "worked so hard to keep Michael safe." She also expressed gratitude to former New Mexico Governor Bill Richardson for delivering her appeal to Iranian officials as well as others involved in the campaign.
Lawyer Mark Zaid also later confirmed White's release in a Twitter post, as did the president.
"I am to happy announce that Navy Veteran, Michael White, who has been detained by Iran for 683 days, is on a Swiss plane that just left Iranian Airspace. We expect him to be home with his family in America very soon," Trump tweeted.
"I will never stop working to secure the release of all Americans held hostage overseas! Thank you Switzerland for your great assistance," he added.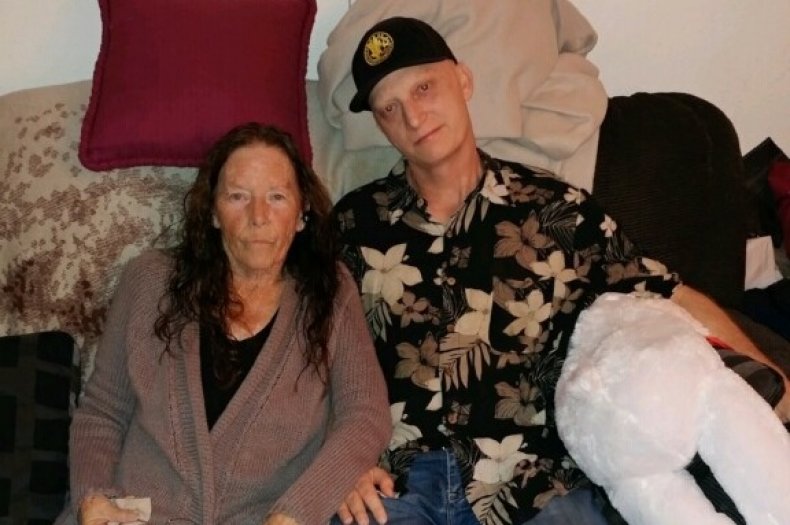 White was arrested sometime after traveling to Iran in July 2018 to meet a woman he met online and was reported missing after failing to board his return flight to the United Arab Emirates. In January of the following year, the Iranian Foreign Ministry confirmed he had been arrested and in March 2019 sentenced to a combined 12 years in prison on two counts: insulting the country's supreme leader and sharing a private photograph on social media, The Guardian reported.
A year later, the 48-year-old cancer survivor was released on medical furlough after contracting COVID-19, the novel coronavirus disease, but remained in the country.
His release Thursday comes after Iranian scientist Sirous Asgari was released from U.S. custody and returned Tuesday to Iran. The Sharif University of Technology was charged in 2016 for allegedly trying to steal trade secrets, along with employment and visa fraud but was acquitted last November. He remained in the custody of Immigration and Customs Enforcement and he too reportedly contracted COVID-19.
Both U.S. and Iranian officials denied a prisoner swap occurred.
"It was not a prisoner swap," Iranian mission to the United Nations spokesperson Alireza Miryousefi told Newsweek. "Prof. Asgari was acquitted of all charges by courts in the US and therefore was no longer a prisoner."
Shortly afterward, Iranian Foreign Minister Mohammad Javad Zarif announced that another jailed Iranian scientist, Majid Taheri, would be let go as well.
"Pleased that Dr. Majid Taheri and Mr. White will soon be joining their families. Prof. Sirous Asgari was happily reunited with his family on Weds," Zarif tweeted. "This can happen for all prisoners. No need for cherry picking. Iranian hostages held in—and on behalf of—the US should come home."
The U.S. and Iran have feuded for decades though have engaged in rare displays of diplomacy, most notably the 2015 nuclear deal alongside China, France, Germany, Russia and the United Kingdom. The rivalry between Washington and Tehran intensified with the Trump administration's 2018 decision to exit the deal and begin imposing strict sanctions against the Islamic Republic over its support for foreign militias and missile development.
"While we are pleased that Iran was constructive in this matter, there is more work to do," Secretary of State Mike Pompeo said in a statement Thursday. "The United States will not rest until we bring every American detained in Iran and around the world back home to their loved ones."
"The United States continues to call for the release of U.S. citizens Baquer Namazi, Siamak Namazi, and Morad Tahbaz, who have been wrongfully detained in Iran for far too long, and to provide a full accounting of the fate of Robert Levinson," he added.
Father and son Baquer and Siamak were detained in 2016 and 2015 respectively, sentenced to 10 years each on charges of espionage and collaborating with a foreign government. Tahbaz was also given 10 years for allegedly spying for a foreign government, while Tehran has maintained it has no information as to the whereabouts of Levinson, whose family said in March they were informed by U.S. officials that he had died.
Zarif said in October he shared with the U.S. a list of names of Iranians in U.S. custody though the document has not been published. Iranian scientist Masoud Soleimani, charged with attempting an unauthorized transfer of biological materials from the U.S. to Iran, and accused Chinese-American spy Xiyue Wang were exchanged in an arrangement welcomed by both sides.
"See, we can make a deal together!" Trump tweeted at the time.