Neo-Nazi Shirts Worn by Proud Boys Supporters Sold on Amazon
Anti-semitic items with slogans declaring more Jewish people should have been killed during the Holocaust were found being sold on Amazon.
The online retailer sold black-and-yellow T-shirts, hooded tops and cups with the phrase "6MWE"—a Neo-Nazi term that stands for "6 million wasn't enough."
The items also had the Italian fascist symbol of an eagle spreading its wings that was used during World War II.
The clothing and other materials have since been removed after Amazon was made aware of the offending items.
The T-shirts were worn by members of the far-right Proud Boys group during the MAGA rally in Washington on Saturday. The black and yellow colors also coordinate with the uniform worn by Proud Boys members.
Proud Boys were seen fighting on the streets with antifa and other left-wing protesters following the rally, which showed support for President Donald Trump's unsubstantiated cries of mass voter fraud.
Proud Boys supporters were also seen ripping off a Black Lives Matter sign displayed a church, an act the church's senior pastor described as "reminiscent of cross burnings."
The anti-semitic items, which appear to have been made available to purchase from Wednesday, December 16, were being sold via a third party and not directly associated with Amazon.
"All sellers must follow our selling guidelines and those who do not will be subject to action including potential removal of their account," an Amazon spokesperson told Newsweek. "These products have been removed."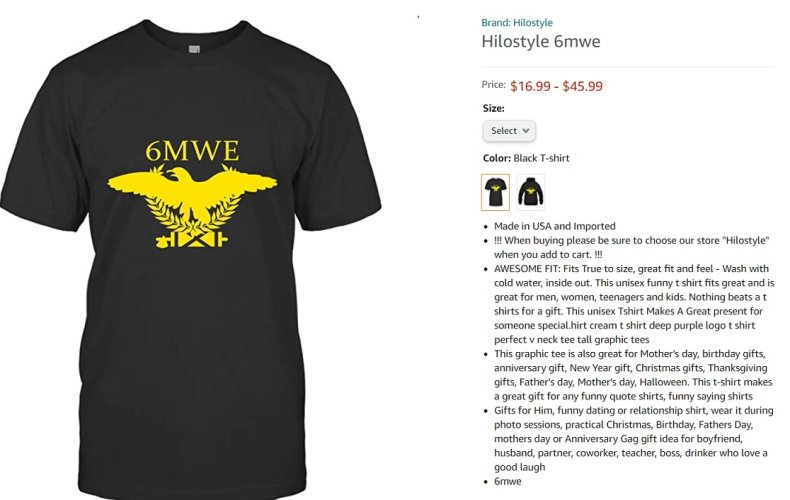 Similar clothes were also available to buy on online stores Teespring and Teechip.
In a statement to Newsweek, Teespring confirmed the neo-Nazi attire has also been removed from their site.
"Teespring categorically does not allow or condone content that promotes harmful misinformation or groups known to spread misinformation on the site," a spokesperson said.
"This includes content known to lead to harassment or violence, impediment of civic engagement, or threats to the health and safety of the public.
"In this case, the designs you have referred to have been removed from the site and the seller is now permanently banned."
Teechip has also been contacted for comment.
In the past, Amazon has been criticized for selling far-right and neo-Nazi materials and items.
In February, the company confirmed that it removed copies of Nazi Party member Julius Streicher's book The Poisonous Mushroom from sale after receiving complaints from the Auschwitz Memorial and the British-based Holocaust Educational Trust.
Streicher's book contained a number of anti-Semitic tropes and was even used as evidence against Streicher during the Nuremberg trials, after which he was executed for crimes against humanity in 1946.
In December 2019, Amazon was also urged to remove from sale a copy of The Turner Diaries, an infamous "neo-Nazi race war" book by white supremacist William Luther Pierce under the pseudonym Andrew Macdonald.
The book is said to have inspired terrorist Timothy McVeigh to carry out the Oklahoma Bombing, which killed 168 people in 1995.
In a statement to Newsweek at the time, a spokesperson for Amazon said: "As a bookseller, we believe that providing access to written speech is important, including books that some may find objectionable.
"We are mindful of a global history fraught with book censorship, and we do not take this lightly."