Nazi Flags Waved Outside Disney World Entrance On Busy Holiday Weekend
Videos emerging from Orlando, Florida, on Saturday appear to show Nazi flags being waved at a protest outside Walt Disney World.
The footage originated on TikTok over the weekend, according to The Jerusalem Post, and had been viewed over 3.8 million times by Monday morning. In the video, at least two men can be seen holding up Nazi flags, while nearby a blue flag reading "DeSantis Country" can be seen planted in some grass.
Florida Governor Ron DeSantis has been embroiled in an ongoing feud with the Walt Disney Company in the last several months over the state's Parental Rights in Education Act, better known colloquially as the "Don't Say Gay" bill. Numerous critics have argued that the bill bans discussions of gender identity and sexual orientation in public schools, and after prodding from employees and fans, Disney came out in public opposition to the bill.
In retaliation, DeSantis, a Republican, recently signed a bill dissolving the special self-governance region around Disney World, which allowed the company to act as its own local government. The feud has also spurred a wave of discontent toward Disney among some conservatives, in Florida and elsewhere.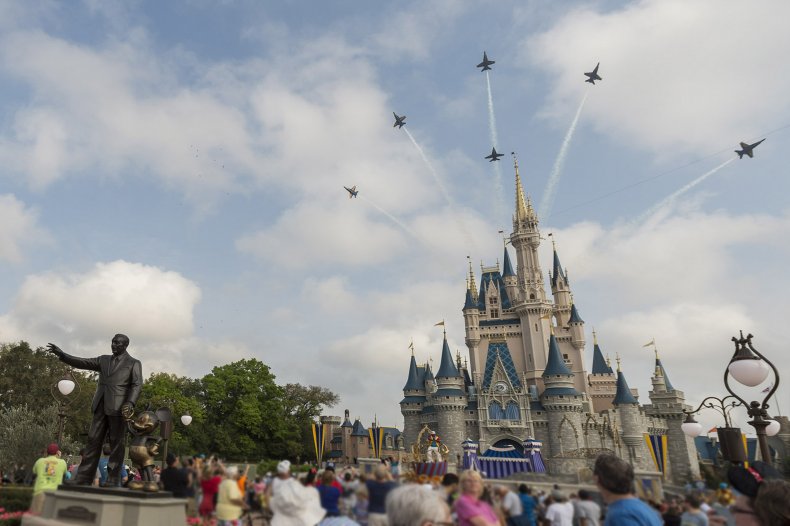 Newsweek has been unable to confirm what the exact reasons for the protest were.
"We are sickened to our stomachs seeing Nazi flags flown at Disney World in Orlando, FL a few hours ago," the non-partisan activism group Stop Antisemitism wrote in a tweet on Saturday that included the clip from TikTok.
As of Monday, the clip in the group's tweet had been viewed a further 738,000 times.
DeSantis previously refused to condemn Nazi flags at another Orlando protest in February, The Jerusalem Post noted. Videos of the event circulated by local media outlets showed swastika flags at a gathering held on a highway overpass in the city, where protesters also reportedly shouted antisemitic slurs.
"We're not playing their game," the governor said at the time, according to CNN.
DeSantis claimed that requests for him to denounce the gathering were attempts to smear him. Other lawmakers, including Republican Senator Rick Scott and Democratic Representative Val Demings, did denounce the protest in official statements. DeSantis has also not issued a comment on this latest incident near Disney World.
Newsweek reached out to Disney Parks for comment.
DeSantis' attempt to target Disney's special governance zone, the Reedy Creek Improvement District, has drawn major criticism from both citizens and Florida lawmakers, who claim the act would leave taxpayers on the hook for paying the company's outstanding debts.
"This has just not been thought out and the consequences are so dire, we don't want to see that happen," State Senator Linda Stewart said during a May 2 press conference. "We cannot not speak up to have this happen because it comes down to our pocketbook."
Representatives for DeSantis have previously claimed to Newsweek that a plan is being devised that will not in any way burden taxpayers, though details are not yet available.