NBA Coronavirus Memo Tells Players to Avoid High-Fiving Fans as League Warns Outbreak Situation Could 'Change Rapidly'
NBA players have been told to avoid high-fiving fans and taking items to autograph as the league seeks to contain the outspread of coronavirus.
According to the Associated Press, on Sunday the league sent a memo to the 30 franchises detailing how players should opt to fist-bumps fans instead of high-fiving them and should refrain from taking pens from strangers to sign autographs.
Players have also been told to avoid touching balls, jerseys, caps and any item fans may want signed.
"The coronavirus remains a situation with the potential to change rapidly—the NBA and the players association will continue to work with leading experts and team physicians to provide up-to-date information and recommended practices that should be followed to prevent the spread of the coronavirus," it read.
Aside from the impact it has on how players and fans interact, the virus could pose a problem ahead of events such as the pre-draft combines, on-site workouts and international scouting events where a high number of people tends to congregate in the same place.
The NBA added it had consulted infectious disease experts from Columbia University in New York and the Centers for Disease Control and Prevention.
Newsweek has contacted the NBA for further comments.
Over 3,000 people have died since the outbreak began in Wuhan, a city located in China's central Hubei province, late last year. The virus has spread to over 70 countries across the world and, as this chart provided by Statista shows, 18 cases have been confirmed in the U.S. with six deaths reported in the state of Washington.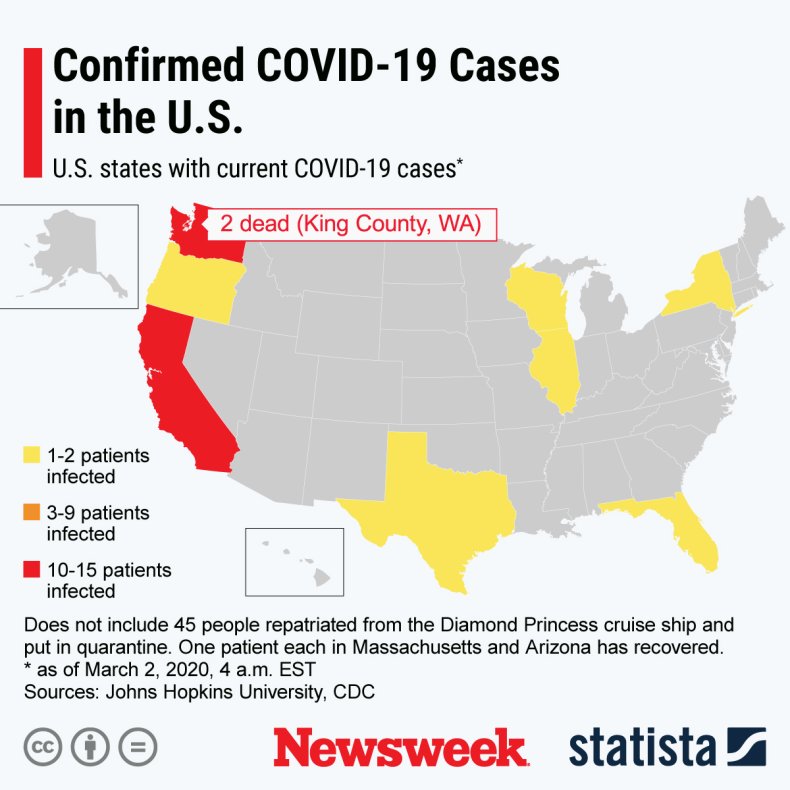 Meanwhile, the NHL is also beginning to explore contingency plans, should the outbreak continue to spread across North America. League deputy commissioner Bill Daly indicated the NHL would not rule out postponing games, playing games behind closed doors or canceling them altogether.
"I think it's very unlikely—knock on wood, I'm hopeful—that we would progress to a stage where we have to consider something that dramatic," he was quoted as saying by ESPN.
"But certainly everything is possible, and we have to look at all possible contingencies. If it gets to that point, we will be ready."
Similarly, the NCAA confirmed it had made contingency plans for "all circumstances" in the lead-up to March Madness, which begins on March 17 in Dayton, Ohio.
"If you can think of it, it's something that we've gone through an analysis around," NCAA chief operating officer Donald Remy told Bloomberg on Monday night.
"We've contingency planned for all circumstances."
Like the NBA, the MLS is also following the instructions of health agencies and has launched a task force to monitor the outbreak of coronavirus.
"The league is in direct contact with the relevant governmental agencies including the Centers for Disease Control and Prevention and Public Health Agency of Canada and is also coordinating with other sporting organizations," it said in a statement.
"The task force has been monitoring the most recent developments and communicating with MLS clubs regarding appropriate measures to take as the situation continues to evolve."
A number of sporting events have been canceled since the outbreak rapidly escalated over the last two months.
The Chinese Formula 1 Grand Prix has been called off, as have the World Indoor Athletics Championships. A number of fixtures in Serie A—Italy's top flight soccer league—have been postponed over the last two weeks after the country reported an escalation in the coronavirus cases.
The Japanese and Koreans' top flight soccer leagues have both been suspended indefinitely and Switzerland called the league off for two weeks.
Meanwhile, last week it was announced that Ireland's home game against Italy in the Six Nations rugby championship scheduled for March 7 had been postponed on the recommendation of Ireland's health minister and the National Public Health Emergency Team.