NBA Draft Blows Minds, Budgets and Gaskets ...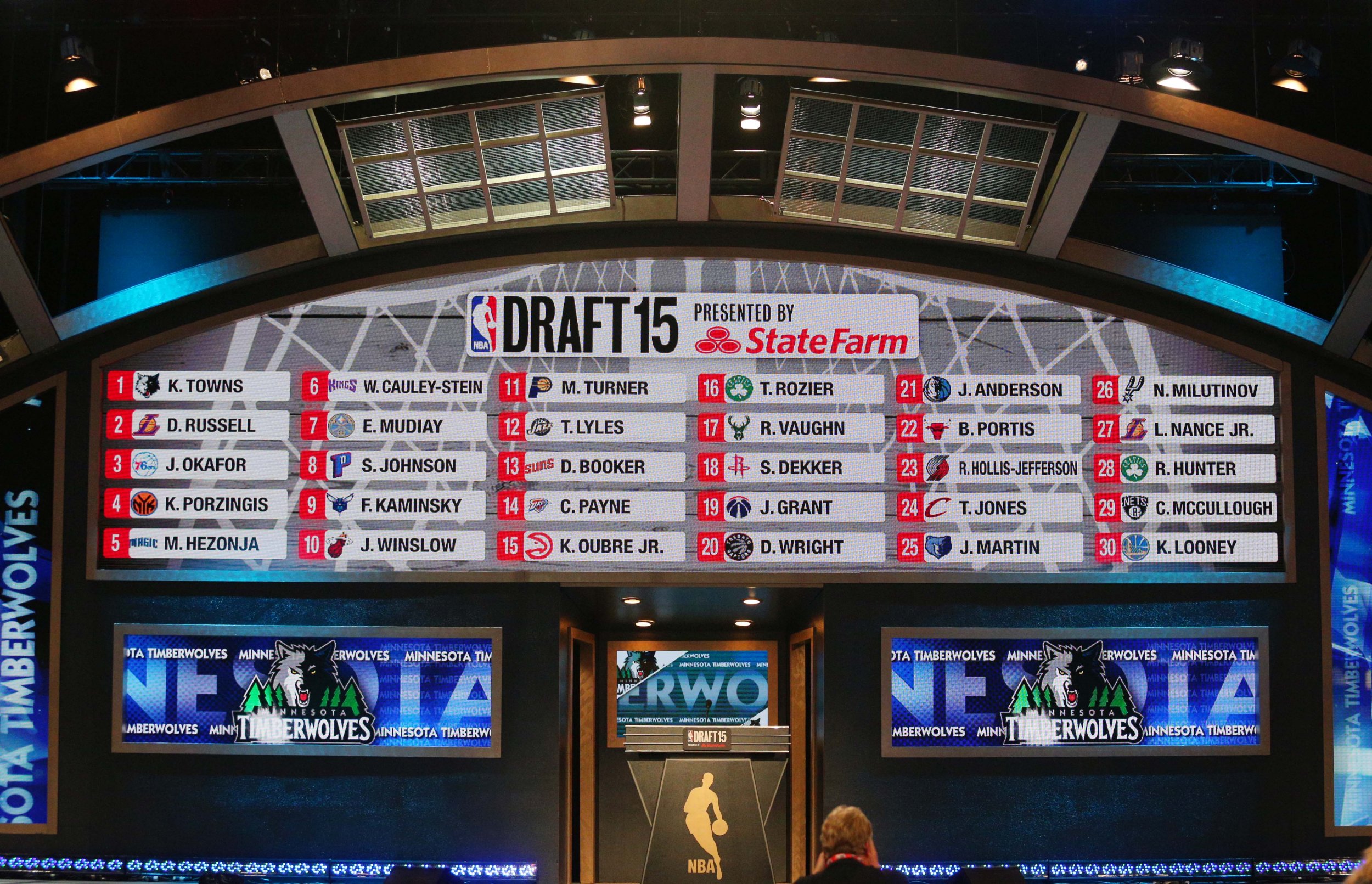 The NBA draft always tops my list of professional sports Must-Sees, for a plethora of reasons. To begin with, math: No team sport has fewer starters (five) and a smaller roster than basketball, hence each draftee has that much more potential to impact his team in either direction.
Then there's the fashion aspect, what I like to refer to as "height couture." Where else are you going to find that many men 75 inches tall and above donning men's wear straight out of a Dick Tracy sequel? It's marvelous.
Last night's NBA draft, from the Barclay's Center in Brooklyn, did not disappoint. Let's review the highlights:
Don't Overthink It
The Minnesota Timberwolves had the No. 1 pick and they selected the player with the best combination of talent who fit their needs: Kentucky seven-foot freshman Karl-Anthony Towns. The T-Wolves now have three No. 1 overall picks on their roster under the age of 23 (Andrew Wiggins and Anthony Bennett are the others), and two of them can actually play.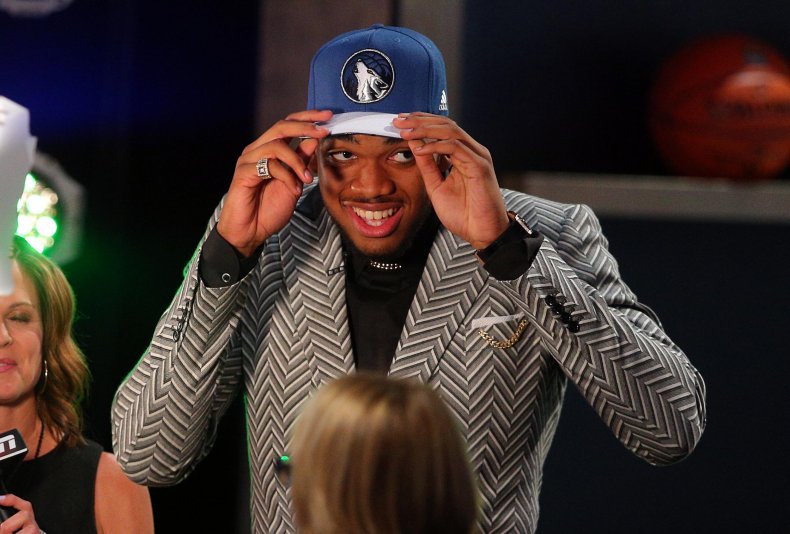 Welcome to the First Diss of Your NBA Career
Duke big man Jahlil Okafor appeared atop many an NBA mock draft board the past three months, but the Los Angeles Lakers passed on him at No. 2 in favor of fellow freshman D'Angelo Russell, a 2-guard out of Ohio State.
"You still need quality big men in this league," said Lakers general manager Mitch Kupchak, pointing to a wall that the jerseys of former L.A. centers and Hall of Famers Wilt Chamberlain, Kareem Abdul-Jabbar and Shaquille O'Neal are on, "and if any of those players on the wall had been available, we would have selected them."
Yes, But As An Indoor Volleyball Team…
Picking third, the Philadelphia 76ers selected Okafor. Last year the Sixers made a seven-footer, Joel Embiid, the No. 3 overall pick. Two years ago Philly traded for the No. 6 pick, seven-footer Nerlens Noel.
New Yorkers Pronounce It, "BOOOOOO!"
With the fourth overall pick, the New York Knicks took seven-foot Latvian teenager Kristaps Porzingis, who is already the most unpopular man in New York not named DeBlasio. Just a few miles from a statue whose inscription reads, "Give me your tired, your poor, your huddled masses…," New Yorkers who attended the draft in person gave Porzingis this welcome.
Honestly, residents of the Big Apple probably would have been more pleased if Phil Jackson had selected this guy.
The Night's Biggest Winner
Regardless of which team was on the clock for announcing their selection, Yahoo Sports! NBA guru Adrian Wojnarowski consistently tweeted out their pick, correctly, three to five minutes before NBA commissioner Adam Silver announced it to the audience. His entire timeline was a spoiler alert. At one point a Woj follower tweeted him, "Who will I marry?"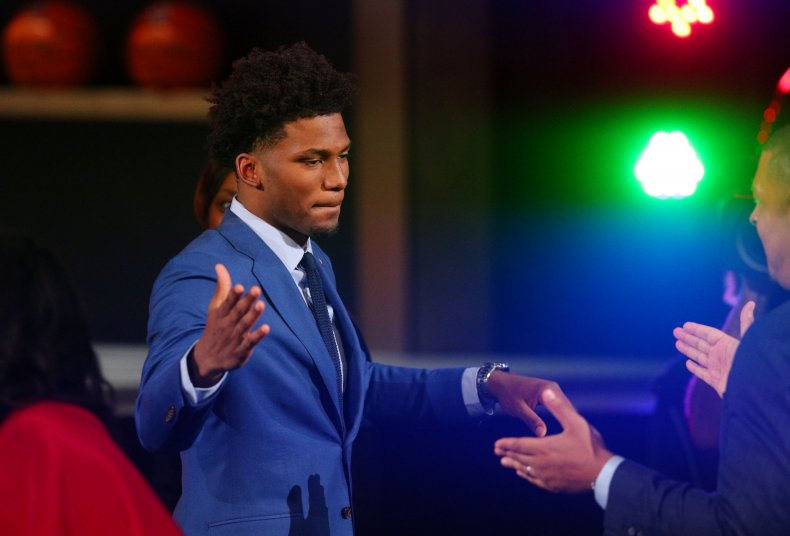 Steal of the Night
Duke swingman Justise Winslow, who helped lead the Blue Devils to the national title in his only college season, was considered by most experts to be at worst the sixth pick. But for whatever reason, Winslow was still available at No. 10, where the Miami Heat eagerly snatched him.
ESPN's Bill Simmons, who used to write NBA draft live blogs that were longer than some books of the Pentateuch but has since been silenced, tweeted just once during last night's draft. And it was inspired by Winslow's inscrutable fall to Miami: "I take back everything I said about trying for the 8th playoff spot over getting a top-10 pick. Winslow is a stud. Miami does it again."
Pop Knows Something
With the 55th pick in the draft, the San Antonio Spurs selected 6'10 Cady LaLanne, who played at the University of Massachusetts and is a native of Haiti. The last time the Spurs took a big man from a Caribbean Island, it worked out OK for them.
Two Sides of Calipari
Four Kentucky players were among the first 13 picks, and six were selected in the two rounds, which are both firsts. Wildcat coach John Calipari, who appeared to be chasing face time at Barclay's as if he were Bobby Jindal, has had 19 players selected in the first round in the past six years, three of whom were chosen No. 1 overall.
The question is, Does that make Coach Cal an outstanding teacher or an outstanding recruiter? Earlier this month Calipari agreed to a seven-year, $52.5 million contract extension that makes him the highest-compensated college coach in any sport. And, hence, the highest-paid ever.
And while Cal did lead the Wildcats to a 38-0 start, it must also be noted that despite having 19 first-round picks the past six years, Calipari has still won no more national championships (1) than Rollie Massimino (Villanova) or even former Kentucky coaches Joe B. Hall and Tubby Smith.
Cuban Orders Out for Indian
With the 52nd pick in the draft, the Dallas Mavericks selected 7'2" center Satnam Singh Bhamara, a native of India. While Singh is the first Indian player ever taken in the NBA draft, he never played for a college team nor has he even played professionally. Two months ago, Sim Bhullar, who stands 7'5", became the first player of Indian descent to play in an NBA contest, but Bhullar was born and raised in Canada.