NBA Free Agency 2020: When Can Teams Sign Players and Who's Available?
After a history-making season and this week's NBA draft, the league will now turn its attention to free agency. Although several notable trades have already been completed since the NBA lifted its moratorium at the beginning of the week, the annual free agency extravaganza officially begins on Friday.
Sandwiched between a free agency class that significantly altered the league's landscape last year and one with a similar potential impact coming next summer, the class of 2020 may feel slightly underwhelming. There are, however, plenty of storylines worth following over the coming days.
Here's what you need to know ahead of free agency.
When does NBA free agency start?
Free agency officially begins at 6 p.m. ET on Friday, November 20. From then on, free agents and their representatives will be allowed to speak with teams.
Players will not be allowed to sign contracts with teams until 12:01 p.m. ET on Sunday, November 22.
Who are the main free agents available?
The free agent class isn't as stacked with talent as it was last year, when Kevin Durant, Kawhi Leonard and Kyrie Irving all changed teams. Anthony Davis is by far the best player available this year, but the Los Angeles Lakers star is almost guaranteed to re-sign with the franchise with which he won his first NBA title last month.
Earlier this week, Chris Haynes of Yahoo Sports reported that Davis will opt out of a player option that would have paid him $28.7 million this year and is expected to sign a lucrative new deal with the Lakers.
The main question is how long he will sign for. With the league and the NBA Players Association confirming this month that the salary cap will remain at $109 million, Davis won't make more than $32.7 million in the upcoming season.
He has options when it comes to contract length, however. He can sign a three-year deal with a player option to opt out in 2023, when he will qualify as a 10-year veteran and be eligible to get 35 percent of that year's cap as his salary in the first year of a new deal. He could also sign a two-year deal with a player option for 2022, which would align him with LeBron James.
Davis could sign a five-year deal, but that seems extremely unlikely.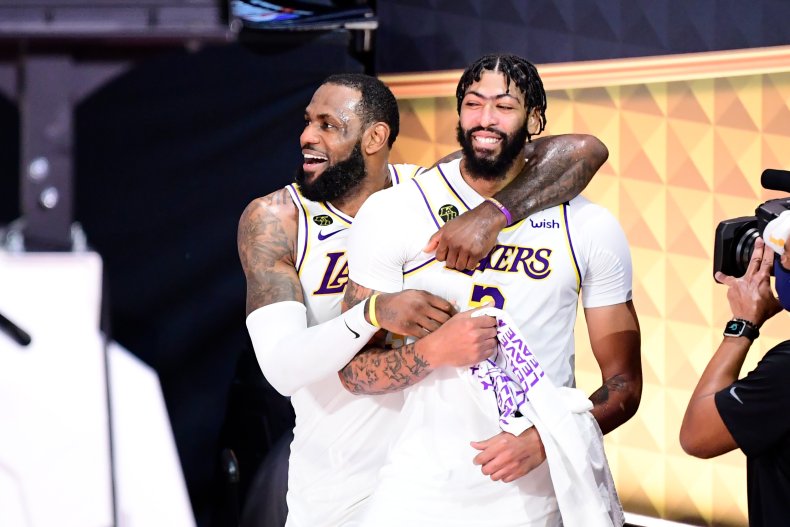 While stardust is thin on the ground aside from Davis, this year's free agent class includes a number of solid players who could command interest from several teams. Toronto Raptors guard Fred VanVleet and Los Angeles Clippers power forward Montrezl Harrell are unrestricted free agents, as are Miami Heat guard Goran Dragic and forwards Davis Bertans of the Washington Wizards, Danilo Gallinari of the Oklahoma City Thunder and Jerami Grant of the Denver Nuggets.
Re-signing VanVleet is a priority for the Raptors this offseason, but the 2019 NBA champions are mindful of doing so while leaving as much salary cap room as possible for next year's loaded free-agent class. According to ESPN, Toronto could do so with a four-year deal worth about $80 million. If VanVleet receives higher offers, however, the Raptors will have to decide whether to hold on to one of their best players or leave themselves space to pursue a top free agent in 2021.
New Orleans Pelicans forward Brandon Ingram and Sacramento Kings guard Bogdan Bogdanovic are the two most high-profile players among restricted free agents. Bogdanovic looked set to be traded to the Milwaukee Bucks in exchange for Donte DiVincenzo, Ersan Ilyasova and D.J. Wilson. On Wednesday, however, The Athletic reported the deal was in jeopardy and Bodganovic, who averaged 15.1 points, 3.4 rebounds and 3.4 assists last season, may not join two-time MVP Giannis Antetokounmpo in Milwaukee.
Boston Celtics forward Gordon Hayward has a player option worth $34.1 million. While the 30-year-old has seemingly put his injury troubles past him—he started 52 games last season, after being in the starting line-up for just 18 of his 72 games the previous season as he recovered from a broken tibia—he is unlikely to test the market this season.