NBA Players Expected to Kneel During National Anthem When Season Restarts
NBA players will reportedly kneel for the national anthem when the NBA season resumes in Orlando on Thursday.
In the wake of George Floyd's killing on May 25, several NBA players have been vocal in demanding social changes and calling for an end to racial discrimination.
While the league has acknowledged the current circumstances and has given the players the opportunity to wear a social justice message on their jerseys, NBA rules state that players and coaches must stand for the national anthem.
According to multiple reports, however, the protocol could be tested when the season resumes next week after a four-month hiatus enforced by the coronavirus pandemic.
On Friday, Ben Turner of the Los Angeles Times reported players planned to kneel during on opening nights next week and that eight NBA teams—the Milwaukee Bucks, Los Angeles Lakers, Los Angeles Clippers, Toronto Raptors, Boston Celtics, Denver Nuggets, Utah Jazz and Miami Heat—had met to discuss kneeling.
Earlier this week, Sam Amick of The Athletic reported some NBA executives expected players to protest peacefully during the anthem, indicating they would not be disciplined if they did so.
Earlier this month, Dallas Mavericks owner Mark Cuban, expressed his support for players choosing to kneel.

"If they were taking a knee and they were being respectful, I'd be proud of them. Hopefully I'd join them," he told ESPN. "Whether it's holding their arm up in the air, whether it's taking a knee, whatever it is, I don't think this is an issue of respect or disrespect to the flag or to the anthem or to our country.
"I think this is more a reflection of our players' commitment to this country and the fact that it's so important to them that they're willing to say what's in their heart and do what they think is right."
Last week, Cuban doubled down on his stance after Dallas radio personality Mark Davis asked him on Twitter to ensure his NBA team wouldn't take a knee.
"The National Anthem Police in this country are out of control," Cuban replied.
"If you want to complain, complain to your boss and ask why they don't play the National Anthem every day before you start work."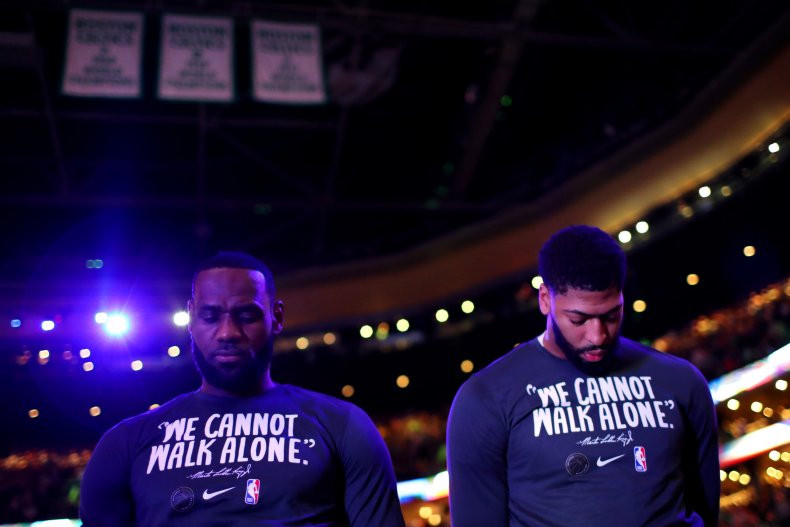 On Thursday, President Donald Trump claimed kneeling during the national anthem "would hurt a lot of people" in the U.S. and that Americans did not see such protests favorably.
Trump has been an outspoken critic of players taking a knee during the national anthem since former San Francisco 49ers quarterback Colin Kaepernick first knelt to protest against racial discrimination and police brutality in 2016.
"It's great that baseball is back, and other sports are back. I hope everyone's standing," he said during a Thursday night appearance on The Sean Hannity Show.
"I hope they're not going to be kneeling when the flag is raised. I don't like to see that. That would hurt a lot of people in our country. They don't want to see that with the NFL, or baseball, or basketball, or anything else. There are plenty of places you can protest. You don't have to protest on the raising of our flag."
Despite Trump's words, players took a knee during a minute of silence ahead of the national anthem before the New York Yankees played the Washington Nationals in the first game of the MLB season on Thursday.
Los Angeles Dodgers and San Francisco Giants players and coaches followed suit later on Thursday, with Dodgers' outfielder Mookie Betts and Giants manager Gabe Kapler also taking a knee during the anthem.
NBA players will be able to choose from a list of 29 slogans to wear on their jerseys, which were agreed between NBA and the NBA Players Association.
The list includes Black Lives Matter, I Can't Breathe, Power to the People and Anti-Racist.
Players will be allowed to wear a social justice message for the first four days of the resumption. After that, players can still carry a social justice message on the back of their jerseys but their names have to be beneath it.