NBA Questions Race Double Standard, Again, After Capitol Riots, Jacob Blake Cop Dismissal
Athletes in America have been vocal today regarding race in this country, particularly a "double standard" they claim of Blacks not treated the same as non-Blacks. Wednesday's concerns is two-thronged. First, there's the news that the Wisconsin cop who shot Jacob Blake in the back won't be criminally charged. Then, there was the massive mob that rioted at the U.S. Capitol.
On Tuesday, prosecutors in Kenosha, Wisconsin, said they would not file criminal charges against Rusten Sheskey, a white officer who shot Blake, a Black man, seven times in the back during an Aug. 23 confrontation that was caught on video.
The Blake shooting last summer sparked a three-day boycott by the NBA during its playoffs, and also boycotts by the WNBA and Major League Baseball. Though the Wisconsin prosecutor made its announcement Tuesday, all five NBA games played on with no interruptions that evening.
On Wednesday, teams began releasing statements about their ongoing pursuit of social justice in America.
On Wednesday afternoon, rioters began storming the Capitol building in Washington in part of their protests of Congress getting ready to approve the Electoral College votes, which would mean Joe Biden would become the 46th President of the United States in a couple of weeks. The rioters Wednesday were seen wearing pro-Trump gear and waving Trump flags.
Why is this relevant? Last summer, after the May 25 death of George Floyd, there were Black Lives Matter protests—from coast to coast—against the police brutality of Black people. Floyd was a Black man who died while in custody of Minneapolis police officers.
Floyd was last seen on a video with former Minneapolis officer Derek Chauvin kneeling on Floyd's neck for nearly nine minutes. The last words heard from Floyd were, "I can't breathe."
The Black Lives Matter protests over the summer took over major cities in the U.S.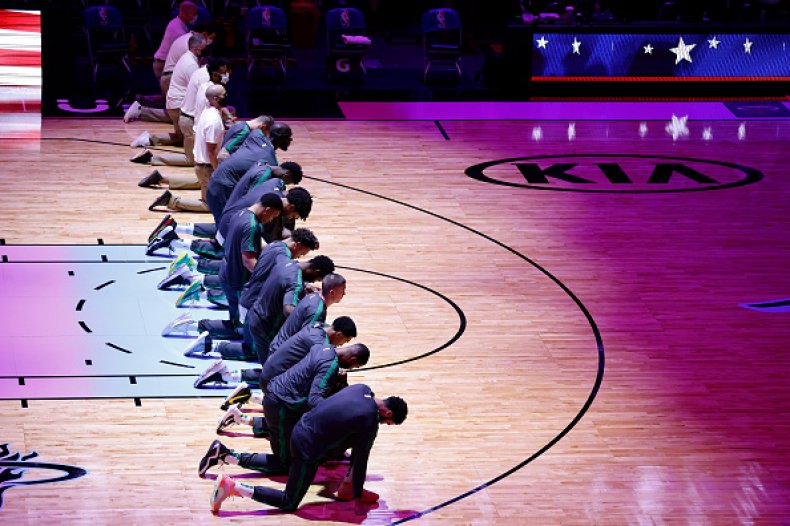 On Wednesday afternoon, Philadelphia 76ers coach Doc Rivers questioned if it had been a Black mob instead of a mostly-white group that stormed the Capitol.
"Could you imagine today, if those were all Black people storming the Capitol, and what would have happened?" Rivers said in this video released by the NBA on TNT's Twitter account.
As for the Blake decision, NBA teams organized their own protests for Wednesday, they released team statements and then played the games as scheduled. Michele Roberts, the executive director of the National Basketball Players Association, said she has received messages from players all day regarding the decision. She spoke to ESPN about it.
"Today started yesterday, when the Jacob Blake shooting was being justified, although I'm not sure there was a single human surprised at that finding," Roberts said. "Every single player that contacted me—or that I contacted—saw the same connection to the Blake shooting being justified. We were watching these people essentially committing treason at the Capitol and I have yet to hear about a single shot being fired.
"We saw a Black police officer being chased and players said to me, 'So this is what they can do?' And people don't get this privilege stuff? I know how they're feeling. I am so angry and pained—and refusing to cry. It reminded me of something that James Baldwin said, when asked what it was like to be a Negro in the United States of America. He said that if you're conscious of what's going on in the country, and you're a Negro, you're in a constant state of rage.
"On a day like this, it's the first thing that comes to mind. And all I can say is that I'm grateful knowing that hopefully nobody who looks like me is going to Capitol Hill to respond to this, because if they do, you'll see a different response by law enforcement. You know it—and I know it."
Players from the Boston Celtics met before their game at the Miami Heat, which is a rematch of last year's NBA Eastern Conference FInals. The Celtics left the floor after warmups, but then returned for tipoff. But not before both teams kneeled during the national anthem.
The teams released this statement.
The Milwaukee Bucks, who started the league's boycott last summer, also issued this statement that states it continues to oppose excessive force by police.
The Toronto Raptors and Phoenix Suns locked arms in a circle during the playing of the American and Canadian national anthems Wednesday night.