As NBA Ratings Decline, Poll Shows 34% Watched Less Sports Over Social Justice Messages
As NBA ratings have declined over the current season, a new poll shows that more than 30 percent of Americans say they have watched less sports over political and social justice messaging.
The poll, which was conducted by Yahoo News/YouGov, found 34.5 percent of respondents saying they have watched less sports due to social justice campaigns. According to the poll, 11 percent of people said they have watched more sports as a result of the social justice messaging, and 56.3 percent said they have watched the same amount.
Looking at the different political party affiliations, 19 percent of Democrats said they have watched less sports in light of social justice messaging, while 13.7 percent said they have watched more. In comparison, 53 percent of Republicans said they have watched less sports due to social justice messaging, and just 8.6 percent said they have watched more.
The poll also found that men were more likely to watch less sports as a result of social justice efforts, as 37.6 percent said so, compared to 28 percent of women. According to the poll, 13 percent of men and 7 percent of women said they have watched more sports.
Yahoo News/YouGov surveyed 1,606 U.S. adults from March 22 to March 25 and reported a margin of error of plus or minus 2.7 percentage points.
The poll's findings come as TV ratings for a majority of sports, including the NBA, declined in 2020. At the start of the 2020-2021 NBA season, Nielsen Media Research data showed that NBA viewership for nationally televised games on TNT, ABC and ESPN was up 34 percent compared to the same 27-game period from last season.
But while the league saw an increase in TV viewership at the start of the season, it has since seen a decline. The 2021 NBA All-Star Game received a record low 5.943 million viewers across TNT and TBS, according to data from ShowBuzzDaily.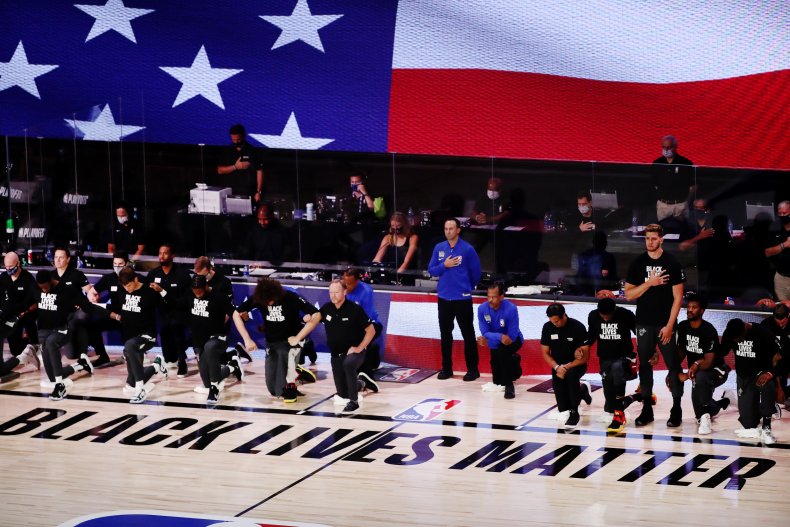 Data from more recent NBA action shows a decrease in ratings and TV viewership, as ESPN drew a .6 rating for a recent game between the Milwaukee Bucks and Philadelphia 76ers, which is down 41 percent from a comparable night in 2019.
For the week ending on March 28, ShowBuzzDaily data shows NBA TV ratings remaining below .70. Data from 2019 shows that comparable games during the same time period received rating ranging from .68 to .91.
The NBA's ratings have no doubt been affected by the various schedule adjustments made because of the coronavirus pandemic. But, as the poll notes, the decline also looks to be partly caused by the social justice messaging promoted by the league and teams.
During the 2019-2020 season, the NBA was forced to play in a "bubble" to mitigate the spread of COVID-19, but the season took place amid nationwide protests calling for an end to police brutality against Black Americans, following the death of George Floyd.
In response, the NBA allowed players to choose a social justice message to wear on the backs of their jerseys, instead of their last names. The league also placed similar messages, such as "Black Lives Matter," on the courts.
Prior to the start of the 2020-2021 season, NBA commissioner Adam Silver announced that the league would no longer place social justice messages on the courts or jerseys.
"My sense is there will be some sort of return to normalcy," Silver said during an interview with ESPN in October. "That those messages will largely be left to be delivered off the floor. And I understand those people who are saying, 'I'm on your side, but I want to watch a basketball game.'"
Newsweek reached out to the NBA for comment, but did not receive a response in time for publication.