The NBA tipped off five games Tuesday night with no boycotts, or protests, of a ruling handed down in Kenosha, Wisconsin, earlier in the day. The shooting of Jacob Blake by a Kenosha police officer last August set off a firestorm of nationwide protests, and ultimately a boycott of NBA playoff games by its own players last summer.
On Tuesday afternoon, prosecutors in Kenosha said they would not file criminal charges against Rusten Sheskey, a white officer who shot Blake, a Black man, seven times in the back during an Aug. 23 confrontation that was caught on video.
Kenosha County District Attorney Michael Graveley said Tuesday that none of the other officers at the scene—Brittany Meronek and Vincent Arenas—will be charged, either.
There was a video of the shooting that surfaced. It showed Blake walking from the passenger side of a grey sport van, and then walking around the front of the vehicle and trying to enter the driver's side. A police officer is shown grabbing the back of the Blake's shirt and pulling him back from entering the car. Then, seven loud pops can be heard.
Blake was taken to a local hospital, where he had surgery. Blake is paralyzed from the waist down.
The following day, there were violent protests, with rioters setting businesses on fire, including car lots. The next night, there were more protests, and 17-year-old Kyle Rittenhouse was eventually arrested for allegedly shooting two people to death and injuring another.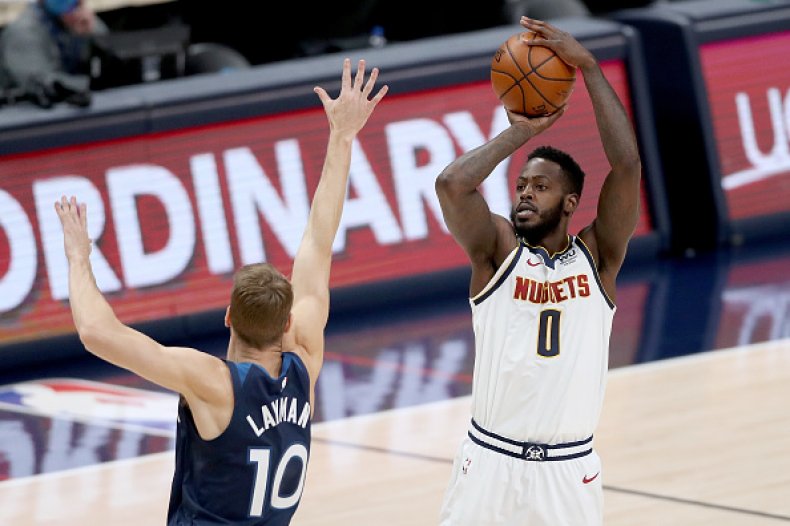 Coincidentally on Monday, Rittenhouse pleaded not guilty to all charges against him.
The August shooting of Blake came nearly three months after the May 25 death of George Floyd, a Black man who died while in custody of the Minneapolis (Minn.) Police Department. Floyd was last seen on a video with former Minneapolis officer Derek Chauvin kneeling on Floyd's neck for nearly nine minutes. The last words heard from Floyd were, "I can't breathe."
The video went viral and protests erupted not just in the U.S., but around the world. Although sports were still at a standstill because of COVID-19 at the time, athletes took a stand. But when the shooting of Blake happened, basketball and baseball had already been restarted.
Blake's shooting happened on a Sunday. Then, after two days of protests in Kenosha, the NBA East's top-seeded Milwaukee Bucks opted to not play Game 5 of their first-round playoff game against the Orlando Magic. The game never happened that night, and Orlando did not accept a forfeited win—in respect of Blake.
The NBA allowed a three-day boycott of games by its teams, and then they resumed.
The WNBA followed with a boycott, and Major League Baseball stood silent for a few days. This was all done to bring attention to violence against people of color by law enforcement.
Now that things have moved onward, the Kenosha officials said they would not charge the police officer with criminal conduct.
Meanwhile, the NBA is silent.
The Tuesday night games were:
Utah at Brooklyn
Los Angeles Lakers at Memphis
Minnesota at Denver
San Antonio at Los Angeles Clippers
Chicago Bulls at Portland Trailblazers
Uncommon Knowledge
Newsweek is committed to challenging conventional wisdom and finding connections in the search for common ground.
Newsweek is committed to challenging conventional wisdom and finding connections in the search for common ground.
About the writer
Scott McDonald is a Newsweek deputy night editor based in Cape Coral, Florida. His focus is assigning and writing stories across all topics, from news to politics, business, weather, sports and international news. Scott joined Newsweek in 2018 after a lengthy career of print journalism in Texas, including The Dallas Morning News, where he was a sportswriter, and he's a voter for the Heisman Trophy. He has been a newspaper editor-in-chief and also a newspaper publisher. He is a graduate of The University of Texas at Austin. You can get in touch with Scott by emailing s.mcdonald@newsweek.com. Languages: English