NCAA Basketball in Football Stadiums: How We Got Here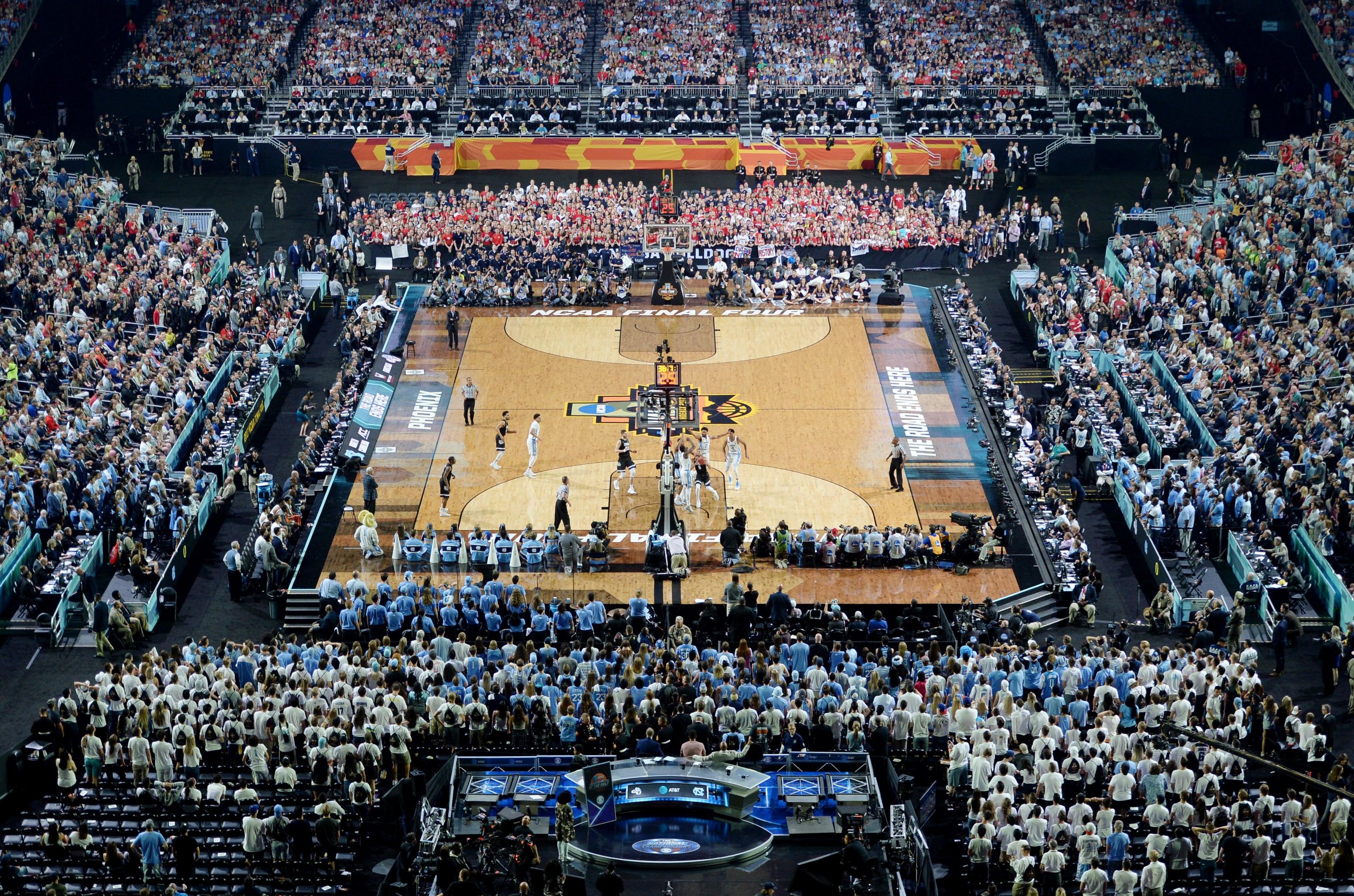 Dick Vitale was taking a moment for himself, a "TO, baby!" if you will. The iconic ESPN broadcaster on Monday sat all alone in a folding chair on the court that would in a few hours host the NCAA championship game between Gonzaga and North Carolina, gazing out into the vast expanse of the University of Phoenix Stadium.
This was before the flood of 76,000-plus pilgrims spilled through the gates in Glendale, Arizona. Before the Bulldogs and Tar Heels took the court for warmups. Vitale, the Wolfman Jack of college basketball for more than three decades, sat in solitude. And in silence. For the voluble Vitale, this is an unnatural state—kind of like playing the most important game of the college basketball season in the middle of a football stadium. Perhaps that is what he was contemplating.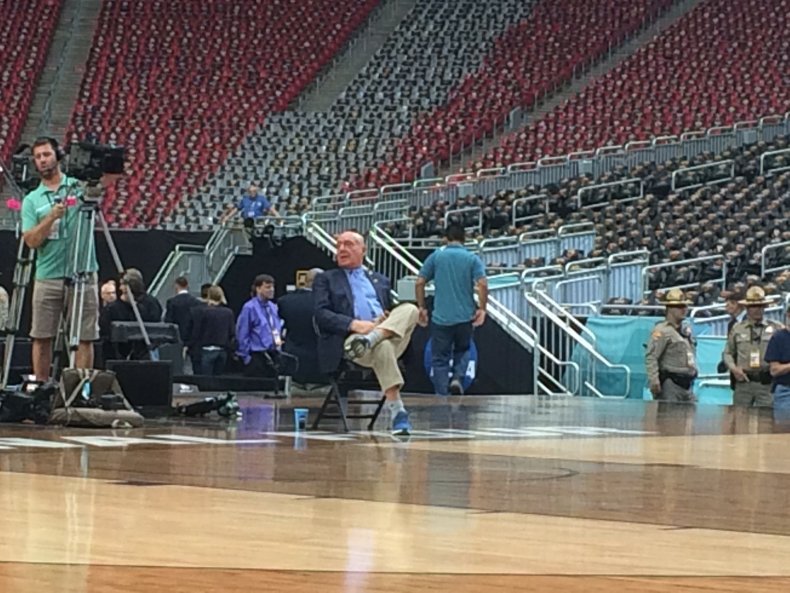 How did we get here? How did we get from James Naismith's Springfield, Massachusetts, YMCA gym in 1891 to an immense basketball biosphere in the Sonoran Desert in 2017? How did we evolve from an inaugural 1939 NCAA final contest that attracted 5,500 curiosity seekers and lost $2,500—because they were admitted for free—to a 2017 Final Four that attracted a combined 153,000-plus people and grossed, by conservative estimates and in ticket sales alone, $46 million? How did we become complicit in accepting that for an entire season teams play mostly in 12,000-seat arenas and then, for the showcase game, compete in an alien venue that holds six times as many spectators?
How did we let the NCAA championship game become Monday Night RAW?
The one-word answer is money, of course. More than 77,000 fans poured into Saturday's semifinal contests and 76,000-plus showed up for Monday night's finale. Neither the ticket prices (ranging between $120 and $2,250 for the championship game; students paid $40) nor the grand canyon between their seats and the court curbed fans' enthusiasm. Corey Aasen of San Diego spent $357 for a pair of top-row corner seats that may or may not have been in Maricopa County, but he did not mind. "I'm a big Tar Heel fan," said Aasen, who dropped off his kids at school in San Diego Monday morning, then drove six hours to attend the game. "I can't see the giant video screen because it's blocked by a banner hanging down from the roof, but I can see the smaller video screens."
Related: Isaiah Thomas headlines a wave of sub-6-foot scoring stars in basketball
Judy Bruzza and Margaret Tsuji, seated nearby, objected to the notion that theirs were nosebleed seats. "These are oxygen tank–necessary seats," said Bruzza, "but we like it up here because we can talk without bothering anyone."
Bruzza noted before the game that from her vantage point, at an altitude where small aircraft have permission to fly, it was impossible to discern with the naked eye whether a shot had gone in the basket or missed. As the game played out, the safe bet was on the latter. North Carolina somehow won, 71-65, despite missing 23 of its 27 3-point attempts. The Tar Heels converted less than 60 percent of their free throws as well. "It was an ugly game," said North Carolina coach Roy Williams. "The bigness, the game is so big—my wife is an English teacher, she's going to hate that—sometimes you have to control your emotions."
The championship game is a grander stage, figuratively, but also literally the court becomes a stage. Unlike in all other games that are played in basketball venues, the players operate on a raised platform above the nearest audience members, as if they are performers in a theater. The Zags and Tar Heels insisted that the abnormal environment had no adverse impact on their shooting, and perhaps they are correct. Still, neither team shot above 36 percent from the field.
On Saturday, Williams admitted that he was uncomfortable with the court set-up because it did not allow him to sit and confer with his assistants during the game. The choice is either to stand on the court or to descend three steps and take a seat. "I don't like it," Williams said, "but frankly, my dear, I'm just happy to be here."
As were the fans. If March Madness is a psychosis, then a major symptom is fear of missing out, or FOMO. Almost no one is immune. Ralph Zobell, the sports information director at Brigham Young University, was seated four rows from the top of the stadium. A 41-year employee of the school, Zobell has probably worked as many college athletic events as anyone in the building, but there he was, binoculars around his neck, flanked on either side by his brothers Greg and Dwayne, playing the role of fan. "It's a family reunion," said Zobell.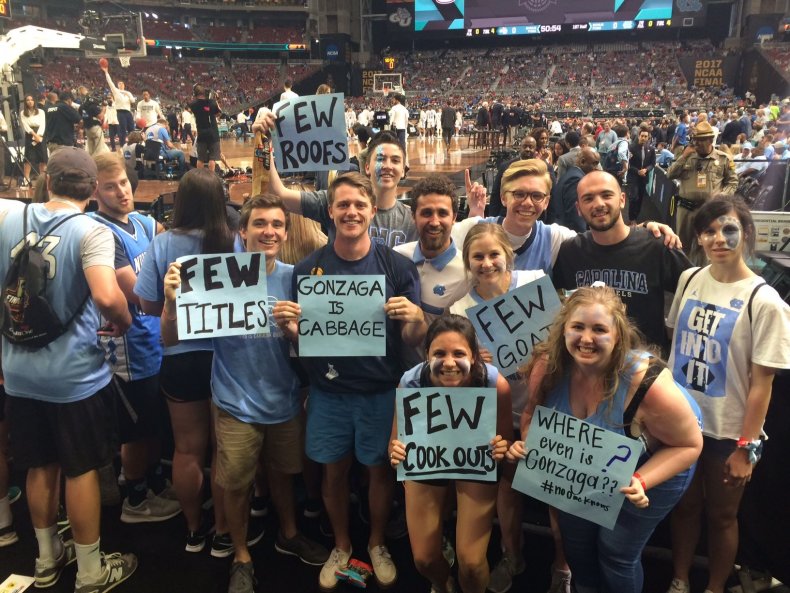 For undergrads of Gonzaga and North Carolina, the Final Four was peak FOMO. On Thursday afternoon, 10 Tar Heel undergrads who all belong to the same church piled into a silver minivan to embark on the 35-hour pilgrimage to the Valley of the Sun. "We made a wrong turn coming out of Raleigh, but after that the trip was uneventful," said Austin Parsons, one of the drivers. "We only stopped for gas, and every time we got back in the van, we played 'On the Road Again.'"
Gonzaga senior Jacob Beardemphl estimated that 20 percent of Gonzaga's student population had migrated to Arizona for the weekend. "I drove 19 hours with six of my friends in a minivan," Beardemphl said. "We planned our route so that we could stop in Provo for dinner and parade around BYU [the lone school to defeat Gonzaga this season prior to Monday night] in our school gear."
Another carload of Gonzaga students, who did not want their names to be printed, almost did not make it to Phoenix. Their vehicle spun while traveling at 70 miles per hour near Idaho Falls, Idaho, resulting in a pair of flat tires but no injuries, fortunately. "We were traveling with another car," said one of the students, "and we just piled everyone into the second car."
The NCAA first held a Final Four in a football stadium in 1971, when UCLA beat Villanova in the Houston Astrodome. The practice continued on an irregular basis over the next quarter-century, but in 1997 the NCAA moved to football stadiums for good. Or for bad. In an earlier era, long before the lyrics to "One Shining Moment" had ever been conjured or before the alchemy of bracketology was practiced, Final Fours were contested in basketball venues.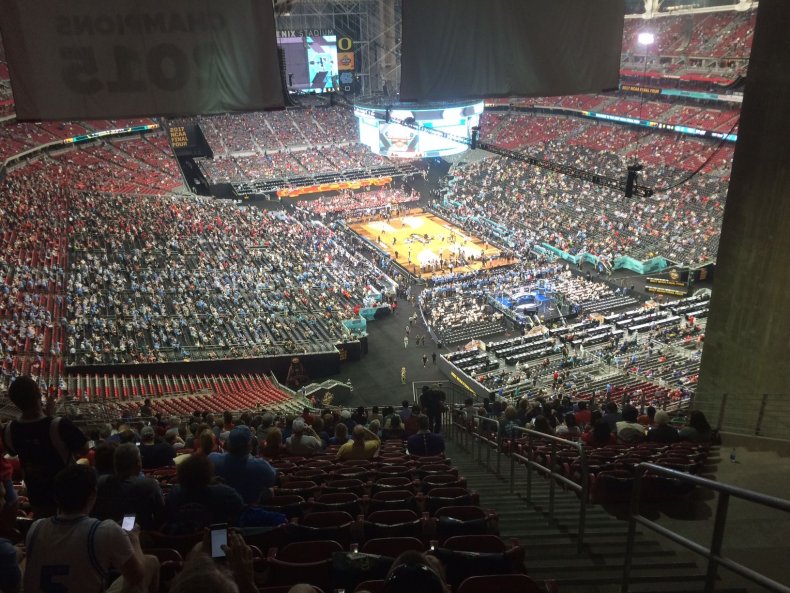 How magical would it be, even once, to see a Final Four played in one of college basketball's great cathedrals, be it the Palestra in Philadelphia or Hinkle Fieldhouse in Indianapolis or even at Cameron Indoor Stadium in Durham? That's not about to happen, though. "I've played on a boat [an aircraft carrier] and in two football stadiums," said North Carolina senior Stillman White. "This is what you've got to expect when you play at the elite level of college basketball."