'NCIS Hawai'i' Cast: Who Stars Alongside Vanessa Lachey?
Hawaii is now officially the fourth location to get its own NCIS franchise as the new season gets underway tonight.
NCIS: Hawai'i starts on CBS at 10pm ET/PT and will air weekly on Mondays. The new series follows in the footsteps as NCIS, NCIS: Los Angeles and NCIS: New Orleans. NCIS as a franchise is itself a spin-off from the U.S. Navy themed legal drama JAG.
The new show follows agents from the fictional Naval Criminal Investigative Service who are based out of the Pearl Harbor Field Office, investigating crimes related to the military and national security.
The new season, starting tonight (September 20) features actress and model Vanessa Lachey in the lead role -- but who does she play and who's joining her in the cast? Here's all of the core cast members for the new CBS show NCIS: Hawai'i.
Vanessa Lachey
Former beauty queen Lachey plays Jane Tennant, the first female Special Agent in Charge of the NCIS: Pearl. Jane has two kids, Julie and Alex Tennant.
Lachey is a former beauty pageant winner-turned pageant host. She's starred in television shows like Dads, Truth Be Told and Dancing with the Stars.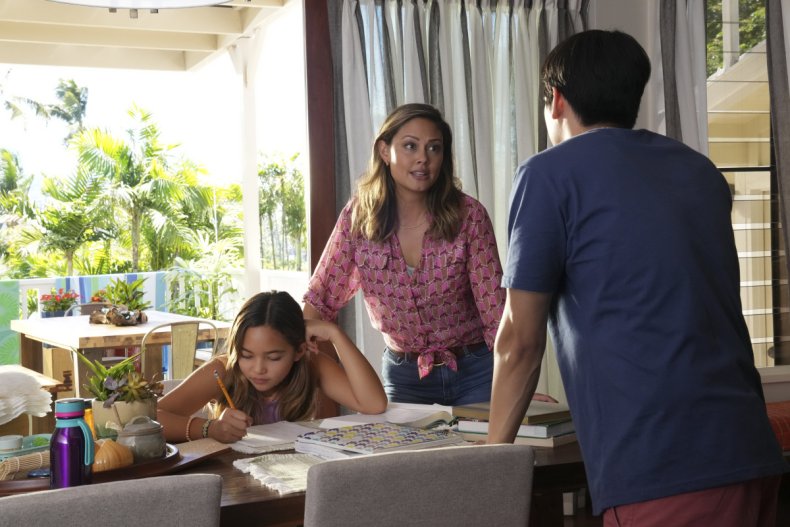 Noah Mills
Mills plays Jane Tennant's second in command and confidant Jesse Boone. Boone is described as a former homicide detective from Washington, DC.
Canadian actor and model Mills has had bit parts in 2 Broke Girls, The Falcon and the Winter Soldier as well as a lead role in NBC's The Brave.
Yasmine Al-Bustami
Al-Bustami is an Emirati-American actress whose previous works include The Originals, The Chosen and John Legend's music video for "Surefire."
She'll play junior field agent at NCIS: Pearl, Lucy Tara.
Jason Antoon
Antoon starred in the comedy Claws as well as No Ordinary Family and Steven Spielberg's 2002 movie Minority Report.
As Ernie Malik, Antoon plays one of NCIS: Pearl's cyber intelligence specialists.
Tori Anderson
The role of Kate Whistler, a special agent from the Defense Intelligence Agency is played by Canadian actress Anderson.
She's starred in recent TV shows like No Tomorrow, Caught and Blindspot.
Alex Tarrant
Tarrant plays Kai Holman. He's described as a charming local and a new addition to Tennant's team. Holman joins the team after returning home to take care of his ailing father as he reconciles with a complicated past.
Tarrant will also star in the upcoming Amazon Prime Video series The Lord of the Rings.
Kian Talan
Young actor Kian Talan plays Jane Tennant's oldest child Alex. Newcomer Talan has mostly starred in short films but may be familiar to anyone who's watched Brainchild on Netflix and the movie Cicada.
Enver Gjokaj
Gjokaj is classed as a recurring character rather than a main cast member, and he's play high-ranking Navy Captain Joe Milius.
Gjokaj has a strong television resume with starring roles in Marvel's Agent Carter as well as Dollhouse and Emergence.
The team behind NCIS: Hawai'i
Jan Nash and Christopher Silber serve as co-showrunners on the new NCIS spin-off as well as executive producing. Larry Teng is also an executive producer and directs the first two episodes.
The show was shot in Oahu, Hawaii's third largest island.
NCIS: Hawai'i airs on CBS on Monday nights at 10pm ET/PT.