'NCIS Los Angeles': When Will Catherine Bell Return as Mac?
Six months after she last appeared on NCIS: Los Angeles as part of a JAG reunion two-parter, Catherine Bell has been confirmed to be returning as Sarah "Mac" MacKenzie to the CBS drama, with the character appearing in her Marine uniform for the first time since the finale of JAG in 2005.
On March 3, Bell posted a picture of her in this uniform, captioning the image, "Sneak Peak time! After 15 years I am putting the @marines uniform back on for another exciting episode of @ncisla !! Mac is back!!"
Then, the following day, she posted another picture of her in character as Mac, alongside NCIS: LA co-stars Chris O'Donnell (who plays G Callen on the show), LL Cool J (Sam Hanna) and Barrett Foa (Eric Beale). This was captioned, "Reunited with my @ncisla team! @llcoolj @chrisodonnell & @barrettfoa See you again soon, boys! And @ericcolsen & @danielaruah - no pic but what a blast!! Sunday, April 19 @cbstv"
This message seemingly confirmed a release date for Bell's next episode as Mac, first revealed by TVLine, of April 19. However, which episode of NCIS: Los Angeles she will appear in has not been confirmed yet.
However, the first hints at what she will be doing in the upcoming episode. While last time she appeared it was because Hetty Lange (Linda Hunt) asked for her help, this time Mac will reach out for Hetty's aid after two SEALs come to her with allegations that their chief killed a Taliban prisoner.
Whereas last time she appeared it was alongside her one-time JAG co-star David James Elliott, reprising his role as Harmon Rabb Jr., it has been confirmed that this time Mac will be appearing on NCIS: Los Angeles alone.
Bell's second appearance on NCIS: LA might be a further clue that CBS is considering a JAG revival, filling the gap in their roster of crime procedurals left by Criminal Minds coming to an end.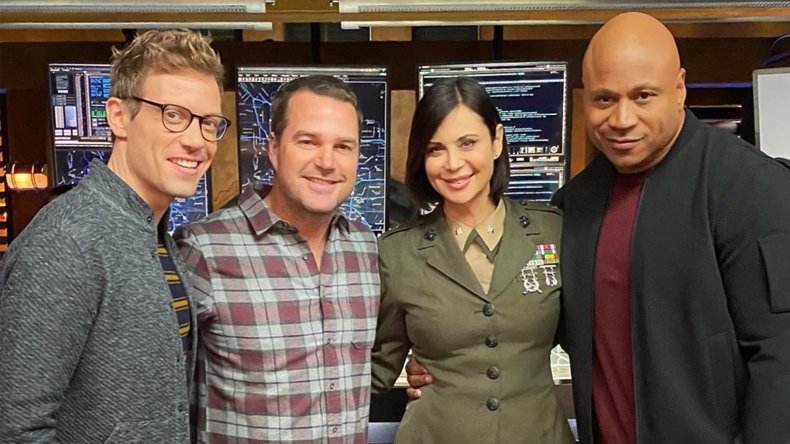 In April 2019, TVLine reported that the network was "testing the waters" for a JAG reboot starring Elliott and Bell. In that article, NCIS: LA showrunner R. Scott Gemmill (who worked as a writer and producer on JAG) said of a potential sequel: "I never say never to anything. It's really up to them [CBS]. That's not my call to make."
Speaking of Elliott and Bell's NCIS: LA roles, meanwhile, he said, "It's more exciting than just going back with a case where they're JAG officers still and we get pulled into it. Instead we took a whole different direction."
As such, Bell's reappearance in the series might include hints that a JAG reboot is coming closer to fruition. Whereas their last appearance saw Mac and Harm out of their usual JAG roles, Bell's new appearance sees her in her job, which could be a way of CBS testing whether the format of the series still works in 2020.
NCIS: Los Angeles airs Sundays at 9 p.m. ET on CBS.