'NCIS' Season 18 Release Date: CBS Confirms When Show is Returning
NCIS Season 18 is one of the few shows that has managed to start shooting and that is set to return this fall. The CBS show had to end its last season four episodes early, but the show is set to start with the episodes the series did not get to film earlier this year—including the procedural's 400th episode.
Earlier this week, CBS released its fall line-up, which includes the premiere dates for NCIS, NCIS: New Orleans and NCIS: Los Angeles. The latter two shows are airing together on Sundays from November 8, with LA airing at 8:30 p.m. ET / 7:30 p.m. CT and NOLA following it at 9:30 p.m. ET / 8:30 p.m. CT.
On that date, fans will also get their first dose of NCIS. The network is airing what they call "fan-favorite episodes" from across the first 17 seasons on Sundays at 10:30 p.m. ET / 9:30 p.m. CT, starting on Sunday, November 8.
Fans will have to wait, however, a little longer before they get to see the new NCIS Season 18. Episode 1 of the season is set to air on CBS on Tuesday, November 17 at 8 p.m. ET / 7 p.m. CT. As ever, episodes are expected to be available to watch on the CBS website and app and CBS All Access after they first air on the network.
Production restarted towards the start of September, the first time filming on the show had been ongoing since the show had to shut down in mid-March. When the shoot closed in spring, three episodes of Season 17 were left to film.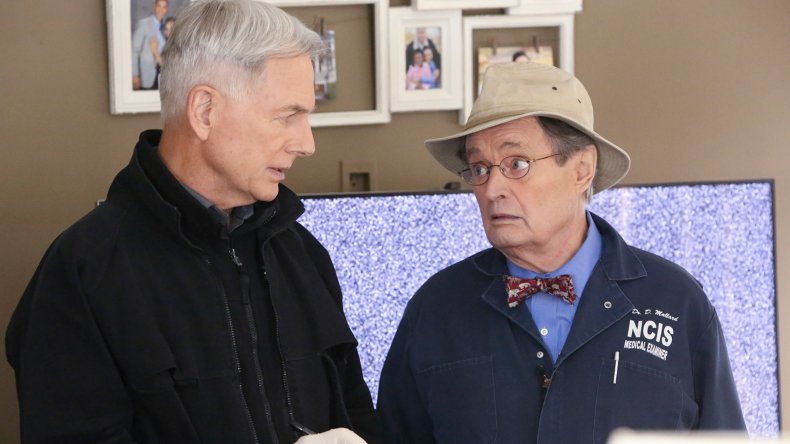 Speaking to TVLine in April, NCIS co-showrunner Frank Cardea confirmed that Season 18 will begin with the first two episodes left from Season 17.
"Episode 21 was two days away from production," he said. "The sets are built and now locked up in our stages, the locations were pulled, the actors had been cast.... That's probably what we will shoot first."
With the second episode of NCIS Season 18, the show will hit a major milestone: Its 400th episode. This makes the crime procedural the ninth longest-running scripted series in U.S. TV history, and the third-longest that is still airing (behind The Simpsons and Law & Order: SVU.
Previously, the makers of the show have hinted that this 400th episode will explore the show's past, revealing how it was that Gibbs (played by Mark Harmon) and Ducky (David McCallum) first met. If NCIS Season 18 has a start date of November 17, then this milestone is expected to be reached on Tuesday, November 24.
NCIS Season 18 starts on Tuesday, November 17 at 8 p.m. ET / 7 p.m. CT on CBS.