Nearly 75% of U.S. Seniors Have Gotten At Least One Dose of COVID Vaccine
Almost 75 percent of Americans seniors have received at least one dose of a COVID-19 vaccine, according to the Centers for Disease Control and Prevention (CDC).
CDC figures show that 74.4 percent of adults aged 65 and over had received at least one dose of the vaccine as of Friday, while 53.5 percent had been fully vaccinated. Among the entire U.S. population, 30.7 percent had received at least one dose and 17.5 percent were fully vaccinated, with over 101.8 million people receiving at least one shot each.
A total of 204.7 million individual vaccine doses had been delivered as of Friday, with 157.6 million of the doses having been administered. The vast majority of the doses delivered, about 196.4 million, were for the two-dose vaccines made by Pfizer/BioNTech and Moderna. There had been about 8.3 million doses of Johnson & Johnson's single-shot vaccine delivered.
On Wednesday, it was revealed that around 15 million doses of Johnson & Johnson vaccine had been spoiled due to a factory error in Pennsylvania. The company said that they expect to quickly rectify the situation and deliver more doses, while President Joe Biden's goal of providing enough doses for all U.S. adults by the end of May appears to remain on track as the other two vaccines continue to be quickly delivered.
Although a rapidly rising number of people are being vaccinated, new cases of COVID-19 have also been increasing recently. Factors driving the surge likely include the spread of new virus variants that are more contagious than the original strain and the relaxation of preventative measures before enough of the population is vaccinated to protect against a spike in cases.
CDC Director Rochelle Walensky said that she felt a sense of "impending doom" while speaking about the rise in cases on Monday. Walensky urged Americans to continue taking simple precautions to prevent the transmission of the virus in addition to getting vaccinated, saying that there is hope for an end to the pandemic but "we must work together now to prevent a fourth surge."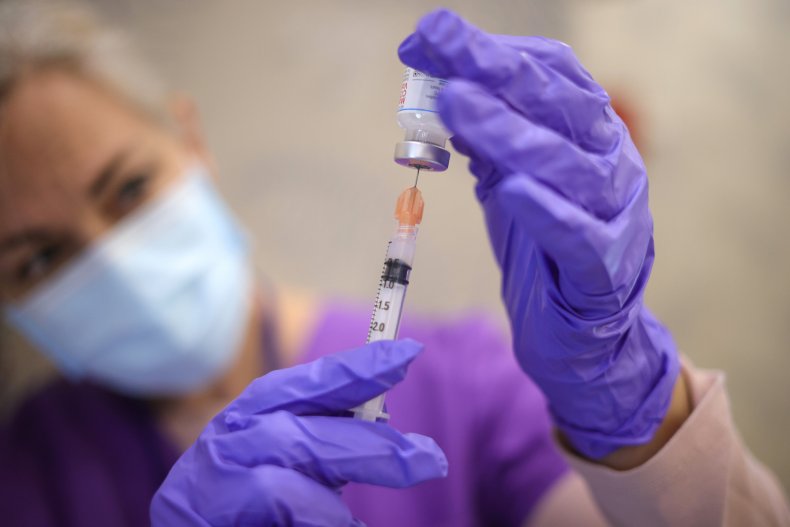 The high vaccination rate among elderly people, which continues to rise, is particularly important for hopes of lowering the pandemic's death toll. Elderly people are far more likely to die from the virus than younger people, with about 80 percent of all COVID-19 deaths being in those 65 and older. The risk for hospitalization and death caused by the virus increases exponentially with age, while underlying medical conditions can also contribute to a poor prognosis.
Long-term care facilities often include people that are particularly vulnerable to COVID-19 since they are both of an advanced age and have underlying conditions. Over 4.8 million people in U.S. long-term facilities, including residents and staff, had received at least one dose of a COVID-19 vaccine as of Friday, with 2.8 million people fully vaccinated.
A real-world study recently confirmed that the Pfizer/BioNTech and Modera vaccines both offer at least 90 percent protection against contracting the virus, while the Johnson & Johnson vaccine was tested as being 66 percent effective. Those who contract the virus despite receiving a vaccine are likely to fare better than the unvaccinated, with all three vaccines believed to be extremely effective in preventing severe disease and death.
Newsweek reached out to CDC for comment.