Nearly 80 Percent of Small Business Owners Say Congress Should Provide More Funding in Coronavirus Aid, Survey Finds
An overwhelming majority of small business owners want to see Congress approve more funding and extend the Paycheck Protection Program in their next piece of coronavirus legislation.
According to a new survey from Goldman Sachs, 78 percent of small business owners say that making more money available should be a top priority for lawmakers when they return to Capitol Hill.
Another 77 percent of those polled said that Congress should extend the Paycheck Protection Program (PPP) past its June 30 deadline. More than half of small business owners said the relief program should be extended for three months.
The PPP, enacted under the historic $2 trillion Coronavirus Aid, Relief and Economic Security Act, offers an eight-week loan to small businesses affected by the coronavirus pandemic. The initial rollout of the program was plagued with problems, including technical mishaps for business owners and banks being unprepared for the tidal wave of applications.
More than 90 percent of the business owners surveyed by Goldman Sachs reported applying for PPP. A majority of those who were approved for the loan—77 percent—said that they were "confident their businesses will survive" the global health crisis.
Goldman Sachs surveyed 1,790 of their 10,000 small business participants from April 20 to April 21. The poll, conducted by Babson College and David Binder Research, included business owners from 47 states and four U.S. territories.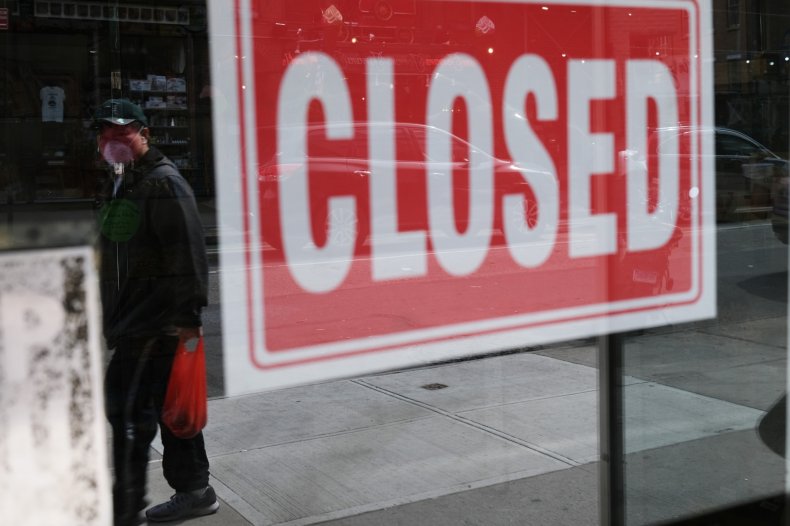 Business owners were the biggest benefactor of the interim coronavirus bill signed last week. The half-trillion dollar legislation included an additional $321 billion for the PPP program. PPP ran out of its initial influx of $350 billion in just two weeks and it is likely the program will need even more additional funding.
The Consumer Bankers Association, which represents the nation's largest retail banks, recently estimated that it will take at least $1 trillion to meet the demands of small businesses.
But it may be a while before lawmakers approve another coronavirus relief package. Congress is in recess until May 4 and Senate Majority Leader Mitch McConnell has already pumped the brakes on the fourth stimulus deal.
"I think it's also time to begin to think about the amount of debt we're adding to our country and the future impact of that," McConnell told reporters last week. "Let's weigh this very carefully because the future of our country in terms of the amount of debt that we're adding up is a matter of genuine concern."
Businesses also don't appear to be the main topic of debate for what should be included in the next bill. Among the measures Congress is expected to fight over is funding for state and local governments, additional cash payments to American workers, aid for the U.S. Postal Service and new infrastructure funding.