Nearly three-quarters of Israelis are opposed to a ceasefire in the current conflict with the Palestinians, saying that the Israeli military's operations targeting Gaza should continue, according to new polling.
At least 230 Palestinians have been killed—including 65 children—while more than 1,700 have been injured since the current tensions escalated earlier in May, according to the Associated Press. In Israel, 12 people have died—including a 5-year-old boy and a 16-year-old girl. Meanwhile, the U.S. and other nations are urging the Israelis and the Palestinian militant groups Hamas and Islamic Jihad to reach a ceasefire.
But the results of a new survey conducted by Direct Polls and published by The Times of Israel on Thursday showed that the vast majority of Israelis support continued military action, not a ceasefire. The poll found that 72 percent of Israelis believe "the operation should continue," while just 24 percent of Israeli respondents said their military should agree to a ceasefire.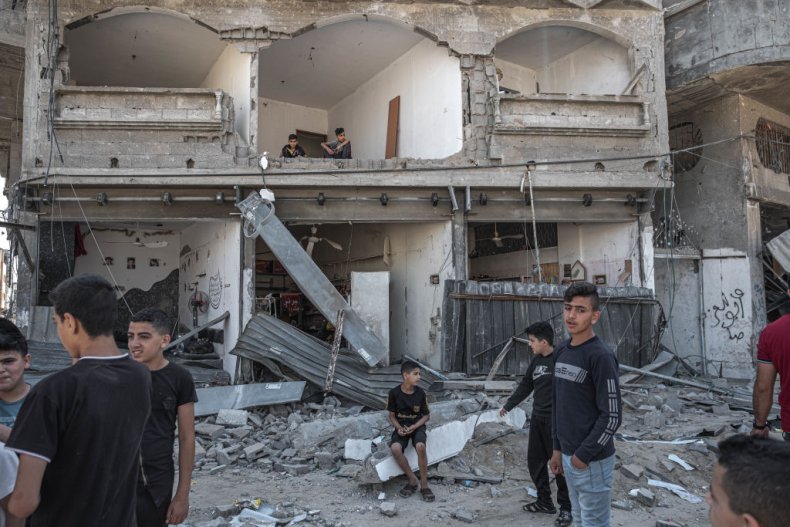 The majority of Israelis polled also expressed approval of the success of Israel's military operations thus far. Two-thirds (66 percent) said that Israel had made greater "achievements" in the conflict than it had in previously eruptions of violence with Palestinian militants.
The survey polled 684 Israelis and had a margin of error of plus or minus 4.3 percentage points.
Although his administration has consistently backed Israel's right to defend itself, President Joe Biden has also raised concerns about the death toll among Palestinian civilians and called for a speedy ceasefire.
On Wednesday, the White House released a readout of a call between Israeli Prime Minister Benjamin Netanyahu and Biden.
"The two leaders had a detailed discussion on the state of events in Gaza, Israel's progress in degrading the capabilities of Hamas and other terrorist elements, and ongoing diplomatic efforts by regional governments and the United States," the White House statement explained. "The President conveyed to the Prime Minister that he expected a significant de-escalation today on the path to a ceasefire."
Moussa Abu Marzouk, a Hamas political official, told Reuters on Wednesday that he believed a ceasefire would come soon. "I expect a ceasefire to be reached within a day or two, and the ceasefire will be on the basis of mutual agreement," Abu Marzouk said.
But Israeli Intelligence Minister Eli Cohen dismissed the possibility of a ceasefire beginning on Friday when asked about it during an interview on Kan public radio, according to Reuters.
"No. We are definitely seeing very significant international pressure... we will finish the operation when we decide we have attained our goals," Cohen said.
The latest escalation in violence began amid attempts to evict several Palestinian families from buildings in the Sheikh Jarrah neighborhood of East Jerusalem. Israeli officials describe it as a private real estate dispute between Jewish owners and Palestinians that is being resolved in the Israeli courts. Palestinian and their supporters around the world view the expected evictions as a sign of the wider Israeli strategy of building Jewish settlements on land Palestinians want for a state.