Nearly Twice as Many Democrats Are Not Seeking Re-Election in 2022 Than Republicans
Nearly twice as many Democratic lawmakers are not seeking re-election in November than Republicans, giving the GOP a possible boost as they aim to win majorities in Congress.
So far, 29 Democrats and 18 Republicans announced their plans to either retire or seek other offices. Democratic Representatives James Langevin of Rhode Island and Jerry McNerney of California became the latest to join the growing list of retirements Tuesday.
In a column for The Providence Journal, Langevin wrote, "it is time for me to chart a new course, which will allow me to stay closer to home and spend more time with my family and friends."
McNerney announced his retirement on Twitter, touting his accomplishments and vowing to "keep working for the people of my district throughout the remainder of my term and look forward to new opportunities to continue to serve."
President Joe Biden handily carried both districts, so they aren't likely to be especially competitive.
However, some Democrats from more competitive seats announced their retirements, possibly giving Republicans prime pickup opportunities in November.
Democratic Representative Ron Kind's retirement in Wisconsin could give Republicans their easiest pickup, even though President Joe Biden won the state.
Other Democrats from GOP-trending districts are also retiring. Texas Representative Filemon Vela and Illinois Representative Cheri Bustos are vacating seats that Republicans have recently made gains in. In fact, former President Donald Trump narrowly carried Vela's redrawn south Texas district.
Ohio Representative Tim Ryan is also running for Senate, rather than seeking re-election in his district, which has also trended toward Republicans.
Florida Representatives Charlie Crist and Stephanie Murphy are vacating seats narrowly won by Biden but could still be competitive in the midterms. Crist is instead challenging Florida Governor Ron DeSantis in the gubernatorial race.
Typically, the party that controls the White House loses seats during the midterm election. But the majority of retirements are coming from seats that Democrats are expected to easily hold in November.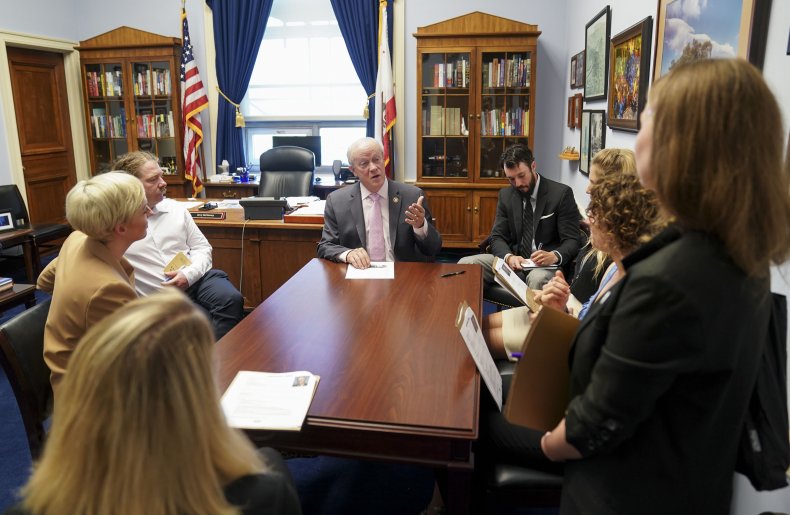 Among Republicans, New York Representative John Katko announced his retirement, leaving open a Biden-carried seat that will likely be a top target for Democrats.
A number of other Republican Trump critics have also announced retirement—rather than face primary challenges from Trump-aligned candidates—including Illinois Representative Adam Kinzinger and Ohio Representative Anthony Gonzalez
Meanwhile, in the Senate, Republicans are retiring from several competitive states. Democrats are targeting open Senate seats in Ohio, Pennsylvania and North Carolina where Senators Rob Portman, Pat Toomey and Richard Burr are retiring.
Democratic Vermont Senator Patrick Leahy will also not seek re-election, and Democrats are massively favored to hold the seat in one of the most liberal states in the U.S.
Newsweek reached out to the National Republican Congressional Committee and Democratic Congressional Campaign Committee for comment Tuesday.