Neil Young 'Not OK' With His Songs Played at Trump's Mt. Rushmore Event
Neil Young complained after at least two of his songs were played at a Mount Rushmore Fourth of July event attended by President Donald Trump on Friday evening.
The Canadian singer-songwriter said the use of the tracks was "NOT ok" with him, adding that he stood in "solidarity" with the Lakota Sioux tribe that occupied the land before settlers arrived and discovered gold.
Reacting to a clip of "Rockin' in the Free World" playing ahead of the Mount Rushmore event, the Neil Young Archives account tweeted: "This is NOT ok with me..."
Sharing another clip of his track "Like a Hurricane" blaring out to the South Dakota crowd, Young said: "I stand in solidarity with the Lakota Sioux & this is NOT ok with me."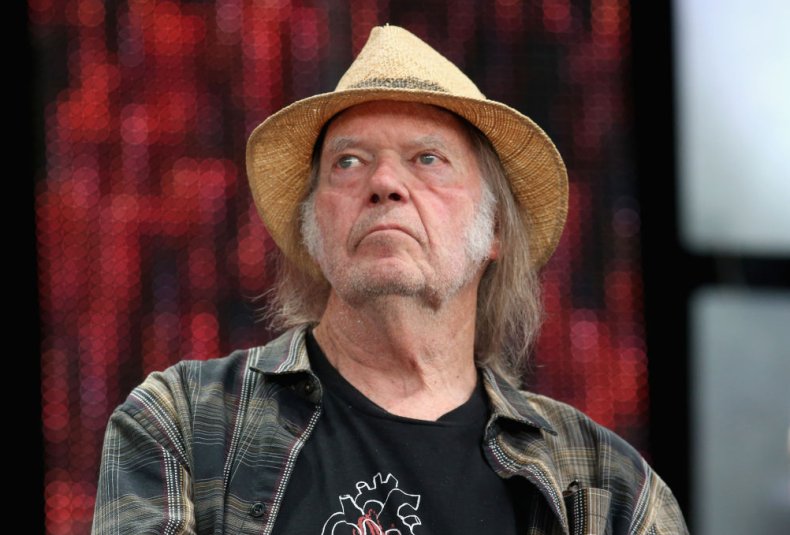 The musician has previously rebuked the president's team for using his music ahead of rallies and other events.
Writing an open letter to Trump in February this year, Young told the president that "Rockin' in the Free World" was not a song the commander-in-chief could "trot out" at his rallies.
"Every time 'Keep on Rockin' in the Free World' or one of my songs is played at your rallies, I hope you hear my voice," Young wrote. "Remember it is the voice of a tax-paying US citizen who does not support you."
Speaking to Deadline at the start of Trump's 2016 campaign, a spokeswoman for the then-candidate said he had "obtained the legal right" to use Young's music at events.
Newsweek has contacted the South Dakota organizers and the White House for comment.
Neil Young is one of many musicians who have taken umbrage with the president's use of their tracks at campaign events.
The estate of the late Tom Petty issued a cease-and-desist order against the president in June, demanding that he no longer use his 1989 track "I Won't Back Down" following an event in Tulsa, Oklahoma.
"We want to make it clear that we believe everyone is free to vote as they like, think as they like, but the Petty family doesn't stand for this," the estate said in a statement. "We believe in America, we believe in democracy. But Donald Trump isn't representing the noble ideals of either."
The estate confirmed that it had sent the Trump campaign a cease-and-desist letter, adding that it would have hated for "fans that are marginalized by this administration to think we were complicit in this usage."
The Rolling Stones have also stated that they would be willing to sue the president if its own cease-and-desist notices are ignored by his campaign.