Neo-Nazi Groups Organizing Antisemitic 'National Day of Hate,' Police Warn
Neo-Nazi groups across the United States are planning a national "Day of Hate" against Jewish communities on Saturday, according to antisemitism watchdogs and police documents.
A leaked internal memo by the New York City Police Department's Intelligence and Counterterrorism Bureau, online organizers are "instructing likeminded individuals to drop banners, place stickers and flyers, or scrawl graffiti as a form of biased so-called action."
Jewish groups and police urged Jews to remain vigilant during the Sabbath. There will be additional patrols around synagogues in New York and New Jersey.
Researchers at the Counter Extremism Project (CEP), an international policy organization, said on Thursday that extremist groups had been promoting the day of action through Telegram posts, and identified the National Socialist Movement as one of the organizers.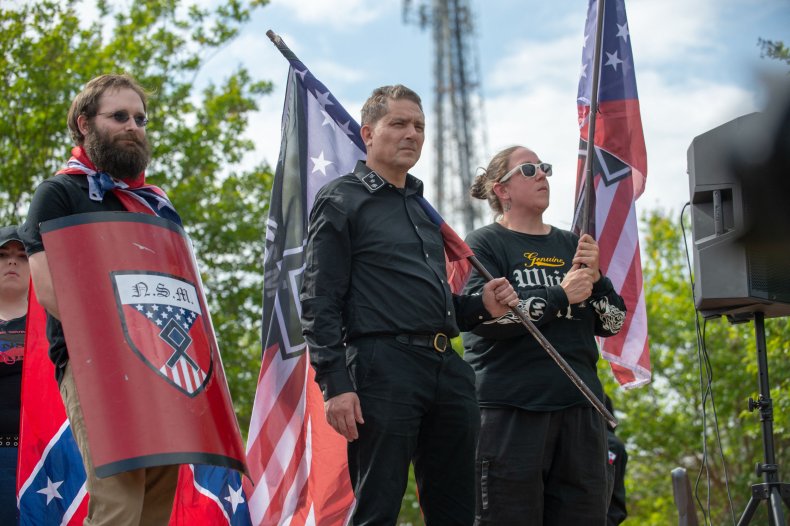 According to the Anti-Defamation League (ADL), the National Socialist Movement is the largest neo-Nazi group in the U.S., though it has experienced a decline in membership in recent years. It is currently led by Burt Colucci.
The group was behind the recent neo-Nazi demonstration at the opening of Parade, a Broadway show about a Jewish man who was lynched, the CEP said. It stated that two regional chapters in Iowa and California, as well as a small group in New York, were planning to participate in the Day of Hate.
Meanwhile, the Jewish Telegraphic Agency, citing ADL sources, identified the Crew-319 group in Iowa as behind the call for action. Newsweek reached out to the ADL for comment.
Stop Antisemitism, a grassroots watchdog, said the Day of Hate was being "specifically organized and promoted" by groups including the Goyim Defense League—a parody of the ADL and one of two far-right groups behind a series of antisemitic projections that appeared on buildings in Florida last month.
The NYPD called for officers to "maintain [an] elevated situational awareness and vigilance" on Saturday for domestic violent extremism, especially around "key locations that might garner higher interest from these types of actors."
James Gennaro, a Democrat city council member for New York City's 24th district, confirmed that the leaked memo "is, in fact, real," albeit a draft version. He added that he had requested additional patrols near synagogues in his district, which covers an area of central Queens.
An NYPD spokesperson told Newsweek that "out of an abundance of caution, the Department will deploy additional resources to sensitive locations, including houses of worship, throughout the weekend."
Stop Antisemitism tweeted on Thursday night that it "strongly urge[s] everyone to be vigilant, specifically during synagogue services this Shabbat."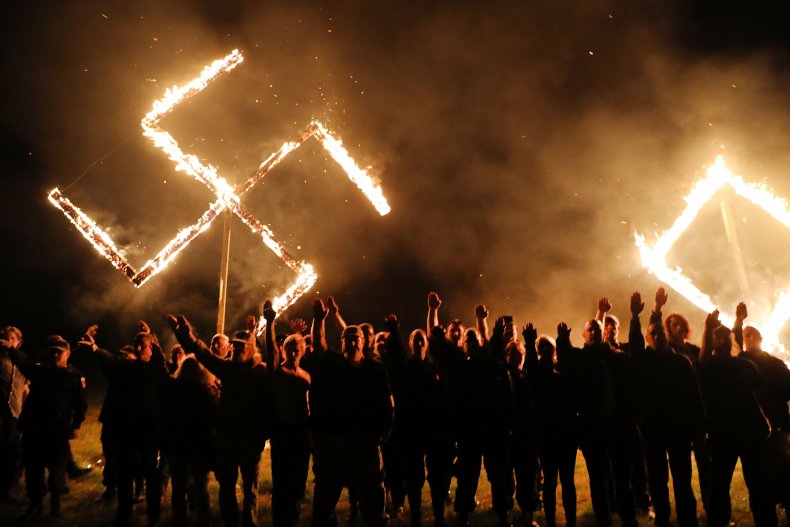 In Chicago, the police department's Place of Worship Safety Advisory Team (POWSAT) released a community alert urging members of the public to "keep situationally aware," and "not just on Shabbos but during the week as well."
"Since officers can't be on every street in the city at once, we count on residents to be our additional eyes and ears," it added.
David Goldenberg, the ADL's Midwest regional director, told the Chicago Sun-Times that dedicated days of action had become popular among extremist groups in recent years—with footage of stunts used to give the illusion the groups are larger than they actually are, "when in reality, actual participation in these types of events is incredibly small."
Police in Lakewood, New Jersey, told the Lakewood News Network on Thursday that while there was not "any credible information to suggest that these threats will impact New Jersey," it had nonetheless "increased the number of on-duty officers."
"This is all about harassing Jews and creating a public space for hate mongers," Jason Shames, CEO of the Jewish Federation of Northern New Jersey, told northjersey.com. "This becomes a recruitment tool to invite others into this dark place of promoting hate and antisemitism."
The Jewish Federation of Greater Los Angeles said that local FBI and police were "well aware" of the potential activity and that law enforcement would increase patrols in the city. "We must come together to drown out any hateful voices by standing strong in our Jewish pride," it added.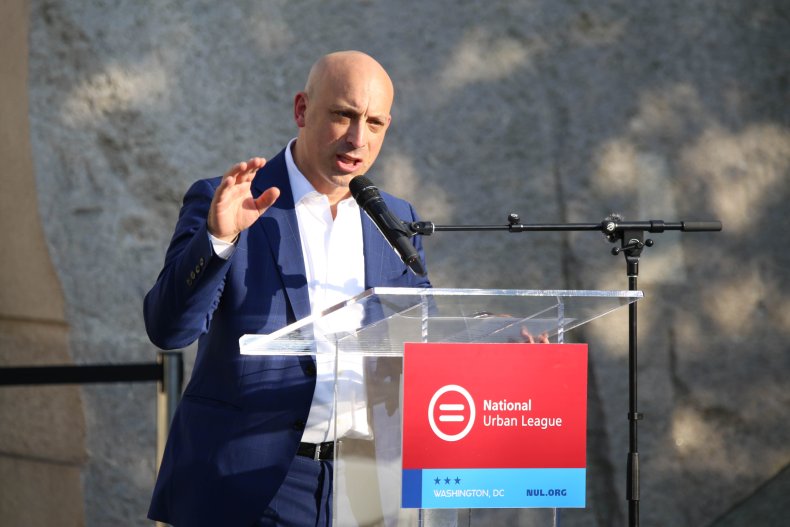 Police in New York and Chicago advised that there had yet to be evidence of a threat to Jewish communities. An NYPD spokesperson said there were "no identified threats" as yet.
In a statement, the Chicago Police Department said there "is no actionable intelligence and we continue to actively monitor the situation." It added that it was in regular contact with Jewish leaders and organizations.
"We will not be intimidated," the American Jewish Committee stated. "We are resilient. We are strong."
Meanwhile, the ADL said that though the Day of Hate "is meant to be intimidating and divide us, but we will remain united in our kindness and positivity," as it called for a "Shabbat of peace not hate." The organization's CEO, Jonathan Greenblatt, added on Twitter: "The Jewish community may be the target of vile antisemitic hate, but we will not be intimidated."
ADL used the anticipated neo-Nazi action to call for Congress to increase funding for security for places of worship through a federal grant "to meet the rising threats of hate and extremism."