Joe Rogan Says Kanye West Isn't a 'Bad Person' After Antisemitic Backlash
Joe Rogan has sung the praises of Kanye West, despite his recent controversial comments, including a string of antisemitic tweets.
The 55-year-old described the rapper—who now goes by the name Ye—as "not a bad person," on his The Joe Rogan Experience podcast.
Rogan was chatting with Saturday Night Live cast member, Punkie Johnson, during the episode released on February 7.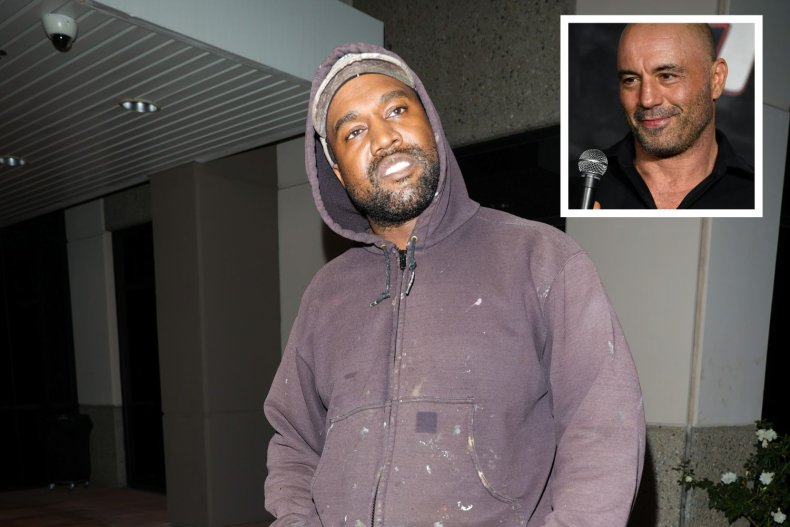 The pair were discussing the superficiality of Hollywood and the music industry before the conversation veered onto Ye, 45.
While Rogan admitted that, while Ye "creates some bangers," he has also said "some crazy s*** about Hitler."
"I don't think he's a bad person, and I think Kanye, the mistakes he's made, he'll be pretty honest about it. He's mentally ill, and that mental illness allows him to have insane productivity with music," Rogan said.
"You can call it illness, or you can instead say he's got this gift, and this gift sometimes f***** shoots off live rounds in all sorts of different directions. But what it can do is produce some of the best f****** music ever."
Ye has spoken in the past about having bipolar disorder, which can bring extreme states of depression, balanced by similar states of mania. However, the rapper has explained he feels only manic.
Rogan said that Ye also lashed out when he feels "embattled," but his controversial statements and actions come from the "same mind that makes him be insanely prolific."
The presenter then recounted the time that Ye appeared on his podcast and how "talking to him is wild."
Ye appeared on Rogan's podcast in 2020, ahead of his failed presidential campaign.
"His mind is like a runaway train. The ideas are coming in way fast... he'll go from one idea, to the next idea, and people say, 'He's rambling,' but I'm like, 'But, buddy, is he, or is he just fused with way more ideas than we are?'" Rogan said. He added that Ye had asked him during the recording, "How much does earth cost?"
Ye has attracted attention over recent months for a string of controversial incidents, including wearing a 'White Lives Matter' T-shirt at his Yeezy fashion show in Paris in September.
He then went on to make a series of antisemitic comments on social media and in media appearances over the next two months. They would cost him his lucrative partnerships with Balenciaga and Adidas, which manufactured his successful Yeezy line.
During a December 1 appearance on Alex Jones' show InfoWars, alongside documented white nationalist and antisemite Nick Fuentes, Ye said he "liked" Hitler and that the Nazis invented microphones and highways.
"They did good things, too," Ye said while wearing a full face mask. "We've got to stop dissing the Nazis all the time."