Neo-Nazi 'It's Okay to Be White' Slogans Found Inside Boxes of Diapers Sold at Target
Target have launched an investigation into how cards featuring Neo-Nazi slogans ended up being sold inside boxes of diapers at their stores.
The Anti-Defamation League (ADL) said they have received complaints from at least two individuals who found laminated cards with the words "It's okay to be white" inside boxes of diapers from Target—one bought from a store in Washington and one delivered to a family in Florida shipped from a facility in Indianapolis, Indiana.
A family in Hixson, Tennessee, also found a similar note inside a box of Pampers in March. In each case, the cards also featured a list of white supremacist website URLs on the opposite side.
"I looked on the back and it was just five or six websites that I recognized the language that was used from the Charlottesville incident late last year," Hixson father Tad Russell, told WRCB.
The 'It's okay to be white' slogan gained prominence after it was used in a troll campaign last year by the infamous forum website 4chan. The idea was that signs showing the seemingly innocent statement would be put up in public places, including university campuses, causing liberal media to "go berserk" and perceive it to be racist.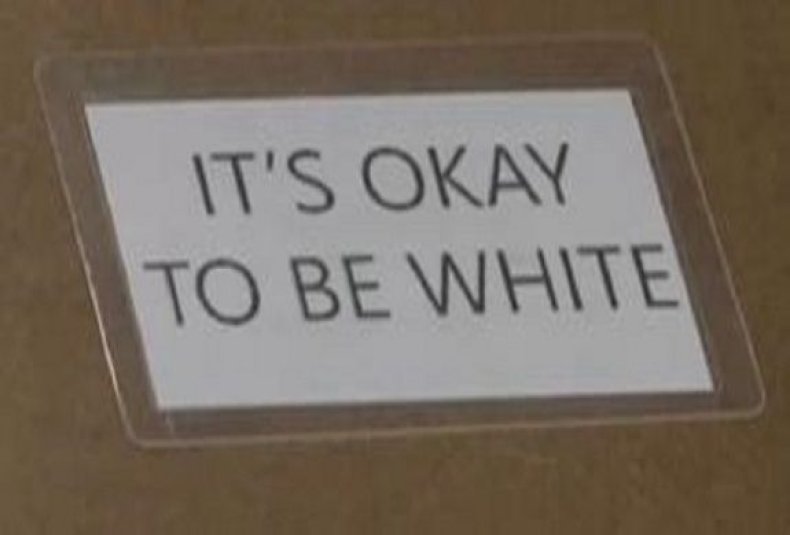 "Normies tune in to see what's going on, see the posters saying 'It's okay to be white' and the media and leftists frothing at the mouth," one anonymous 4chan user explained. "Credibility of far left campuses and media gets nuked, massive victory for the right in the culture war."
After the slogan appeared in places including Boston's Harvard Square and a Maryland high school and the University of Alberta, Canada, former Klu Klux Klan Grand Wizard David Duke featured an article on his website titled "It's OK to Be White Campaign Sweeping the Nation!"
According to the ADL, the phrase had links to white supremacy several years prior to its association with 4chan.
White power group Aggressive Force had a song title using the phrase back in 2001, with members of KKK group United Klans of America using the hashtag #IOKTBW on Twitter since 2012.
"We sincerely apologize and share our guest's concerns about the inappropriate message they found in their Target purchase," a spokesperson for Target told Adweek.
"We're working to urgently address this matter and are actively investigating this with our security teams. While we're not able to share specific details of the investigation, we encourage any guests who may have received this message to share their experience by calling Target Guest Relations at 1-800-591-3869."