Neo-Nazis and Hitler Supporters Thrive With Impunity in Poland, Jewish Leader Says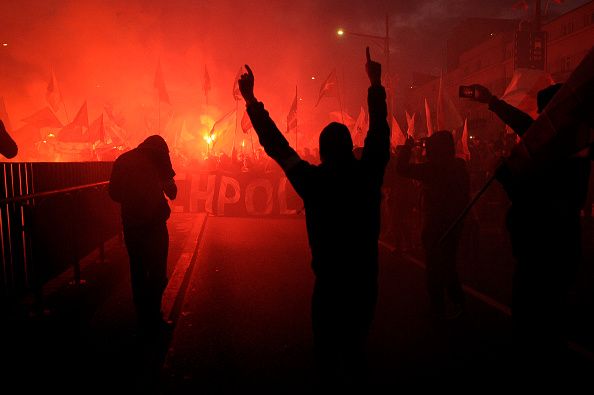 Extremists and neo-Nazis are thriving in Poland because the government is unwilling to crack down on them, the leader of Poland's Jewish community said just days after an investigation by a Polish television channel showed members of the far-right celebrating Adolf Hitler's birthday.
Three people from the neo-Nazi group Pride and Modernity were arrested on Tuesday in connection with the video, produced by Poland's TVN24. That same day, Poland's Prime Minister Mateusz Morawiecki said his country would not have the "slightest tolerance of Nazi, fascist or communist symbols."
Still, Leslaw Piszewski, president of the Union of Jewish Communities in Poland, argued that the police could do more to stop the rise of the far-right in Poland.
"What else has to happen for us to look open our eyes, the authorities say that fascism and Nazism are not tolerated in Poland," Piszewski wrote on his Facebook page. "I want to believe in these words, but let authorities do their job."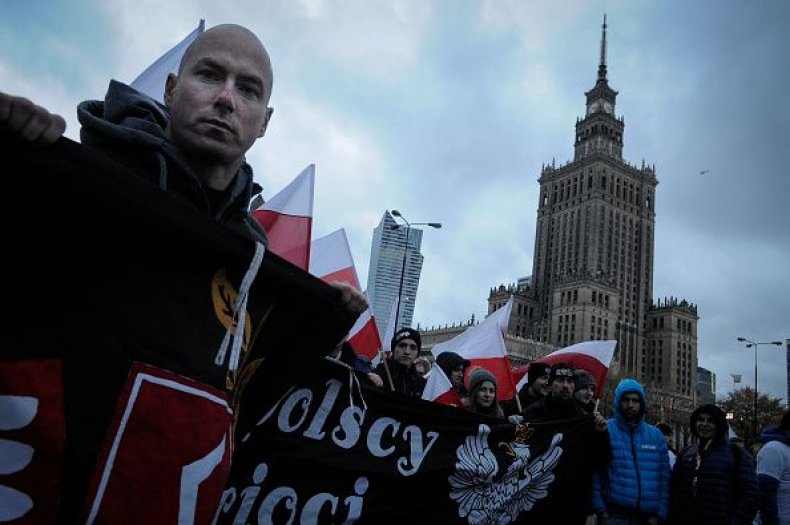 Poland was decimated by the Nazis during World War II, but the country has experienced a resurgence of far-right elements in recent months. In November, around 60,000 people marched to celebrate the 99th anniversary of Polish independence, and extreme nationalists and neo-Nazis were a visible presence at the march. Videos like the one that emerged of neo-Nazis celebrating Hitler only help create the impression the Nazism is being normalized in the country, experts say.
"Neo-Nazis are not operating with impunity, in this case the Polish authorities acted quickly and have already arrested three people.. But unfortunately the case itself, as shocking as it is, does reflect on a wider phenomenon ongoing in Poland and that is an increased visibility for extremist and hateful ideologies and speech," Zselyke Csaky, an expert on Central Europe at Freedom House, told Newsweek.
"The problem is that extremist groups could potentially have a disproportionate effect on public discourse; they spell out and in some way legitimize previous taboos."
In the video, which was shot as the group celebrated Hitler's birthday on April 20, the neo-Nazis burned large wooden swastikas and presented a cake with a swastika on it. A large picture of Hitler was hung on a tree with Nazi flags surrounding it. The men could spend up to two years in prison for breaking Polish laws against Nazi symbols.