Neo-Nazis in Poland Arrested After Video Showed Hitler Birthday Celebration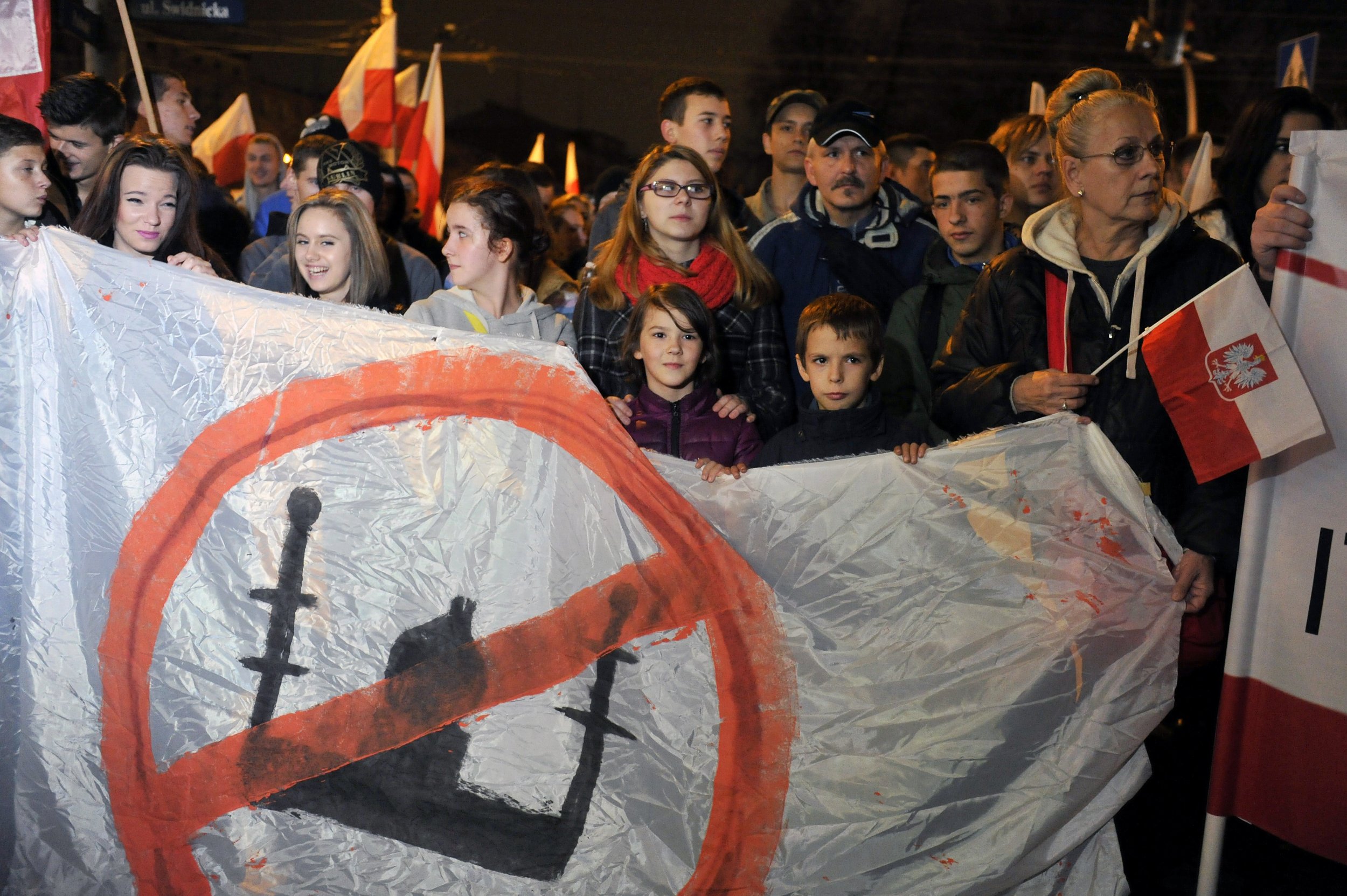 Polish authorities have arrested and charged three people from a neo-Nazi group after an investigation from a news channel found footage of them wearing Nazi uniforms and celebrating Adolf Hitler's birthday.
Poland's prosecutor general launched an investigation into the group known as "Pride and Modernity" Sunday after increased pressure following TVN24's exposé the day before. The members could face up to two years in prison.
The footage uncovered group members performing Nazi salutes and burning a swastika to mark the 128th anniversary of Hitler's birth last spring.
"I would like to raise a toast to all gathered here to Adolf Hitler, to our beloved Poland and to us. Heil Hitler, Heil Hitler, Heil Hitler," one of the member's said in the video, according to Deutsche Welle.
The office of the prosecutor general told Deutsche Welle that the neo-Nazi group was behind a November protest that included pictures of European Parliament lawmakers being hung on fake gallows.
Mateusz S., who led the group, was one of the people arrested, according to the Associated Press.
Prime Minister Mateusz Morawiecki said in a Tuesday news conference that Poland would not have the "slightest tolerance of Nazi, fascist or communist symbols."
"The use of them is against the law and against all of our values," he said.
The World Jewish Congress welcomed the "the Polish government's swift condemnation."
"Anti-Semitism and xenophobia are rising at an alarming rate in Poland, rearing their ugly heads beyond the fringes of society and into the mainstream," World Jewish Congress CEO Robert Singer in a statement.
In November, about 60,000 people attended the eighth annual independence day rally held by the National Radical Camp, where protesters marched through Warsaw carrying banners with "White Europe" and "Pray for Islamic Holocaust."
Rafal Pankowski, the head of Never Again, an organization that tracks extremists told the Associated Press that "the far right has felt emboldened in the last two years, which has been expressed in many street marches and racist attacks."
"It's time for Polish leaders to condemn xenophobia and take concrete steps against it," Pankowski said. "I hope the recent statements by Prime Minister Morawiecki are just the beginning of a new attitude to the problem on the part of the ruling elite."