Netanyahu Ahead but Needs Far-Right as Israel Exit Polls Show No Clear Winner
Exit polls from Israel's three leading television news outlets show no certain winner among competing political factions, but a solid lead for Prime Minister Benjamin Netanyahu's party.
The average of Israel's Channel 11, Channel 12 and Channel 13 exit polls showed the ruling Likud ahead at 32 points but short of a 61-point mark needed to achieve a parliamentary majority in the 120-seat Knesset, as has been the case in most Israeli contests.
In order to hit this figure, Likud would need to form a coalition with centrist, conservative and religious parties, including the far-right Yamina, which netted an estimated 7 points as indicated by the exit polls average. The faction is led by Naftali Bennett, who formerly served Netanyahu but has taken on rival positions in recent years, and who has said he would be open to working with the Israeli leader's opponents.
Bennett is widely seen as even more hard-line than Netanyahu, potentially pushing the Israeli government even further to the right.
Netanyahu is Israel's longest-serving prime minister, having served one term from 1996 to 1999, and then four more consecutive terms since 2009. This week's vote was the fourth national election in two years, sparked by repeated failures to form a leading coalition since that political crisis began in 2019.
Second to Likud appeared to be rival Yesh Atid, headed by opposition leader and former journalist Yair Lapid. The centrist faction was estimated to receive 17 points and would need both Yamina and the majority-Arab Joint List, which was shown to receive an average of 8 points, to secure a majority in parliament.
Exit polls closed at 10 p.m. local time and do not represent an official tally of votes, which are expected to emerge in the coming days.
Netanyahu is currently overseeing an ambitious vaccine distribution program, the most rapid to take on COVID-19 in the world. At the same time, Netanyahu faces three separate corruption charges involving fraud, breach of trust and accepting bribes.
His security policies have been marked by a drift away from the traditional two-state solution in talks with the Palestinians, which have overlapping territorial claims with Israel, as well as a shift toward more aggressively taking on Iran. Netanyahu closely courted former U.S. President Donald Trump and oversaw with him the signing of four agreements normalizing ties with Arab states the United Arab Emirates, Bahrain, Sudan and Morocco.
Former Israeli ambassador to the United Nations Danny Danon urged Israelis to come together in the face of common threats.
"The task now is to join forces for the future of Israel," Danon, who today serves as Chairman of the World Likud, said in a statement sent to Newsweek.
"This is the time for parties of the national camp to unite and cast aside all personal sentiments for the good of the state," he added. "This is the time to unite and form a national government that will work for all the citizens of Israel. One that will know how to deal with all the challenges before us, especially the Iranian nuclear threat."
Former Israeli Deputy Foreign Minister, ambassador to the United States and Knesset member Danny Ayalon and All Israel News editor-in-chief Joel C. Rosenberg predicted a rough road ahead for the incumbent in an op-ed published Sunday in Newsweek.
This was because "many Israelis blame Netanyahu for badly mismanaging the COVID-19 crisis" and his "abrasive leadership style has exhausted, embittered and enraged so many past political partners that he is running out of people willing to form a government with him," according to the pair.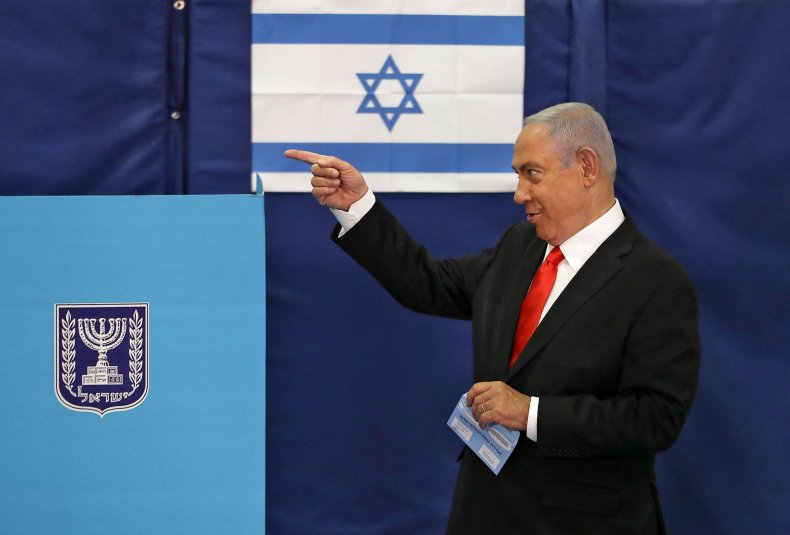 This is a developing news story. More information will be added as it becomes available.