Netanyahu Drags Israel Kicking and Screaming Toward Chaos | Opinion
If Israeli Prime Minister Benjamin ("Bibi") Netanyahu had known the reaction it would get, he never would have launched the package of legislation he and his extreme-right-wing allies have dubbed, in proper Orwellian fashion, the "judicial reform." On Saturday night a good quarter-million Israelis protested in Tel Aviv and 100 or so other cities and highway junctions nationwide—marking the ninth straight week, ever since the program was proposed, that tens or, more often, hundreds of thousands of people have hit the streets against it. But mass protests aren't Netanyahu's only problem.
A growing stream of letters is being published by lists of elite reserve soldiers—combat pilots, intelligence and cyber security officers, commandos and others—saying they will stop showing up for reserve duty either now or once the so-called reform becomes law, which is on track to happen in the Knesset in a matter of weeks. Over the weekend Israeli military chief Herzl Halevi told Netanyahu that the sudden rise in reservists refusing to serve is "alarming." Journalist and Netanyahu biographer Anshel Pfeffer wrote in Haaretz: "Conscientious objection has for the first time in Israel's history gone mainstream."
The planned legal upheaval is already hurting the economy, with foreign investors starting to move their money out of the country. A letter signed by hundreds of top Israeli economists, many of whom were once Netanyahu's advisers, warned of "long-term damage to the rate of growth in the economy and to the quality of life of residents of Israel." High-tech executives and employees have assumed a high-profile in the street protests, especially among the organizers.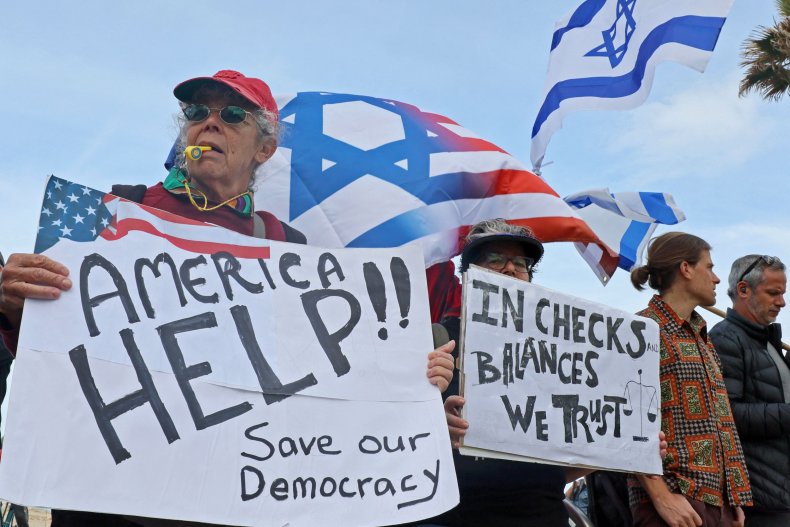 Former Israeli prime ministers, heads of the army, Shin Bet and Mossad, Supreme Court justices, business leaders and politicians have denounced the government's program—and except for radical rightists, nobody of stature in Israel or abroad has endorsed it. Even Alan Dershowitz, the long-standing No. 1 cheerleader abroad for both Israel and Netanyahu, said in January: "If I were in Israel, I would be joining the protests." In a public opinion poll broadcast on March 1 by Channel 12 News, the country's leading news program, 59 percent said Netanyahu was doing a bad job as premier, compared to 35 percent saying he was doing well.
What is this "judicial reform"? As a rule, Israeli Supreme Court justices don't take sides publicly on political issues, but in January, Supreme Court President Esther Hayut gave a speech in Haifa in which she said of the prospective new laws: "This is a plan to crush the justice system. It is designed to deal a fatal blow to the independence of the judiciary and silence it."
One of the package's two key pieces of legislation would require 12 of the 15 Supreme Court justices, instead of the simple majority needed till now, to agree that a law passed by the Knesset was unconstitutional, and thereby to quash it. Then, the other key bill would allow a bare 61-vote majority in the 120-member Knesset to override the court's decision and make the law legal again. This would effectively gut the Supreme Court's power to prevent the Knesset from passing any law it fancied, regardless of which rights or whose rights it violated. And the "reform" is the work of a government of nearly wall-to-wall right-wing and Jewish religious extremists. It includes Itamar Ben-Gvir, the cabinet minister in charge of the police who made his name in 1995 with a televised threat to murder then-prime minister Yitzhak Rabin—a month before Rabin was murdered by a radical-right-winger. It includes Bezalel Smotrich, the cabinet minister holding civil power over West Bank Palestinians and settlers, who recently caused an international uproar by saying the Palestinian village of Hawara "needs to be wiped out," after hundreds of settlers set it ablaze following the killings nearby of two settlers. So there is good reason to fear what the Netanyahu government, or its successors, would do if unrestrained by a fair-minded Supreme Court.
Why is this happening now? "Judicial reform" was never more than a marginal issue in Israeli politics until the November 2022 election campaign, so what changed? The change was Netanyahu's victory in that election, returning him to power after an 18-month hiatus in the opposition, during which time his trial for bribery, fraud, and breach of trust gathered steam. At 73, having won the first of a record six terms as the country's prime minister in 1996, he has been the face of Israel for a generation-and-a-half, his hubris is colossal – and he does not want to take the chance of going to jail. So he formed a coalition government with the radical-right and radical religious parties, the only ones besides his own obedient Likud party that would serve under a criminal defendant—and now they are laying the legislative groundwork to get his trial canceled, or at least delayed indefinitely. One bill would pave the way for Netanyahu to appoint a new attorney general who would drop the case against him. Another bill, not yet introduced but widely anticipated, would protect sitting prime ministers from being put on trial – and it would be retroactive to protect the current premier.
If the government's key bills pass, as they're expected to, the Supreme Court will be all but powerless to cancel these laws (or any others), as outlandishly unconstitutional as they are.
But that wouldn't necessarily be the end of the process: If the "judicial reform" passed the Knesset, which now seems very likely, very soon, the Supreme Court is expected to declare it unconstitutional anyway. "Without major changes to the legislation, there is a strong chance that the court would make that ruling," said Dr. Amir Fuchs, a senior researcher at the Israel Democracy Institute. "And then we are in uncharted territory."
If the government passes revolutionary laws that the Supreme Court rules illegal, who will the public listen to, the government or the court? So far, the answer, resoundingly, is the latter. Who will the leaders of the army, police, Shin Bet and Mossad listen to? "If you go by what the former leaders are saying, it's almost unanimous that they will listen to the court," said Fuchs. "But there will be extreme pressure from both directions."
There may yet be a compromise struck that would keep Israel's constitutional democracy intact. Or the few relatively unbowed Likud parliamentarians might peel off and deny Netanyahu a majority for the legislation's final passage.
Or, with his country in chaos, its standing in the West sinking and his own place in history being blackened, Netanyahu may think better of his "judicial reform" and decide to take his chances in court. It would seem that Israel is too rich and dynamic, too tied to America—notably its 6 million, mainly liberal Jews—to turn itself into an East-European-style autocracy for the sake of one would-be autocrat. This may or may not happen, but it is impossible to imagine.
Larry Derfner is an American-born journalist in Israel, author of the memoirs "No Country for Jewish Liberals" and "Playing Till We Have to Go—A Jewish childhood in inner-city L.A.," and lead singer for the rock 'n' soul band The NightCallers.
The views expressed in this article are the writer's own.