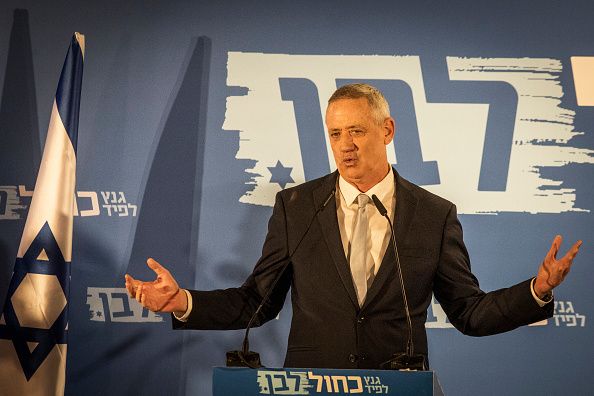 Israel will hold elections on April 9, and Benny Gantz, a former general and centrist candidate who claims to be strong on security, is proving to be a serious challenger to Prime Minister Benjamin Netanyahu.
If he wins in the upcoming election next week, Netanyahu will go on to be the longest serving prime minister in Israel's history. But Israel's attorney general has suggested that Netanyahu, even if he is re-elected, could be indicted in a series of corruption cases shortly thereafter. A pretrial hearing is set for shortly after the elections, and there is little chance that Netanyahu will not be indicted.
Gantz, meanwhile, is running a successful campaign to demonstrate that Netanyahu, who has increasingly aligned with the far right, isn't the only leader who can keep the country safe. Recent polls suggest that Gantz's party is leading by around four seats.
Gantz is a 59-year-old former chief-of-staff of the Israeli Defense Forces with a long history in the military. When he was named IDF chief in 2011, Netanyahu sung his praises and called Gantz's family history the "life story of our people."
"Your mother, Malka–of blessed memory–was in the Bergen-Belsen concentration camp, and on the day of the liberation of the death camp weighed 28 kilograms.... I am convinced that she certainly dreamed of one thing, she dreamed about a piece of bread, about the most simple things of existence. I imagine that she could not have dreamed that in another 66 years her son, who would be born in the free state of the Jewish people, would be the chief-of-staff in the Jewish state," Netanyahu said to Gantz during his swearing in ceremony.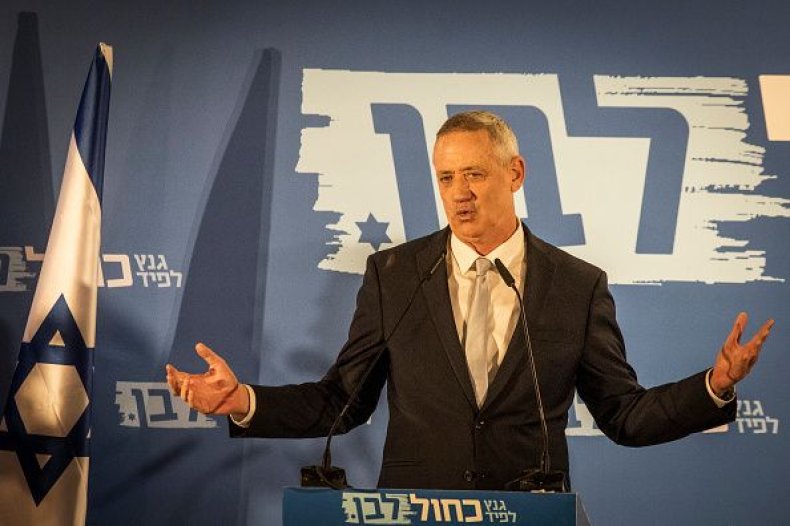 But Gantz formed his political party, Blue and White, in the run-up to the election and quickly became Netanyahu's chief rival.
"Gantz, a son of two Holocaust survivors, has spent most of his adult life in uniform making his way to the top position of IDF Chief of Staff. He has led Israel's withdrawal from southern Lebanon in 2000, commanded the IDF's Judea and Samaria Brigade [West Bank] at the start of the Second Intifada, from 2001 to 2002, and as chief of staff led the IDF during the summer 2014, 51-day, Operation Protective Edge into Gaza," Dan Arbell, a fellow at the International Institute for Strategic Studies, told Newsweek.
"Together with two other members of his party, Moshe 'Bogie' Yaalon and Gabi Ashkenazi, both former IDF Chiefs of Staff, the experience of the party's leadership in security affairs is unmatched," Arbell added.
Nevertheless, some experts argue that Gantz lacks political experience and clear policy plans.
"Gantz certainly has the security credentials as a former IDF chief-of-staff to convince voters that he'll be strong on security. The other asset that he brings is that he's not Benjamin Netanyahu," Haim Malka, a senior fellow and deputy director of the Middle East Program at the Center for Strategic and International Studies in Washington D.C., told Newsweek.
"At the same time, he faces a number of challenges. One is that he doesn't have the party machinery to back him up in terms of a nationwide campaign and a patronage network that kicks into full gear during an election cycle," Malka added.
Malka says that Gantz could face the same fate as longtime Israel politician Tzipi Livni, who ran as a centrist candidate for prime minister as the head of the Kadima Party in 2009.
"Centrist candidates have generally not fared well and have not lasted," Malka noted. "Politically, [Gantz] is the head of a loose coalition of unlikely partners, each of whom believes that they should be the number one candidate on the party list. The election system could lead to a situation where Gantz's party wins the largest share of votes but [is] then unable to form a governing coalition. That's what happened when Tzipi Livni won the largest share of votes as head of the Kadima Party but was outmaneuvered by Netanyahu, who had made deals with other parties essentially to block Tipi Livni from forming a government."
The campaign for prime minister has gotten ugly in the run-up to the election, with both top candidates slinging insults at each other. But a recording leaked on Sunday reveals that Gantz may be willing to join a Netanyahu-led government under certain conditions.
"I cannot sit with him after he is indicted after the hearing," Gantz is heard saying in the recording, referring to Netanyahu. "That would be completely crazy. Let's say he wins the election and a week later [President Donald] Trump reveals his [Middle East peace] plan and the people of Israel look at Benny Gantz and say help Netanyahu, because if not, [National Union leader Bezalel] Smotrich will kill the last chance [for a peace plan]."
The tape, just one among several leaked during the campaign, demonstrated that Gantz might be willing to work in a coalition with Netanyahu if it means saving a Middle East peace plan.