Obama's Toxic Relationship With Bibi May Soon Get Worse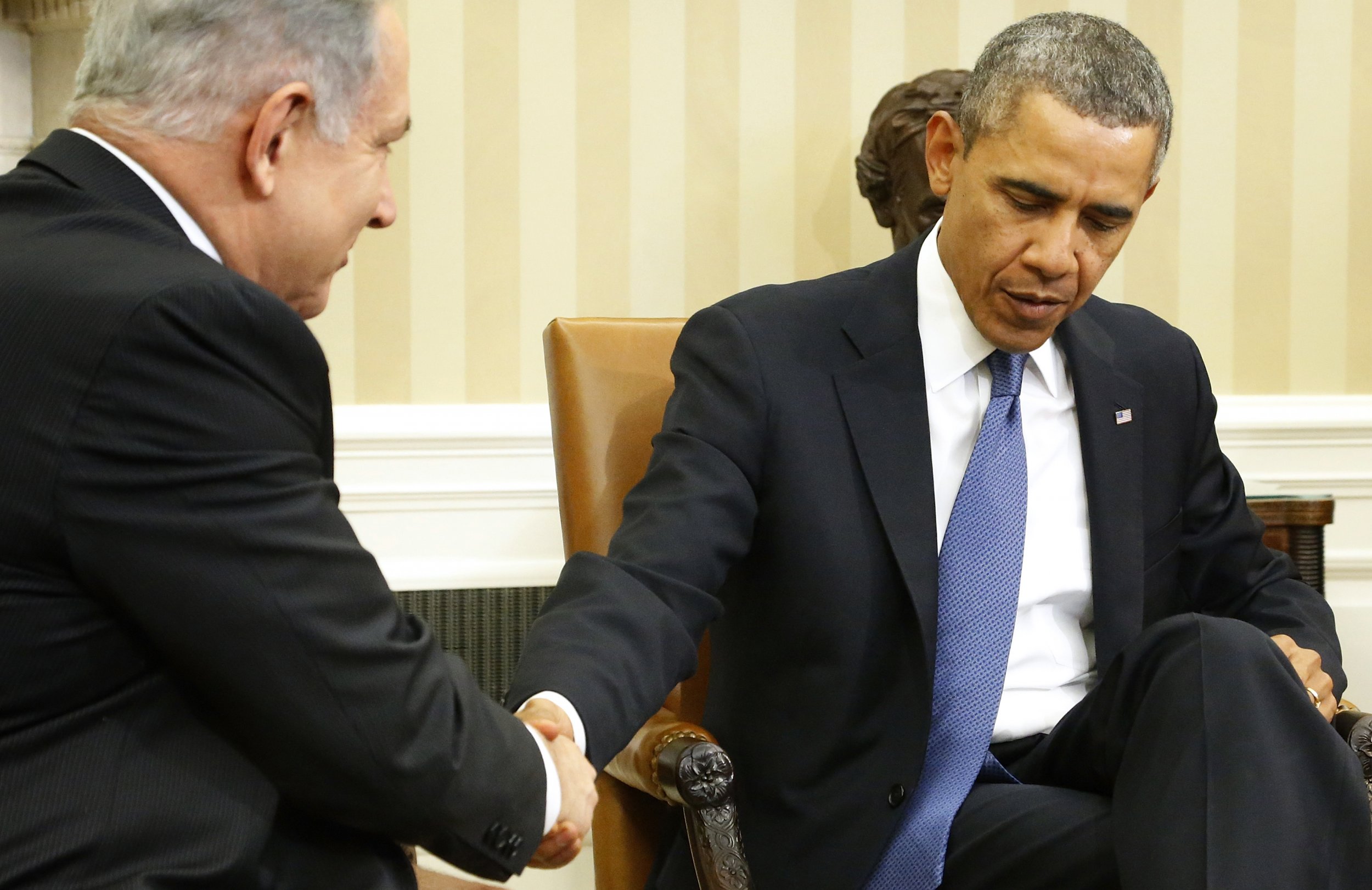 It's no secret that President Barack Obama and his top foreign policy aides wanted Israeli voters to boot Prime Minister Benjamin Netanyahu out of office earlier this week. And for a while, it seemed like they would get their wish. Pre-election polls showed the prime minister's center-left challenger, Isaac Herzog, surging ahead with support, and exit polls indicated the two sides were neck and neck late on Tuesday. By the time Washington woke up Wednesday morning, however, it was clear that Herzog had come up short. Netanyahu had won, and his victory, observers say, could create the most hardline government in Israel's history and worsen Obama's already toxic relationship with the man Israelis call Bibi.
The administration made little effort to conceal its displeasure on Wednesday. Secretary of State John Kerry called Netanyahu that morning to congratulate him, and White House press secretary Josh Earnest said Obama would follow up with his own phone call in a few days. Earnest then slammed Netanyahu for his election day tirade against Israeli-Arabs, effectively accusing him of race-baiting to scare the Israeli right into voting for his Likud party. "The United States and this administration is deeply concerned about rhetoric that seeks to marginalize Arab-Israeli citizens," Earnest said. "It undermines the values and democratic ideals that have been important to our democracy and an important part of what binds the United States and Israel together."
More broadly, Earnest suggested a fundamental split with Jerusalem over Netanyahu's declaration on Monday that he no longer supports the idea of two states—one Israeli, the other Palestinian—living side by side in peace. "It has been the policy of the United States for more than 20 years that a two-state solution is the goal of resolving the conflict between the Israelis and Palestinians," Earnest said, adding that the administration still sees a two-state solution as the best prescription for peace. "Based on Prime Minister Netanyahu's comments, the United States will re-evaluate our position and the path forward in this situation."
If the U.S. does distance itself from Israel in some way, it wouldn't be the first time. In 1975, after the Jewish State rejected U.S. proposals to leave the Sinai Peninsula, President Gerald Ford halted American arms shipments to Israel. President Ronald Reagan also stopped weapons deliveries to Jerusalem after its 1981 air strike against Iraq's Osirak nuclear reactor and its 1982 invasion of Lebanon. And during the George H.W. Bush administration, Israel's decision to continue to encourage, protect and fund Jewish settlements in the occupied Palestinian territories so infuriated Secretary of State James Baker that he once read out the White House telephone number during congressional testimony and told Israel, "Call when you're interested in peace."
It's not clear what if anything Obama will do in the final two years of his presidency in response to Netanyahu's new hard line on Palestinian statehood. But analysts say he could put pressure on the prime minister to trade land for peace. One way would be for the White House to publish an American peace plan based on Israel's 1967 borders. Another option: withdrawing U.S. political support for Israel at the United Nations by abstaining the next time a resolution condemning Israeli settlements comes up in the Security Council. And in public, the administration could once again start referring to Jewish settlements as "illegal" under international law rather than calling them "unhelpful" or "counterproductive."
J Street, a pro-Israel, pro-peace lobbying group, has long urged Obama to put some muscle behind his opposition to Israel's unbridled colonization of the West Bank. The group has urged him to consider ending tax breaks for U.S. organizations and individuals who send millions of dollars in donations to the settlements. The lobby has also called for Washington to monitor—and subtract—American aid spent on settlement activity in the West Bank.
But whereas Netanyahu's comments could perhaps give J Street a better chance to see its suggestions become U.S. policy, they put the largest pro-Israel lobby, the American-Israel Public Affairs Committee (AIPAC) in a difficult spot. The two-state approach has been one of AIPAC's key tenets. But the group follows Jerusalem's lead on policy, which means it could drop its support for its long-held position. Such a move would place it at odds not only with the administration but with most members of Congress and American Jews.
Despite the tension between Washington and Jerusalem, there are a number of factors that could lessen the damage. One is Obama and Netanyahu's shared opposition to the path toward statehood that Palestinian president Mahmoud Abbas is pursuing at the U.N. Another is Hillary Rodham Clinton's presumed 2016 presidential bid, which Democrats don't want to be undermined by Obama's feud with Netanyahu. "The issue is no longer resuming a peace process," Aaron David Miller, a former Middle East adviser at the State Department, told Newsweek. "What needs to be done is keep things from exploding."
Some analysts say the biggest point of friction between Obama and Netanyahu—the nuclear accord the president is trying to ink with Iran—is already behind them. Last month, Netanyahu delivered a speech to Congress, urging U.S. lawmakers to reject what he sees as a potentially bad deal. Obama rebutted the prime minister and now the president will have to have to sell any agreement to his Republican critics.
In light of the current rancor and the failure of past efforts, it's difficult to imagine the White House taking another run at resolving what has proved to be the world's most intractable conflict. But Obama still has another two years left in office. And just as there were those who went to bed Tuesday hoping for a major shift in Israeli politics, there are still those who see an Israeli-Palestinian peace accord as more than just a pipe dream—even if a more cynical, calculating and empowered Netanyahu stands squarely in their way.