Netanyahu Sends Message to Iran Waving Downed Drone: 'Do Not Test Israel'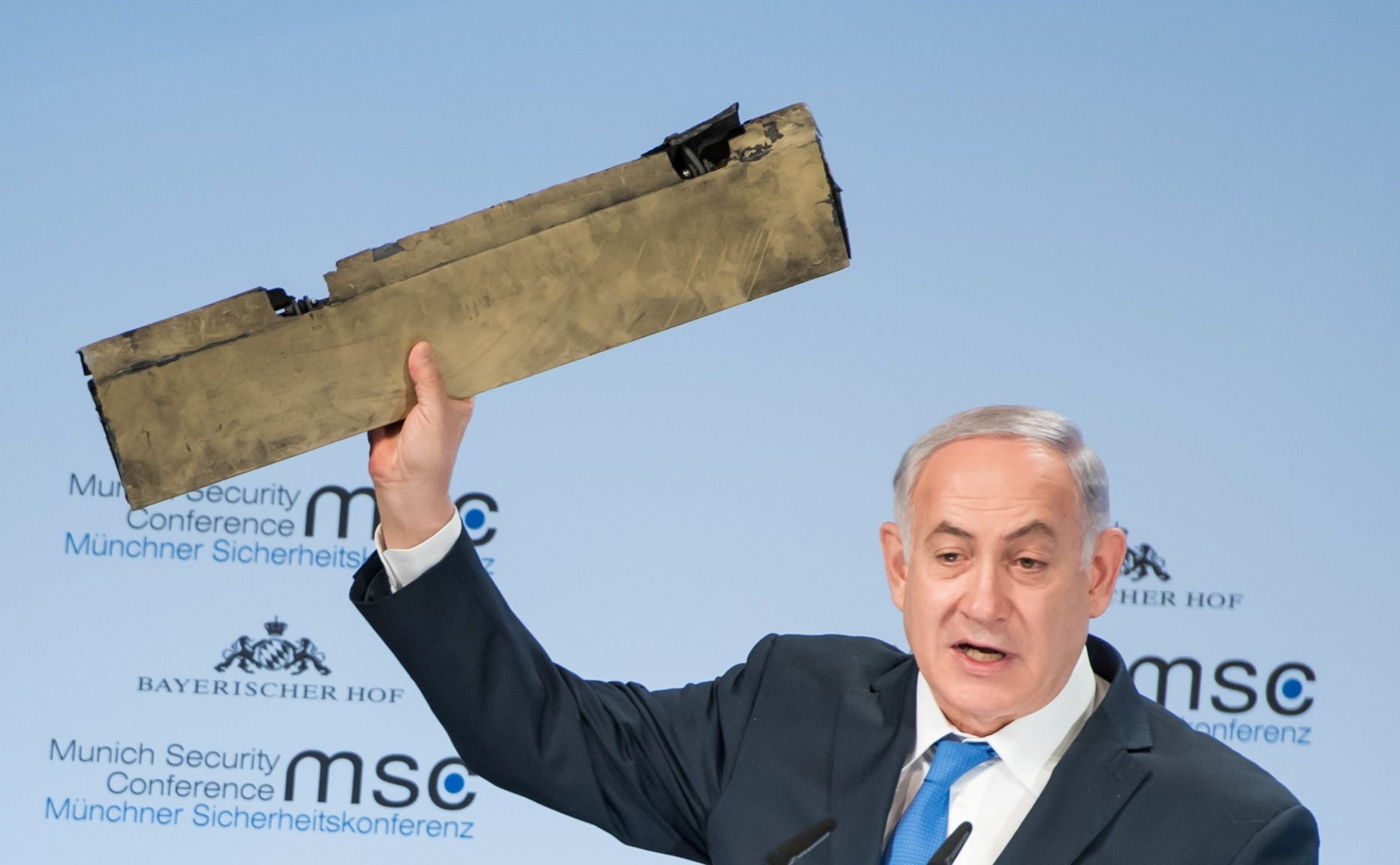 While scandal may dog Israel's Prime Minister at home, Benjamin Netanyahu used his address at an international security conference on Sunday to display characteristic bravado and issue a direct warning salvo to Iran.
Speaking at the the Munich Security Conference in Germany, Netanyahu brandished a piece of fuselage from an Iranian drone shot down by an Israeli attack helicopter over Israel's northern border last Saturday. Threatening strikes, Netanyahu spoke to Iran's Foreign Minister Mohammad Javad Zarif, also present at the conference, directly.
Related: War could break out in Gaza in hours, Hamas preparing for 'imminent' conflict with Israel
"Mr. Zarif, do you recognize this? You should, it's yours. You can take back with you a message to the tyrants of Tehran—do not test Israel's resolve," Netanyahu said, according to the Times of Israel.
"Through its proxies—Shiite militias in Iraq, the Houthis in Yemen, Hezbollah in Lebanon, Hamas in Gaza—Iran is devouring huge swaths of the Middle East," the Israeli prime minister added.
"Israel will not allow Iran's regime to put a noose of terror around our neck," he continued. "We will act without hesitation to defend ourselves. And we will act if necessary not just against Iran's proxies that are attacking us, but against Iran itself."
The downing of the Iranian drone by the Israeli Air Force on February 10 was the first direct confrontation between Israel and in Iran in the former's territory. Since the start of the civil war in neighboring Syria, Israel has regularly intervened to check the expansion of Iran and its Lebanese proxy Hezbollah, which has backed the Bashar al-Assad-led Syrian regime in Damascus.
In response to the drone incursion, Israeli Air Force jets targeted a mobile command center military officials claimed had operated the unmanned aerial vehicle. During the raid one of eight jets involved in the attack was hit by a Syrian anti-aircraft missile. The aircraft crash-landed in Israel.
In a secondary response following the downing of the Israeli jet, the Israeli Air Force conducted a targeting Syrian air defense units.
Netanyahu also used his Sunday speech to rail against Iran's nuclear deal with world powers including the United States. The Israeli prime minister, who has found an ally in President Donald Trump on the issue, is deeply critical of the 2015 deal which lifted economic sanctions on Iran in exchange for Tehran giving up its nuclear weapons program.
Netanyahu compared Iran's expansionism to European appeasement of the Nazis during World War Two. "Concessions to Hitler only emboldened the Nazis. Well-intentioned leaders only made war more difficult and costly," he said. "Iran looks to destroy Israel and is developing ballistic missiles that can also reach Europe and the US. Once nuclear-armed, Iran will be unchecked," Netanyahu added.