Benjamin Netanyahu Vows to 'Harm' Anyone Who Targets Israel
Israeli Prime Minister Benjamin Netanyahu has warned that his country has the means to destroy any enemy that tries to bring it harm.
"Those who threaten to wipe us out, put themselves in a similar danger, and in any event will not achieve their goal," Netanyahu said Wednesday, speaking at a ceremony to rename the Negev Nuclear Research Center after the late Israeli statesman Shimon Peres, Ynet News reported.
"Our enemies know very well what Israel is capable of, they know our policy, and anyone who tries to harm us—we will harm them," the prime minister added.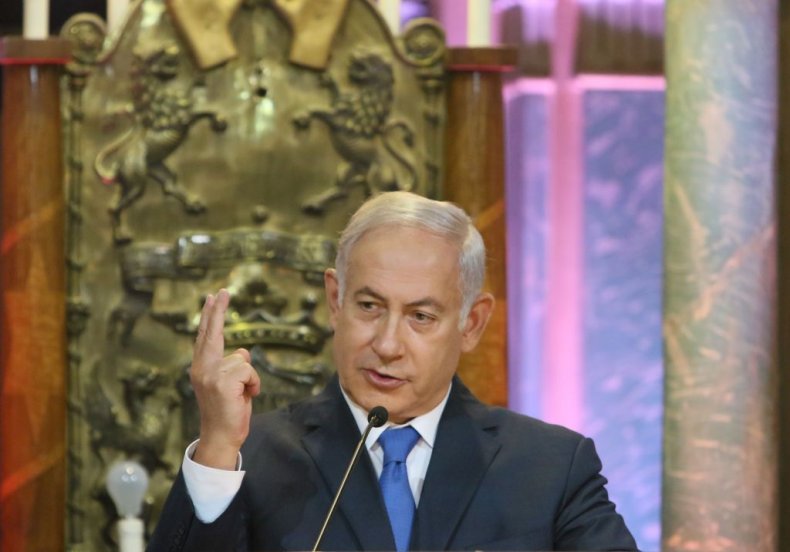 The Israeli leader was responding to questions regarding an agreement signed between Iran and Syria this week, which would see Iranian troops remain stationed within the territory of Israel's neighbor for the foreseeable future. Previously, Netanyahu and other Israeli leaders have said it will not accept Iranian forces stationed so close to its borders. In the past few months, the Mediterranean nation has launched numerous strikes on Iranian troops and Tehran-backed militias—such as the Lebanese militant group Hezbollah—operating in Syria.
"The IDF will continue acting with full determination and with full might against Iran's attempts to station forces and advanced weapons systems in Syria, and no agreement between Syria and Iran will deter us, nor will any threat frighten us," Netanyahu reiterated in his Wednesday remarks, according to Ynet.
"We are working to prevent Iran's military buildup in Syria. We will not let go of this goal," he vowed.
Responding to Netanyahu's warning, Iranian Foreign Minister Javad Zarif posted on Twitter saying: "Iran, a country without nuclear weapons, is threatened with atomic annihilation by a warmonger standing next to an actual nuclear weapons factory. Beyond shameless in the gall."
The Israeli leader also pointed to the wavering 2015 Iran nuclear agreement—known formally as the Joint Comprehensive Plan of Action—suggesting that his efforts have worked successfully to derail the international treaty. In May, President Donald Trump formally removed the U.S. from the deal. Although European nations have promised to maintain the agreement, many European companies have cut ties with Iran, fearing repercussions from the U.S. As a result, even Iranian leaders have voiced pessimism about the deal's survival.
Iran's Supreme Leader Ayatollah Ali Khamenei said on Wednesday that his country should "give up hope" in European partners saving the deal, Radio Free Europe reported.
"If we come to this conclusion that it does not serve our national interests, we can abandon [the agreement]," he said.
Referencing pessimism among Iranian leaders, Netanyahu promised that Israel "will continue to apply pressure against the dangerous and extremist regime in Iran."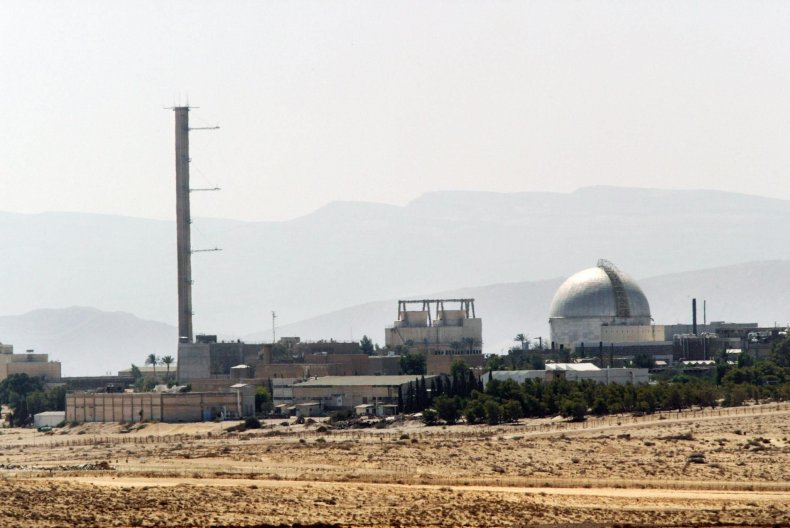 The prime minister also suggested that relations between Israel and regional Arab states are improving dramatically. Few Arab nations have official diplomatic ties with the Israeli government. Historically, Arab leaders have sided with Palestinians and stood in opposition to the Israeli government.
However, reports have circulated in recent years suggesting that things are changing rapidly, with Gulf Arab states, such as Saudi Arabia and the United Arab Emirates, cozying up to Israel over shared concerns about Tehran's regional influence. Although the Arab nations officially deny such reports, Israeli leaders have been more candid, lauding growing cooperation.
"The process of normalization of major Arab countries with the strong State of Israel is happening before our very eyes, on a scale that would have been impossible to imagine just a few years ago; a process that will hopefully result in peace," Netanyahu said. "But it is impossible to deny the fact that there remain many enemies in this region and beyond."